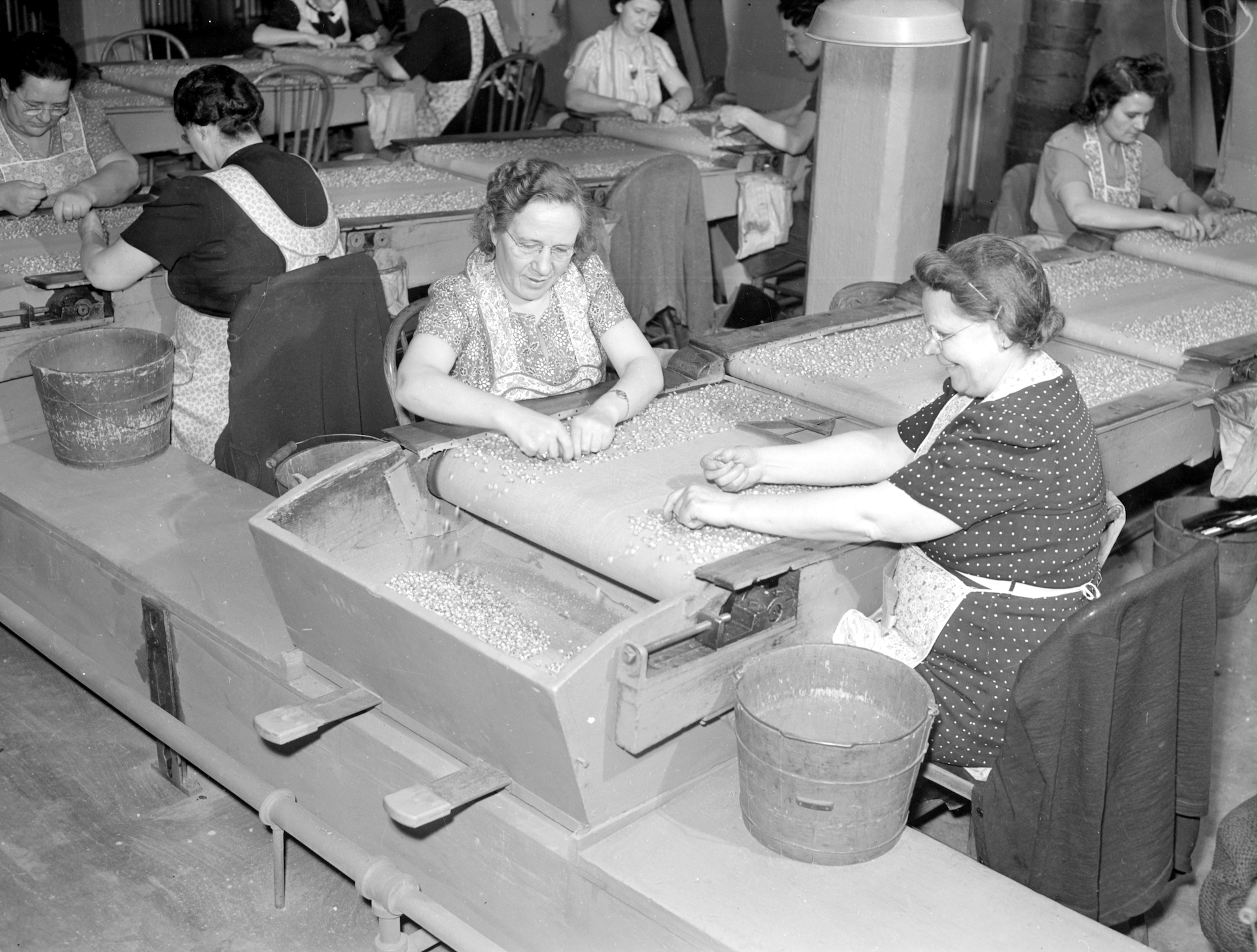 1943
Detroit once had a seedy reputation, but not in the derogatory sense. The city was home to the world's largest seed company, D.M. Ferry & Co., named after owner Dexter Mason Ferry (1833- 1907).
The firm, which dates back to 1856, was renowned for its quality, selling only fresh seeds, and was the first company to sell fruit, vegetable, and flower seeds in packets.
Here are Ferry employees preparing seeds at the company's headquarters at Brush and Monroe streets in downtown Detroit. In his book Detroit: An Industrial Miracle, George W. Stark extolled the lickety-split (but precise) rhythm of the workers: "Some of the girls became amazingly speedy and were paid accordingly," he wrote. "[They] also became expert in making up the assortments by hand, picking the packets out of bins and inserting them in their proper places in lightning- quick time with almost never an error."
As successful as the company was, it also had its share of tragedy — namely a fire on New Year's Day 1886 that destroyed the building, then only a decade old. Fortunately, the holiday kept workers home, but as former Detroit Mayor John C. Lodge wrote in his 1949 memoir, I Remember Detroit, a collapsing wall did kill one firefighter.
At the time, young Lodge was a reporter for the Detroit Free Press. Lodge added that Ferry rebuilt on the same site. Ferry grew crops for seeds in Detroit and its suburbs, as well as in Charlevoix. Later, Ferry concentrated growing primarily in California.
In 1930, D.M. Ferry & Co. merged with the California-based C.C. Morse & Co. to form the Ferry-Morse Co. D.M. Ferry was not only a businessman but also a distinguished banker and real estate mogul. East Ferry Street in Midtown was named after him in 1874.
In 1959, Ferry relocated its headquarters to Kentucky. Today, the company continues to thrive as the Ferry-Morse Co., based in Norton, Massachusetts.
---
This story is from the October 2022 issue of Hour Detroit magazine. Read more in our digital edition. Check out even more historical photos of Detroit in The Way It Was archives at HourDetroit.com. 
Facebook Comments