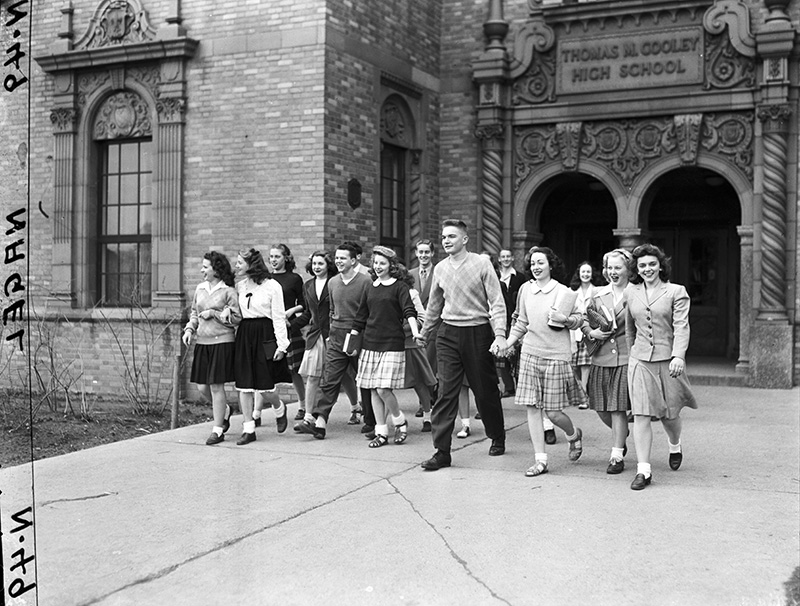 1944 Talk about being a big man on campus. This male student (center) emerging from Detroit's Cooley High School is holding hands with not just one female admirer, but two. Perhaps he was one of Cooley's vaunted sports heroes; through the decades, the Cooley Cardinals excelled in football, track, basketball, baseball, swimming, ice hockey, and tennis. 
Detroit's Cooley High shouldn't be confused with the 1975 film Cooley High, starring Glynn Turman and Lawrence Hilton-Jacobs, which was set in Chicago and refers to that city's Cooley Vocational High School. One of the city's most architecturally attractive high schools, Motown's Cooley was built in 1928 by the Detroit firm of Donaldson and Meier, responsible for such landmarks as The David Stott Building, St. Aloysius and Most Holy Redeemer churches, and the first section of the Penobscot Building. 
The Mediterranean Revival-style school stands at Hubbell and Chalfonte, on the northwest side. In 1928, the enrollment was just 1,570 but ballooned to 3,750 four years later. But it was declining enrollment that shuttered the school in 2010, with just over 1,000 students attending. After its closure, vandalism defaced the once-beautiful building, and a suspicious fire in 2017 seriously damaged the ornate auditorium. 
Named after Thomas M. Cooley, former chief justice of the Michigan Supreme Court, the school boasted some illustrious alumni, including actress S. Epatha Merkerson (class of 1970); Mike Ilitch, pizza baron and owner of the Tigers and Red Wings (1947); major-league baseball pitcher Milt Pappas (1957); NBA stars Willie Green (1999) and Roy Tarpley (1982); and Armenian American singer Anita Darian (1945), who was then known as Anita Margaret Esgandarian. Outside of operatic and Broadway circles, not many knew Darian's name, but they knew her voice. It was her uncredited soaring soprano that distinguished the 1961 hit "The Lion Sleeps Tonight" by The Tokens. And it just so happens that this photo was taken on Darian's 17th birthday: April 26, 1944