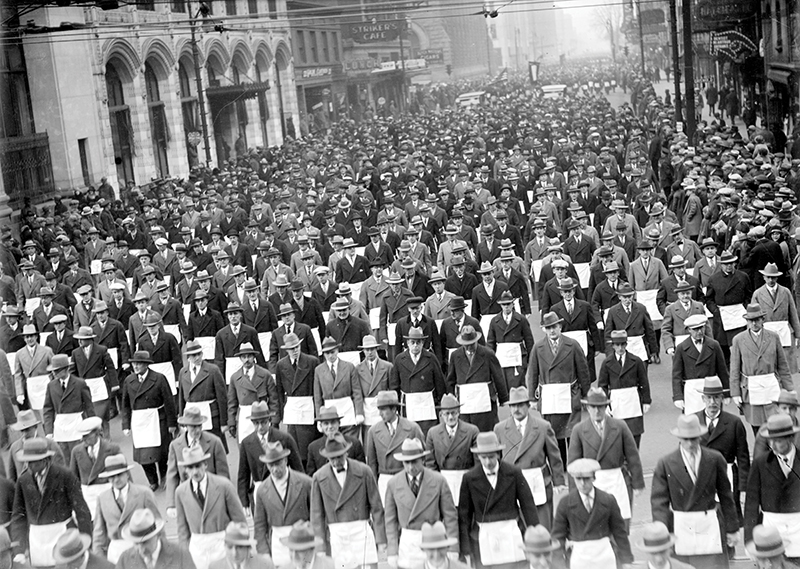 1926 These days, when new buildings open their doors, there's usually little fanfare. But back in the 1920s, edifices were often stately and ornate, seen as worthy of special recognition. So when the limestone, Gothic-style Masonic Temple swung open its portals at 500 Temple (formerly called Bagg Street), it was an event. In fact, even the laying of the cornerstone in 1922 was filled with pomp, with thousands of Detroiters attending, as if sensing that something grand was to come.
The appropriately named George Mason designed the 1,037-room structure, with interior sculptures by Corrado Parducci. Among its many amenities are three theaters (though one remains unfinished), a trio of ballrooms, dining halls, a bowling alley, and a swimming pool. Although the building officially opened in February 1926 with a performance by the Detroit Symphony Orchestra, the splashy commemoration took place months later, on Thanksgiving Day, with thousands of Freemasons marching down Temple Street, wearing white aprons, a tradition stemming from the medieval donning of white lambskin coverings, which protected stone masons from the sharp tools of their trade.
For nearly a century, the main auditorium has hosted all manner of entertainment, from rock shows to the Metropolitan Opera. For a time, Michigan Opera Theatre and the Detroit Symphony Orchestra called the place home. As the years went on, the Masonic Temple ran into some financial difficulties. In 2013, the building owed $142,000 in back taxes.
Enter Detroit native Jack White, co-founder of The White Stripes, who erased the debt. White had performed at the venue, and his mother once served as a Masonic usher. In gratitude, the owners renamed the Scottish Rite Cathedral the Jack White Theater.
Facebook Comments