Metro Detroit is home to a growing community of Africans from countries all across the continent. Though not as visible as Polish culture in Hamtramck or Arab influences in Dearborn, African cultures abound in metro Detroit, making it easy to sample the richness of the continent right here at home. 
Seydi Sarr, a Senegal native and executive director of the African Bureau of Immigration & Social Affairs (ABISA) in Detroit, says the city attracts a steady flow of African immigrants from larger metropolitan areas such as New York and Washington, D.C., who come here to settle down, raise families, and establish businesses. As of 2000, there were nearly 17,000 African-born people in Michigan. By 2016 that number had risen nearly 63 percent to a little over 27,000, according to the U.S. Census. More than half of the state's African-born population at that time lived in the Detroit-Warren-Dearborn area. They represent a diverse mixture of people who hail from Senegal, Guinea, the Democratic Republic of Congo, Uganda, Togo, Cameroon, the Ivory Coast, and elsewhere, says Zaini Itito, a Togo native who serves as shelter and client services manager at the nonprofit Freedom House Detroit, a temporary home for asylum seekers.
"It's definitely diverse, because you have Senegalese, you have Gambian, you have the Ivory Coast, you have Benin, you have Togo, you have Mali, you have Nigeria, you have Uganda … you have Burundi in here. It's very, very diverse," Sarr says of African influences in the region. 
There are plenty of ways to experience the diversity of African culture right here in metro Detroit if you know where to look.  
Don't Miss 
A great place to start is with a trip to Dabls Mbad African Bead Museum. Museum owner, curator, and visual storyteller Olayami Dabls began collecting African beads in the '80s. He opened his museum in 2002 on an entire city block in Detroit with the goal of connecting the local community to African history and material culture, free from the constructs of European museums. The walls of the bead gallery and shop are covered from ceiling to floor in hand-carved bone, glass, brass, and ceramic beads from all around the continent. The campus also includes 18 outdoor mosaic and mural installations, including the "N'kisi House" and the "African Language Wall," which features 25 of the continent's languages painted in multiple colors. 
The African World Festival is a highly anticipated annual event in Detroit. During a three-day weekend each August, the festival brings live music and dance performances, art, clothing, more than 200 authentic African and Caribbean food vendors, and more to crowds that surpass 125,000 in non-pandemic years. The event has been held at the Charles H. Wright Museum of African American History for the past decade, but it's scheduled to return to its original home base, Hart Plaza, from Aug. 22 to 24 this year.  
At the Detroit Institute of Arts, local historian Jamon Jordan guides guests through the museum's ancient Egyptian and African exhibits as part of the Royal African Tour. ABISA's Sarr, meanwhile, teaches West African dance classes at the N'Namdi Center for Contemporary Art's Movement Center. 
The Real Deal
Several shops with authentic African apparel and accessories line the Livernois Avenue of Fashion in Detroit. Love Travels. Imports. offers handcrafted artisan goods created by makers in South Africa, Guatemala, Peru, and Haiti, including apparel, accessories, textiles, and body products. The shop is a culmination of owner Yvette Jenkins' travels to those places. Nearby Akoma is an art gallery, shop, and co-op space for local women artists and makers, featuring African textiles including indigo-dyed cotton and hand-dyed mudcloth from Mali. Other notable shops on the avenue include African Fabrics & Fashion and Prisca's African Fashion for Less. 
Sarr recommends a visit to Detroit's Djenne Beads and Art, owned by Mali native Mahamadou Sumareh, for African beads, perfumes, shea butters, and clothing. Also worth a visit is Sun's Crystal and Bead Supply, which stocks a selection of brass, carnelian, coconut heishi beads, and more. Zarkpa's, owned by Liberia native Tracy Garley, offers vibrant tops, dashikis, skirts, dresses, masks, and head wraps handmade with
fabrics from Ghana, Nigeria, and Liberia. 
At African Fashions by Classic Expressions in Oak Park, Nigeria native and designer Yemisi Bamisaye designs ready-to-wear garments and custom pieces with fabrics from Nigeria, Angola, Ghana, and Cote d'Ivoire. Sterose International Boutique in Detroit is internationally known for its geles, a traditional Nigerian head wrap. 
For more products with African roots, check out Diop, a "diaspora-inspired streetwear" brand founded by first-generation American Mapate Diop. The brand's vibrant apparel and accessories are made of Ankara fabric, a material that Diop's mother brought home after visiting her native Nigeria that inspired Diop to start his business. And Chinyone Akunne's beauty brand Ilera Apothecary features collections of plant-based, ethically sourced cleansers, moisturizers, and body butters influenced by Akunne's Nigerian roots. 
Detroit's west side is also home to many grocers —Darou Salam African Market, African Village Market, Family African Market, and United African Market among them — that sell African foods, herbs, organic products, oils, butters, cosmetics, and similar products.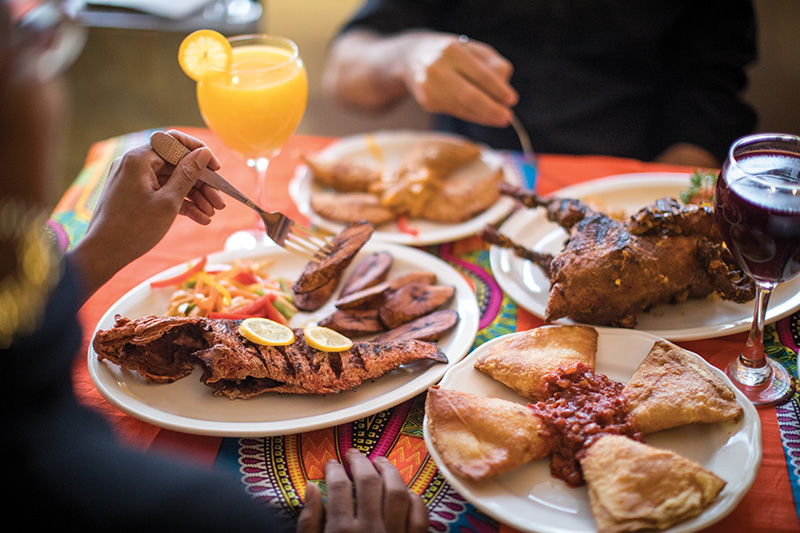 Tastes
Authentic African fare is plentiful in metro Detroit. At Maty's African Cuisine, chef Amady Guere whips up Senegalese dishes such as chicken yassa; deep-fried fataya pastries; and maafe, a West African stew. Located in Detroit's Old Redford neighborhood, the restaurant is the first of its kind in the city. KG's African American Grill in Garden City also serves traditional Senegalese fare, including various takes on the national dish, thiéboudienne, along with burgers, chicken sandwiches, and other American classics. 
Afro-Caribbean eatery YumVillage, founded by chef Godwin Ihentuge, specializes in Hot Bowls filled with flavorful proteins, rice, and veggies including mango curry chicken, guava Tahini chicken, lemon pepper jerk chicken, jollof, coconut or turmeric rice, and spicy plantains. Not far from YumVillage in Detroit's New Center neighborhood is Baobab Fare, a highly anticipated East African restaurant founded by husband-wife duo and Burundi natives Nadia Nijimbere and Hamissi Mamba. This, the area's newest African dining spot, opened mid-February. 
Kola Restaurant & Ultra Lounge in Farmington Hills offers Afro-Caribbean eats paired with live Afrobeat, reggae, and jazz music performances as well as comedy and dance shows. Blue Nile in Ferndale and Ann Arbor and Taste of Ethiopia  in Southfield offer Ethiopian meat and vegetarian dishes. Other spots to check out include Detroit's Kalahari African Cuisine and the Fork in Nigeria food truck, which offers flavorful dishes rooted in chef-owner Prej Iroebgu's native Nigeria. 
Did You Know?
Afrobeat is a genre that combines elements of West African music — such as Nigerian fuji music, traditional Yoruba music, and Ghanaian highlife — with American jazz and funk. The Odu Afrobeat Orchestra, a Detroit-based, 15-piece ensemble, is one notable example of local Afrobeat talent. 
A legendary Afrobeat performance was recorded live at the Fox Theatre in 1986. The late Fela Kuti — a Nigerian multi-instrumentalist and activist regarded as the pioneer of Afrobeat — performed there less than a year after he was released from his 20-month imprisonment in Nigeria. The four-song set lasted nearly two and a half hours and was released as the album Live in D.