Your staycation options are getting a little posher. Aparium, the Chicago-based group behind the Detroit Foundation Hotel, celebrates the grand opening of the 151-room Daxton Hotel in downtown Birmingham this month.
"Daxton Hotel is a standout in Aparium Hotel Group's portfolio," says General Manager Aaron Black, "as it brings a modern vision of Birmingham luxury and incorporates some of the finest art, wellness, dining, and retail that hospitality can offer." 
Located at 298 S. Old Woodward Ave., the five-floor hotel features a minimalist-luxe design with glass walls, avant-garde furniture, and a focus on rich colors — the lobby is chartreuse, guestrooms are deep-burgundy, and parlors are lavender. The hotel also features a 400-piece collection of artwork curated by Saatchi Art, an online art gallery and artist network with headquarters in Los Angeles. 
Room options include everything from the 340-square-foot Daxton Two Queen to the 1,410-square-foot Colby Suite, which offers a private bar, a kitchenette and dining area, a private outdoor terrace, and more. The rooms are accented with items from local collaborators, including guest room vases and coffee mugs by ceramicist Abigail Murray and book collections curated by Cranbrook Art Museum.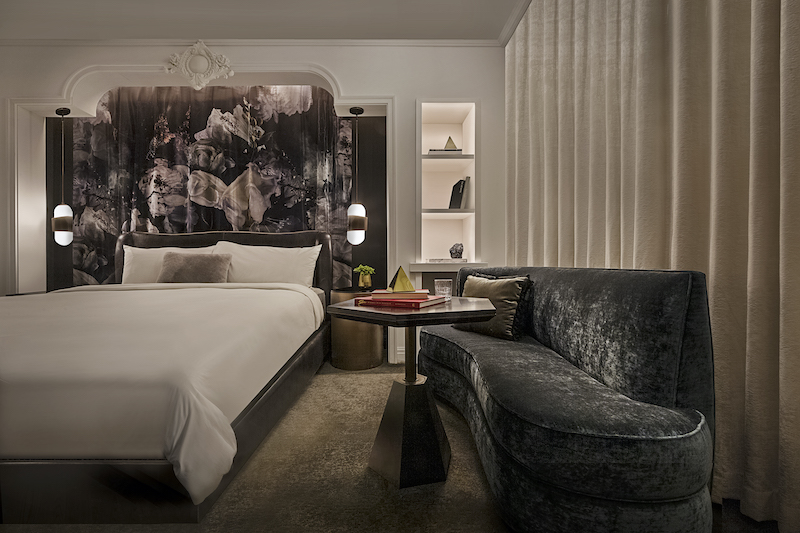 Other offerings at Daxton Hotel include a fitness center with Peloton bikes and access to a personal trainer through Royal Oaks Lean Body Studio, a retail space that includes goods from and services from the likes of Mills Pharmacy & Apothecary and 1701 Bespoke, meeting and event spaces, and a Daxton Run Club led by Michigan running store Gazelle Sports.  
The hotel also houses a dining space called Madam. The restaurant, which opens for business today, features wood floors and high ceilings with hanging greenery. The eatery serves American dishes with a twist — like chips served with a nori, trout roe, and crème fraîche dip, and fusilli giganti with braised lamb ragu, fava beans, baby spinach, and ricotta salata. 
Aparium partnered with Auburn Hills-based Clark Construction Services on the build, and Simeone Deary, an award-winning firm that is based in Chicago, worked on the design. Simeone Deary has designed hotels, restaurants, and bars across the country, including the Michelin-rated Boka in Chicago, the Le Meridien lifestyle hotel in Denver, and the Detroit Foundation Hotel.  
Aparium debuted the 100-room Detroit Foundation Hotel, located near TCF Center at 250 W. Larned St., in May 2017. Based in a former Detroit firehouse, the hotel is five stories high and is home to the Apparatus Room, a restaurant led by two Michelin-Starred Chef Thomas Lents.  
"Both Daxton Hotel and Detroit Foundation share the common commitment to providing guests with a translocal experience," Black says. "We want our guests to experience Detroit and Birmingham as locals would, with details and features of the local community. Whether it's seasonal produce on the plates of Madam and The Apparatus Room or interacting with the city's residents at the bar as fellow guests, we want people to connect with the greatness of the area in an authentic way."  
Ahead of its official opening later this month, Daxton Hotel is hosting a soft opening for some guests starting today. Those who are interested in booking a room can now visit the Daxton's website to reserve their dates. In addition to general COVID protocols, each guest room will undergo an electrostatic cleaning service between guests. 
For more information, visit daxtonhotel.com. 
Facebook Comments