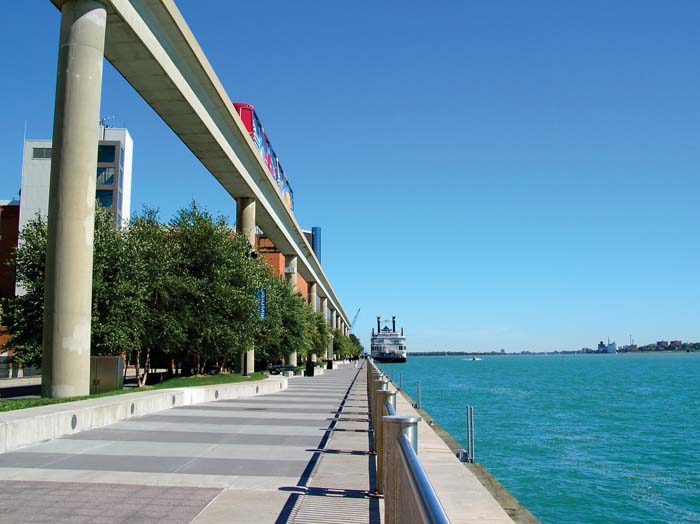 Explore.
We do it on vacation, so why not here at home?
It's cheaper than hopping a plane. And it's about time many of us got reacquainted with the city at the core of our region.
To help you get going, we offer the following highlights as an a la carte menu, of sorts. Pick and choose, mix and match, designing your own day, night, or weekend in Detroit's downtown, Midtown, and nearby neighborhoods. Take the kids, book a guided tour if you prefer, or consider waking up at a downtown hotel with a skyline view for the real visitor experience.
Continue your local travels on a following weekend with a side trip to one of our suburban downtown districts. Or revive the classic pleasure of taking a Sunday drive. Add an ice-cream cone and you've got a day to remember.
Go directly to:
| Tours | Souvenirs | Bargains | Photo Ops | Action | Shopping | Art/Culture | Dine/Drink | Happy Hour | Sightsee | Drive
Sample Weekends Downtown and Midtown | Metro Detroit's Other Downtowns
---
Tours
> Detroittourconnections.com: A wide variety of walking and bus tours. Select a focus of interest, architecture, historic churches, old and new Park Avenue, or places with Pewabic installations, for example.
> Diamond Jack's River Tours (below): See Detroit's skyline from the water. The upper-river cruise runs from the Rivard Plaza dock near the Renaissance Center. Lower-river cruises depart from Bishop Park dock in Wyandotte. diamondjack.com.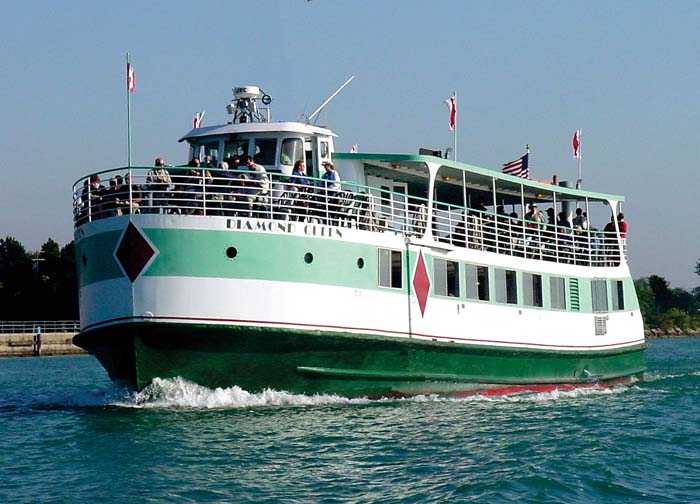 > dtoursdetroit.com: Various walking and bus tours promise a Detroit "immersion." Also available are tours of Detroit's historic ethnic enclaves as well as nightlife and entertainment.
> Experiencedetroit.com: More than 30 options with printable maps on the website include architectural tours, Belle Isle, Downriver, mansions and estates, and ethnic neighborhoods.
> hometownhistorytours.com: Narrated bus tours.
> insidedetroit.org: Bus, walking, and Segway tours of city highlights.
> mcmillintours.com: Click on "events" for information.
> Model T Piquette Plant Tours: Visit the birthplace of
the Ford Model T. tplex.org.
> Preservation Wayne Detroit Heritage Tours: Themed tours include skyscrapers, sculptures, fountains, bootlegging on the river, historic cemeteries, auto heritage, and the annual Theater Palaces tour in August. preservationwayne.org.
> visitdetroit.com: Audio tours with printable maps and scripts. Other area tours are also listed on the website.
> wheelhousedetroit.com: Themed bicycle tours include architecture, urban agriculture, art, Belle Isle, Eastern Market, Civil War, Underground Railroad, and Southwest Detroit/Fort Wayne.

---
Souvenirs
> A Pewabic tile depicting the Anna Scripps Whitcomb Conservatory on Belle Isle; bibsociety.org.
> A flowered pig or piñata from Honey Bee La Colmena Market (below); 313-237-0295, honeybeemkt.com.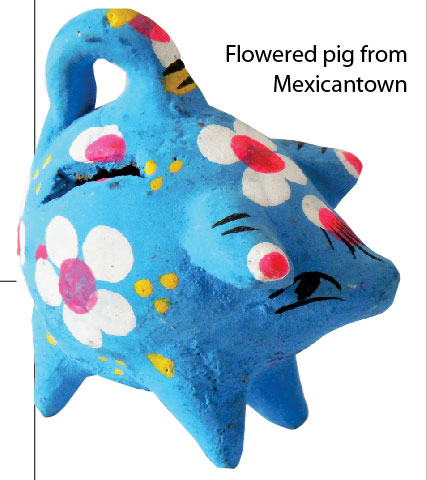 > Winnings from MotorCity, MGM Grand, or Greektown casinos. motorcitycasino.com, mgmgranddetroit.com, greektowncasino.com.
> Sangria growler from Vicente's Cuban Cuisine; 313-962-8800, vicente.us.
> Gourmet cheese from R. Hirt Co., Eastern Market; 313-394-0441, rhirt.com.
> Tigers trinkets for the kids; tigers.com.
> Fitted hat from Henry the Hatter; 313-962-0970, henrythehatterdetroit.com.
> A loaf of Motown Multigrain bread from Avalon International Breads; 313-832-0008, avalonbreads.net.
> A DSO recording from the gift shop in The Max; detroitsymphony.com.
> A dozen chocolate-chunk cookies to go from Opus One restaurant downtown (order 24 hours in advance, $18 per box, $24 in a velvet bag); 313-961-7766, opus-one.com.
> A T-shirt from one of Michigan Opera Theatre's productions, available at the gift shop in the Detroit Opera House; motopera.org.
---
Bargains
> La Mexicana Supermercado for tacos at the in-store lunch counter in Mexicantown; 313-841-3024.
> Watching Tigers baseball from the sidewalk on East Adams along the southern wall of Comerica Park.
> The RiverWalk, Milliken State Park; detroitriverfront.org.
> Heidelberg Project, marking 25 years of street art; heidelberg.org.
> Campus Martius Park Summer Concert Series (plus free Wi-Fi in the park); campusmartiuspark.org.
> The 50-cent tour of downtown aboard The People Mover (below). thepeoplemover.com.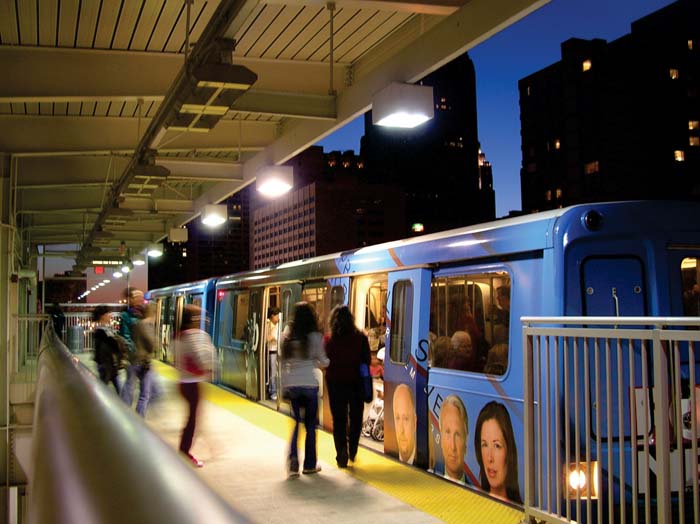 ---
Photo Ops
> Fist of a Champion sculpture by Robert Graham honoring Joe Louis.
> Paws, the Detroit Tigers' large, furry mascot.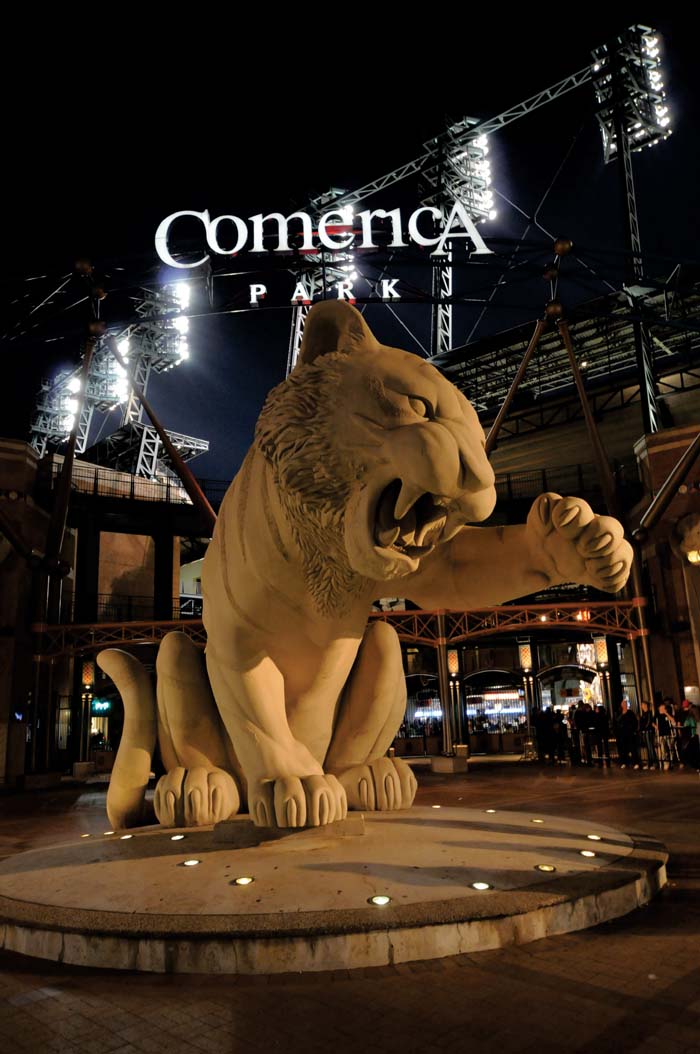 > The Spirit of Detroit sculpture by Marshall Fredericks at the Coleman A. Young Municipal Center.
> Kids playing at the pop-up fountain on the RiverWalk GM Plaza and Promenade behind the GM RenCen.
> Lafayette or American Coney. You pick.
> The Guardian Building's dramatic tiled lobby. guardianbuilding.com.
> Beneath the Fox Theatre marquee.
> Michigan Soldiers and Sailors Monument at Campus Martius.
> The ornate Fisher Building lobby, which was constructed with 40 types of marble.
> The Streets of Old Detroit exhibit at the Detroit Historical Museum; detroithistorical.org.
> Roosevelt Park (in front of Michigan Central Depot); rooseveltparkrevival.org.detroitriverfront.org/dequindre
> The giant Tiger guarding the entrance to Comerica Park (above).
> Heidelberg Street; heidelberg.org.
---
Action
> Rent a bike on the RiverWalk at Wheelhouse Detroit. wheelhousedetroit.com.
> Walk or bike the Dequindre Cut, a non-motorized trail running from the Detroit River to Gratiot. detroitriverfront.org/dequindre.
> Dance (and dine) at Mario's Italian Restaurant; 313-832-1616, mariosdetroit.com.
> Knock down some pins at Garden Bowl in Midtown; 313-833-9850, majesticdetroit.com/garden-bowl.
> Rent a swan paddleboat on Belle Isle. fobi.org.
> Feather-bowl at the Cadieux Café; 313-882-8560, cadieuxcafe.com.
> Watch neighborhood vs. neighborhood in Detroit Futbol League soccer competition. Games run through August at Belle Isle. For a schedule: detroitcityfutbol.com.
> Hunt for the gravestones of famous Detroiters: Lewis Cass, Antoine Beaubien, Joseph Campau, and Jerome Cavanagh, among others, at Elmwood Cemetery and Mt. Elliott Cemetery; elmwoodhistoriccemetery.org, mtelliott.com.

---
Shopping
> Bureau of Urban Living: Creative home goods; 313-833-9336, bureauliving.com.
> City Bird: Detroit-centric housewares, accessories, paper goods, and work by more than 75 artists and designers; 313-831-9146, ilovecitybird.com.
> Detroit Antiques Mall; 313-963-5252.
> Detroit Gallery of Contemporary Crafts: A selection of American crafts (in the Fisher Building); 313-873-7888.
> DIA Museum Shop: Items include a reproduction Frank Lloyd Wright Dana Sumac vase or a Starry Night jigsaw puzzle, for example; diashop.org.
> Eastern Market Antiques; 313-259-0600, easternmarketantiques.com.
> Goods: Handmade merchandise and custom T-shirts (in The Park Shelton); 313-871-1466, goodsdetroit.com.
> Historical Museum Shop: Consider a Detroit snow globe, Little Mr. Detroit T-shirt, Belle Isle stationery, or a Detroit skyline poster, for example; detroithistorical.org.

> Charles H. Wright Museum of African-American History Museum Shop (above): Look for books, videos, and games that explore history and culture, dolls, puzzles, and handcrafted items from African and local artisans; chwmuseum.org.
> John King Books: Rare and used books; 313-961-0622, rarebooklink.com.
> Leopold's independent bookstore: Graphic novels, art monographs, local 'zines, literary fiction, nonfiction, and a wide range of magazines with a focus on art and design (in The Park Shelton); 313-875-4677, leopoldsbooks.com.
> Pure Detroit: Detroit apparel, gifts, accessories (three city locations); puredetroit.com.
> Russell Bazaar Weekend Marketplace: Inside the Russell Industrial Center; russellbazaar.com.
> Savvy Chic: Antiques, Eastern Market; 313-833-8769.
> Sole Sisters: Women's shoe boutique (in Midtown, also suburban locations); 313-831-9013.
> Marketplace Antiques Gallery: Fine antiques (near Eastern Market); 313-567-8250.
> Pauline's Closet: Resale/consignment shop in Midtown; 313-832-4711.
> Renaissance Center: Shops offer fashion, jewelry, chocolates; gmrencen.com/Directory/Shopping/tabid/90/Default.aspx.
---
Art/Culture
> Attend an auction at Du-Mouchelles; dumouchelles.com.
> Visit the N'Namdi Gallery, in Detroit's Sugar Hill Arts District; 313-831-8700, grnnamdi.com.
> Detroit Film Theatre; dia.org/detroitfilmtheatre/14/DFT.aspx.
> Cass Café: Restaurant and art gallery (free Wi-Fi); 313-831-1400, casscafe.com.
> Museum of Contemporary Art Detroit (MOCAD); 313-832-6622, mocadetroit.org.
> Motown Museum (Hitsville U.S.A.); 313-875-2264, motownmuseum.com.
> Diego Rivera's Detroit Industry fresco in Rivera Court at the DIA, something every metro Detroiter (and metro Detroit child) should see; dia.org.
> Detroit Artists Market (DAM) (above), founded in 1932, promotes, exhibits, and sells the work of emerging and established artists; 313-832-8540, detroitartistsmarket.org.
> Pieces by such renowned Detroit-area artists as Charles McGee, Marshall Fredericks, and Tom Phardel adorn the 13 People Mover stations. thepeoplemover.com/art-instations.id.4.htm.
> See listings here for more galleries, museums, and events.
---
Dine/Drink
> Rowland Café & Espresso Bar: Illy-brand coffee (Try the latte, but get there before 5 p.m. Friday; it's closed on weekends.) In the upper lobby of the Guardian Building; 313-964-1928, therowlandcafe.com.
> Sweetwater Tavern: The spicy chicken wings get rave reviews. The setting is a 116-year-old building downtown; 313-962-2210.
> Ben & Jerry's: At this ice-cream shop on Woodward in the Compuware Building downtown, purchases benefit Goodwill Industries of Greater Detroit; 313-964-2186, benjerry.com/woodwardave.
> The Clique: "Greasy-spoon" breakfast anytime, served with a side order of political history. On East Jefferson at Rivard; 313-568-3000.
> Midtown Shangri-La: Go late and watch Twin Peaks or enjoy a traditional Chinese dim sum lunch. Ask for a seat upstairs in the intimate loft; 313-974-7669, midtownshangri-la.com.
> Texas de Brazil: This Brazilian-style steakhouse is new to downtown at 1000 Woodward (inside the Compuware Building); 313-964-4333, texasdebrazil.com.
> Whitney Ghostbar: Jazz and vocalists on Friday and Saturday nights; 313-832-5700, thewhitney.com.
> PJ's Lager House: Live local music with food that has a Louisiana kick (near the MGM Grand and the former Tiger Stadium site). The tiled front-door threshold lends a patina of age; 313-961-4668, pjslagerhouse.com.
> Woodbridge Pub: Sunday brunch is popular at this spot in a 1926-built neighborhood store that's just across Trumbull from Wayne State's football field and in the popular Woodbridge residential enclave; 313-833-2701, woodbridgepub.com.
> Smoke a stogie at La Casa De La Habana in Harmonie Park (across from the Detroit Athletic Club); lacasadelahabana.com.
> Le Petit Zinc: A bit of France on Trumbull in Corktown. The menu includes sweet and savory crêpes, salads, and sandwiches (cash only); 313-963-2805, lepetitzincdetroit.com.
> The drive to Giovanni's in Southwest Detroit is worth it. Their lasagna is hands-down Detroit's best; 313-841-0122, giovannisristorante.com.
> Café d'Mongo's Speakeasy: A hipster haven and a guaranteed good time, Fridays only; cafedmongos.com.
> The Bronx Bar: This onetime go-to dive bar for Wayne State students has become a beloved Midtown watering hole, thanks in part to a new outdoor patio; 313-832-8464.
> The Bucharest Grill: Grab a late-night shawarma (inside the Park Bar); 313-965-3111, bucharestgrill.com.
> Coach Insignia: Cocktails/dinner with a view from the 71st and 72nd floors of the RenCen; 313-567-2622, mattprentice.com/coachinsignia.
> Step back into the year 1952 and have a classic cocktail in the back room of the Penobscot Building's Caucus Club, where a wood bar and English Toby Mug collection contribute to the clubby atmosphere; 313-965-4970, caucusclubdetroit.com.
> Vivio's Food & Spirits: This Eastern Market mainstay is known for making a mean Bloody Mary; 313-393-1711, viviosbloodymary.com.
> View our online restaurant guide for more dining ideas.
---
Happy Hour
(A SIP/SAMPLING)
> Roast (in the Westin Book Cadillac): Called the best happy-hour deal in Detroit by The New York Times (but we already knew that, didn't we?), this spot is known as much for the reduced-price bites as it is for the libations; 313-961-2500, roastdetroit.com.
> Cliff Bell's: The meticulously restored Art Deco interior is as attractive as the drink specials and $3 appetizers; 313-961-2543, cliffbells.com.
> For some, it's always happy hour at the casino. But SaltWater (inside MGM Grand Detroit) ups the ante with $6 Belgian beers and cocktails alongside discounted seafood "snacks"; 313-465-1646, mgmgranddetroit.com/restaurants/saltwater.
> The Whitney: Feel like the owner of a grand mansion (we can pretend, can't we?) during happy hour in the garden; 313-832-5700, thewhitney.com.
---
Sightsee
> Canfield between Second and Third in Midtown's West Canfield Historic District is a cobblestone street with well-maintained and lovely old homes dating to the 1870s.
> Main Detroit Library: Visit the third floor to admire the murals and stained glass. detroit.lib.mi.us.
> RenCen/Winter Garden/RiverWalk fountains; detroitriverfront.org.
> Eastern Market (above) is one of the most vibrant places in metro Detroit on Tuesday and Saturday mornings in season; 313-833-9300, detroiteasternmarket.com.
> Have lunch at a café table in Campus Martius Park and take in the midday people-watching. campusmartiuspark.org.
> Stay at a downtown hotel (reserving a room with the view of your choice) and wake up to vistas of the river or skyline.
---
Drive
> Meet the neighborhoods: Corktown, Boston-Edison, Palmer Woods, Indian Village, Brush Park, Lafayette Park, Southwest Detroit (Mexicantown), and Woodbridge, among others. See cityscapedetroit.org and click "neighborhoods" for a map.
> Water: Lake Shore Drive in the Grosse Pointes and Grosse Ile (Downriver).
> Meander: Edward Hines Drive, Outer Drive.
> Go west: Drive Michigan Avenue (historic US-12, a Native American trail that became the Detroit and Chicago Road) toward Saline and as far west as time permits (all the way to Chicago, if you like).
> Fort Street: From downtown to Downriver, you'll cross the Rouge on a drawbridge and get a Rust Belt view of the city's inner workings.
> Jefferson: Toward Algonac or to Downriver.
> M-1 Light-rail preview: Start at Woodward and Jefferson and cruise Detroit's main artery to your desired transit stop.
> Cruise: Wind around Belle Isle on roads with such names as Sunset, Riverbank, Lakeside Drive, Loiter Way, Shadow Nook, and Vista Way.
---
A Sample Weekend in Downtown Detroit
ACCOMODATIONS: The Westin Book Cadillac, MGM Grand Detroit, MotorCity Casino Hotel, Greektown Casino Hotel, The Atheneum Suite Hotel, Courtyard Marriott, Detroit Marriott at the Renaissance Center, Hilton Garden Inn, Roberts Riverwalk Hotel & Residence, DoubleTree Guest Suites — Fort Shelby.
FRIDAY NIGHT: Get happy at Roast's happy hour (at street level in the Westin Book Cadillac). Burn calories on the way to dinner at Andiamo Detroit Riverfront in the RenCen by first strolling along the RiverWalk. Live jazz? Ride the People Mover to Cliff Bell's, where shows start at 8 p.m. Nightcap? Walk to the Town Pump. Bedtime snack? The Bucharest Grill in the nearby Park Bar. Then cab it back to the hotel for lights out. (Night owls can always seek out casino action before turning in.)
SATURDAY: Coffee, snack, and newspaper at the hotel. Then, head back to the RiverWalk, rent bicycles at Wheelhouse Detroit, and pedal to breakfast at Le Petit Zinc in Corktown. (Alternate plan: Bike the Dequindre Cut north to Eastern Market.) On the return ride from Corktown, page through the voluminous inventory at John King Books and grab lunch at the storied Anchor Bar, a fabled haunt of journalists. Return your bike and embrace the tradition of siesta time, followed by a spa treatment at Immerse, Woodhouse Day Spa, D.Tour Spa, or Spa 19. The evening lineup: Casual dinner at Angelina Bistro, Tiger baseball at Comerica Park, and a nightcap at Small Plates.
SUNDAY: Start the day with a workout and a dip in the hotel pool/fitness center or order a light breakfast in bed. Then explore some of the nearby historic churches: St. Aloysius on Washington Boulevard, Fort Street Presbyterian, and Most Holy Trinity on Porter. What's a leisurely Sunday without brunch? Try Mudgie's in Corktown.
---
A Sample Weekend in Midtown
ACCOMODATIAONS: Inn on Ferry Street
FRIDAY NIGHT: Grab a Chinese dinner at Shangri-La on Cass Avenue, then head over to the DIA Friday Night Live for live music and a drop-in art workshop. Cap off the night with a trip to the Whitney's third floor for live music and drinks.
SATURDAY: Start off the day with a crêpe and coffee at Good Girls Go to Paris Crêpes in the Park Shelton. Then cruise over to Eastern Market for an early lunch at one of the several market-area restaurants. While there, visit antiques shops (Russell Street Antiques, Marketplace Antiques Gallery on Gratiot, and the huge emporium on Market Street called Eastern Market Antiques). Snag a reasonably priced bottle of wine from Cost Plus Wine Warehouse and a chunk of cheese from R. Hirt Co. to take back to the hotel for a private happy hour. While you're feeling flush, stroll Midtown proper and shop on Canfield for Detroit- and Michigan-made products at City Bird and home goods at Bureau of Urban Living. Explore the Main Detroit Library and don't miss the Pewabic fireplace in the children's area and the third-floor murals. Drop by the Traffic Jam & Snug, a Midtown mainstay since 1965, for a house brew. Later, lace on your bowling shoes and knock down some pins at Garden Bowl, the nation's oldest operating bowling alley. Continue the fun with a concert at one of the venues within the Majestic complex. Grab a late-night slice of pizza from Sgt. Pepperoni's while you wait for the cab to take you back to the inn.
SUNDAY: Begin the day in elegant fashion with brunch at The Whitney, once home to lumber baron David Whitney. Later on, catch a matinee flick at the Detroit Film Theatre in the DIA. Browse the museum gift shop while you're there. Head north to the New Center and cap off the day with dinner at Cuisine, housed in a splendid old home on Lothrop behind the Fisher Building.

---
Exploring Metro Detroit's Other Downtowns
> Berkley, berkleychamber.com
> Birmingham, enjoybirmingham.com
> Brighton, downtownbrighton.com
> Clawson, downtownclawson.com
> Dearborn, dearbornwestonline.com, eastdowntowndearborn.com
> Farmington, downtownfarmington.org
> Ferndale, downtownferndale.com
> Grosse Pointe, thevillagegp.com
> Milford, meetmeinmilford.com
> Mount Clemens, downtownmountclemens.com
> Northville, downtownnorthville.org
> Plymouth, downtownplymouth.org
> Rochester, downtownrochestermi.com
> Royal Oak, downtownroyaloak.org
> Wyandotte, wyandotte.net
---
If you enjoy the monthly content in Hour Detroit, "Like" us on Facebook and/or follow us on Twitter for more frequent updates.