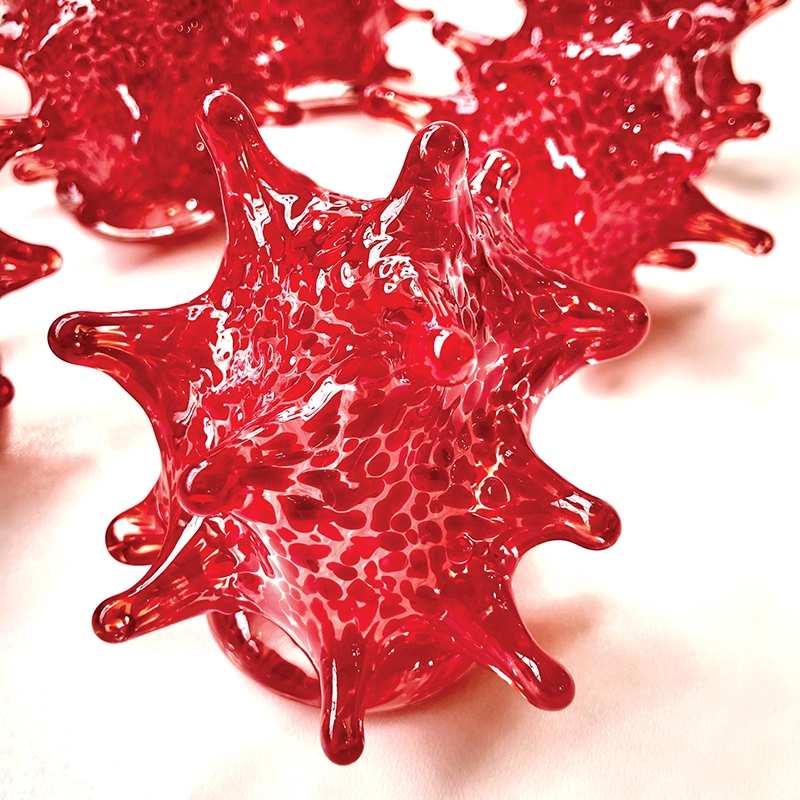 We've all seen them — those ubiquitous, typically red or blue, ominous-looking orbs covered with what look to be clustered pinheads that we've come to associate with COVID-19.
Michelle Plucinsky and Chris Nordin had seen them, too. The master artists and co-founders of the Glass Academy in Dearborn, along with their glassblower son Jacob Nordin, 22, decided to recast the image as a work of art — in glass.
"We all went into the studio and made our version of the COVID, asking people to vote," Plucinsky says. They settled on a design, and people started ordering them.
"For us, it was a symbol of what's happening in the world," Plucinsky says.
Some designs come on an inscribed wooden base so they can be given to people working on the front lines of the health crisis like an award. They range in price from $75 to $175, and the academy is donating a third of the revenue from sales to other small businesses and nonprofits whose cash flow could use a boost right now. They have already donated more than $4,000.
They're also offering a COVID goblet at a much lower price that isn't included in the money earmarked for donation.
"It was a sensitive subject in the beginning, and we got some backlash for it," Plucinsky says of the COVID-themed art. "But for every one comment, we got 20 that were, 'Great, thank you. This is a time in history.'
"It's beauty in the time of crisis. That's the artist's interpretation, and that's what we do."
Not being able to host the visitors who would typically come to watch its works in glass being made, the Glass Academy has been bringing its artistry — including its COVID
pieces — to customers via Facebook Live. It's offering a virtual show each Tuesday and Friday from 6 to 8 p.m. It has also transformed its website to offer its products online with curbside pickup available.
The glassblowers are also making videos of themselves creating special orders so customers can watch as their pieces are made. And they've rolled out other new designs, including a glass garden slug.
"We all feel like a slug," Plucinsky says. "But we're doing them bright and playful."
The Facebook Live events have attracted participants from 19 states plus Australia, Canada, Jamaica, and the U.K. Glass Academy is not bringing in nearly the level of business it would be if it had been able to stay open and host visitors in person, but Plucinsky says they're grateful to be selling at all right now.
"It's really cool to watch because on Facebook Live … our customers started talking to other people and asking questions," Plucinsky says. "It created this community on Facebook, so it's super serendipitous."
Facebook Comments