The College for Creative Studies' student exhibition and sale has returned.  Through May 27, folks can head to the 2022 Student Exhibition to view more than 5,000 pieces and purchase select works created by students from all years and studying from every academic department at the Detroit school.
Paintings, sculptures, mixed media works, photographs, and apparel and accessories are among the items on display by students in programs including Fashion Accessories Design, Photography, Transportation Design, Animation, Crafts & Material Studies, and Interaction Design/UX Design. The exhibition is presented at both College for Creative Studies campuses: the Alfred Taubman Center for Design and Education and the Walter and Josephine Ford Campus. All profits from sold pieces go directly to the students who created them.
Also on display are artworks created by alumni as part of the Re/View: A CCS Alumni Exhibition as well as pieces by students from the University Prep Art and Design middle and high schools in Detroit for the University Prep Art & Design Student Showcase.
"It's very different this year; this is the first time we're going back after a long time to doing this student exhibition on both campuses," says Tim Flattery, dean of undergraduate studies and renowned Hollywood concept designer, at the ticketed opening reception for the exhibition on May 13. At the event, guests had the chance to browse and buy artwork before the exhibition opened to the public the following day, while enjoying live music by local acts and sampling hors d'oeuvres and cocktails. "[My hope is that the students] receive really great interaction with industry that visits and other folks as well, so that they have a great networking experience. And just a celebration of their achievements that's acknowledged across the board…"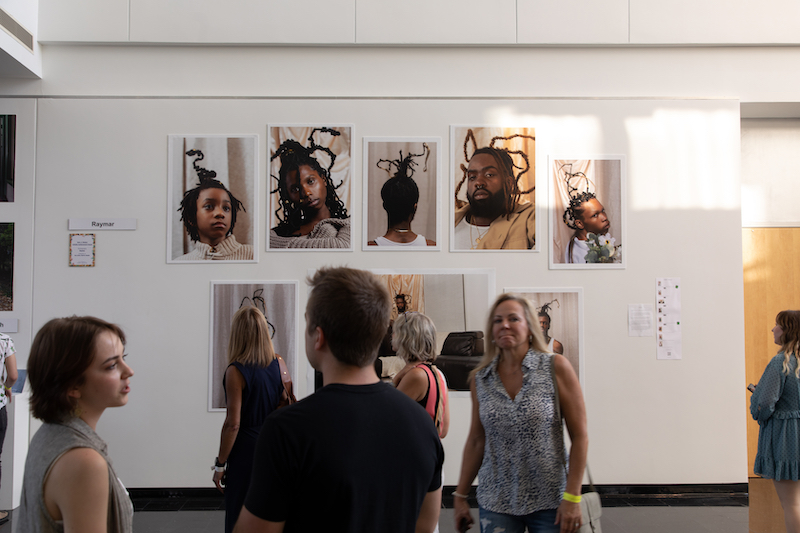 Student projects cover a wide range of topics and ideas from finding the beauty in taxidermy and raising awareness about homeless cats in Detroit, to ongoing societal conversations such as the use of African American Vernacular English (AAVE) by non-Black people and discouraging the stigma associated with discussing money and debt. Another example is Crowns, a photo series by Raymar, who graduated earlier this month from CCS with his bachelor's of fine arts in Photography and a minor in Liberal Arts: Visual Culture.
"I spent my senior thesis exploring hair as a form of expression for Black men and Black people, rather," says Ramar, who is also a recipient of this year's Imre J. Molnar Artistic Achievement Award presented by CCS. "I feel like as Black people, there have been many times where a lot of our expression — whether it be dance, vocally, language barriers, all of it — it's been restricted, and we've had to fit into society standards. Not even just for others, but it turns out, we do it a lot inside of our own community. So, there's been oppressions and internalized racism against ourselves. I wanted to use my series as a reimagination of how hair can be used and how men can express themselves and people can express it."
Folks can view and purchase artwork from the 2022 Student Exhibition from 10 a.m. to 4 p.m., Saturday to Wednesday, and 10 a.m. to 8 p.m. on Thursday and Friday. Following the completion of the exhibition, sold artwork can be picked up at the Walter and Josephine Ford Campus from June 6-12.
For more information, visit collegeforcreativestudies.edu/student-exhibition/.