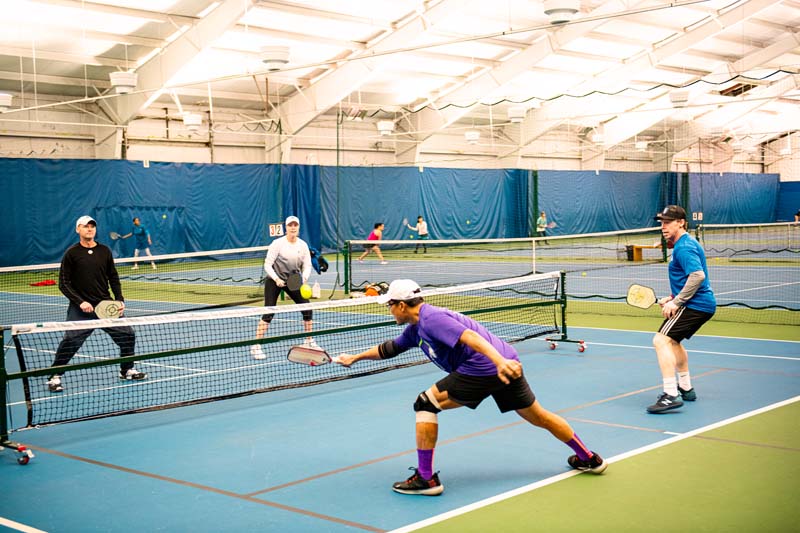 In the 2022 Health Guide cover story, we talk with former Red Wing player and Stanley Cup champ Kris Draper about his love for pickleball. Here, we dive into the sport a little more.
What is it? 
Pickleball is a rapidly growing sport that combines the rules of tennis and ping pong and is played on a court that's nearly identical to a badminton court. Games can be played with singles or doubles; each version comes with its own set of dimensions, similar to those seen on a tennis court. The sport is typically played on converted tennis courts, either indoor or outdoor, but wood-floor gymnasiums are most common among older crowds.
Who invented it and why is it called pickleball? 
The game was invented in 1965, by U.S. politician Joel Pritchard, who wanted to play badminton but didn't have a shuttlecock on-hand. He instead used a Wiffle ball, and the rest is history. Pritchard's resourcefulness led to his wife, Joan, calling the sport pickleball, because it reminded her of a "pickle boat." The rowing term refers to the craft that finishes last in a race, often as a result of being manned by a crew of leftover oarsmen. 
Why is it popular now? 
Partially, it's a matter of being in the right place at the right time, but the popularity of the sport has been on the rise for nearly a decade. USA Pickleball's data shows that participation increased by 650 percent, year over year, from 2014 to 2019. The sport grew another 21.3 percent, to 4.2 million players, in 2020, according to the Sports & Fitness Industry Association's 2021 Topline Participation Report.
Who plays it? 
Pickleball is for players of all ages, and athleticism is not required to have fun. Like ping pong, it can be played by anybody, whereas tennis requires a higher level of skill from the beginning. It's traditionally seen as a game for the older crowd, but that's starting to change. USA Pickleball's data shows that a majority of pickleball's core players (those who play eight times a year or more) are 55 and older — which explains why the South Atlantic is where the game is most popular — but from 2016 to 2020, the largest part (33.9 percent) of the game's casual players were those between the ages of 18 and 34.
Where can I play? 
There are a number of sports clubs and recreation centers that offer pickleball, and new courts are popping up everywhere, as many towns and cities incorporate them into their outdoor parks. Clubs that traditionally focus on tennis are now also home to pickleball courts, with some even beginning to offer leagues and clinics. A quick internet search should yield a local facility, such as the ones at 11 Mile-Huntington Park in Huntington Woods, Vreeland Park in Riverview, and Neil Reid Park in Clinton Township.
What equipment do I need? 
All you need is a ball and a paddle. The paddle is made of composite and resembles that used in ping pong, but with a padded, stumpy handle, about 4 or 5 inches long, and a head that takes on a rounded rectangle shape. Those looking to get involved on a budget can pick up equipment at a local shopping supercenter; some brands even offer kits containing two paddles and multiple balls, so getting started is a breeze.
How can I get better? 
Practice! Well, and by watching, consuming, and studying pickleball — just like for anything else. Kris Draper even follows a number of pickleball-focused Instagram accounts that dole out tips and tricks. Of course, if you're really serious about it, you can find private lessons and clinics at local racquet and pickleball clubs. Who knows? You might be a senior pro before you know it.
---
This story is from the 2022 edition of Health Guide. Read more stories here.