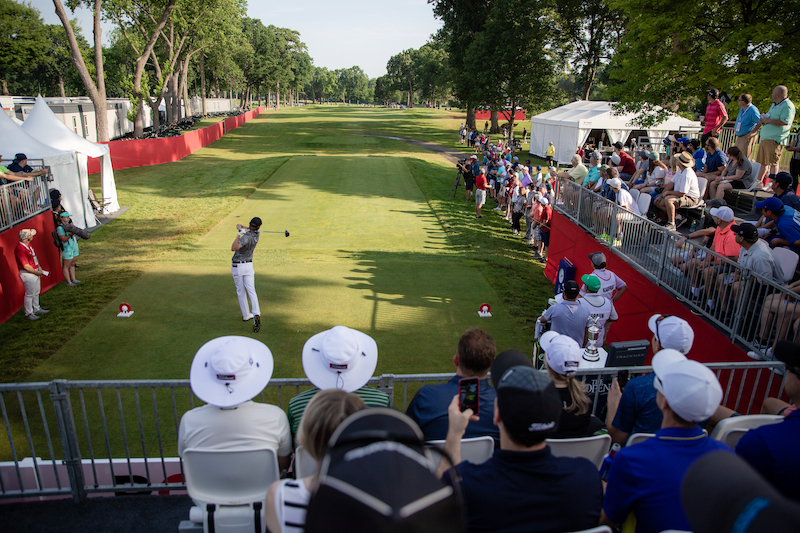 The plans were ambitious. There were to be more grandstands and viewing decks, expanded hospitality offerings for elite guests, a clinic for kids, and the return of last year's award-winning celebrity challenge. Everything about the second year of the Rocket Mortgage Classic golf tournament was supposed to be bigger, better, more exciting. It was even scheduled to coincide with the Detroit Grand Prix at the end of May.
Instead, it's a minor miracle that there will be a tournament at all in this COVID-19-tainted summer. The PGA event now scheduled at the Detroit Golf Club for July 2-5 will be played without fans or most of the fanfare plotted out by executive director Jason Langwell long before most of us had ever heard of coronaviruses and social distancing.
"Honestly, it has been like starting over from scratch, because we were pretty far along with planning and execution," says Langwell, a Michigan native and former Coldwater High golf standout. "We had to reinvent ourselves and rethink every element of the tournament."
Gone is everything Langwell spent a year planning, except the tournament itself. Even the lineup of pro golfers is in flux; Phil Mickelson, Bubba Watson, and Rickie Fowler committed in January, but as of early June, it remained unclear if those stars would recommit to the new date.
That Langwell doesn't grouse about being deprived the encore he envisioned to 2019's smash success is one reason he's become a go-to event coordinator for the likes of General Motors Co., Verizon, Heineken, Dos Equis, and Quicken Loans in his role as executive vice president of Intersport, a Chicago-based marketing and media agency with an office in Detroit.
"It's hard for the average person to imagine the difficulty of hosting this event in a normal year, let alone a year like this, but Jason has been tremendous," Detroit Golf Club board member Andy Glassberg says. "From working with the PGA Tour to determine a new date to working through the logistics of our new environment, he's been nothing less than first rate."
The first RMC, played last June, was a triumph for Langwell. The final two rounds sold out; some 10,000 fans visited for a practice-round day; and the PGA Tour later honored the tournament with awards for ticket sales and for its diversity and inclusion efforts. What's more, the national sports media devoured the uplifting story of 37-year-old veteran Nate Lashley winning his first PGA Tour title. And in January, Langwell announced the event had raised $1.2 million for seven local nonprofits.
For Langwell, it was a pinnacle moment in a career in golf inspired by watching at age 12 as Jack Nicklaus rallied to win the 1986 Masters. He aspired to play professionally and was a two-time NCAA Division 3 All-American at Carthage College in Kenosha, Wisconsin, where he was inducted into the Hall of Fame in 2009.
Once he accepted that he wasn't a PGA-caliber player, though, he turned his attention to event and media planning. He went to work for the advertising firm Interpublic Group, which handled GM's relationship with the PGA of America, assisting with such events as the Buick Open in Grand Blanc. Eventually, Langwell oversaw the Oldsmobile Scramble, which was then the world's largest amateur golf event.
GM later hired Langwell to run R*Works, its sponsorship agency, where he oversaw the final four Buick Opens, including Tiger Woods' 2009 win in its final year.
Like many of the region's golf fans, Langwell mourned the absence of any PGA Tour events in Michigan after the Buick Open ended and relished the idea of bringing the PGA back when the prospect presented itself in 2017. By then, Langwell had joined Intersport, which represents Quicken Loans and had taken over sponsorship of a PGA event held in Washington, D.C., with the intention of rechristening it as the Rocket Mortgage Classic and bringing it to Detroit.
"It dawned on me that Rocket Mortgage and the PGA Tour were going to need a team to run the event," says Langwell, who contacted the Detroit Golf Club about hosting the tournament. "Having had experience with the Buick Open and Oldsmobile Scramble, along with knowledge of how Rocket Mortgage operates as a brand and company, I raised my hand."
All went well until this March, when the COVID-19 crisis forced the PGA to halt tournament play. In April, the league announced a revised schedule that moved the RMC to July — and barred fans from attendance. Langwell hunkered down at his Oakland County home for a slew of video calls with Rocket Mortgage's top brass, PGA Tour officials, Detroit Golf Club staff, and vendors.
The 2020 RMC is unlikely to raise the $2 million for charity that Langwell's team had projected. Still, expenses are lower now, and "we came up with new ways to drive revenue through virtual experiences," he says. And in late May, RMC unveiled a new charitable initiative called Changing the Course, a multi-year campaign to close the internet accessibility gap in Detroit that was brought to light by the COVID-19 pandemic.
"We see this event as a crucial way to highlight the grit and resiliency of our amazing city," Langwell says. "Despite how coronavirus has struck Detroit, the RMC will show off everything the city has to offer to a worldwide TV audience."
Facebook Comments