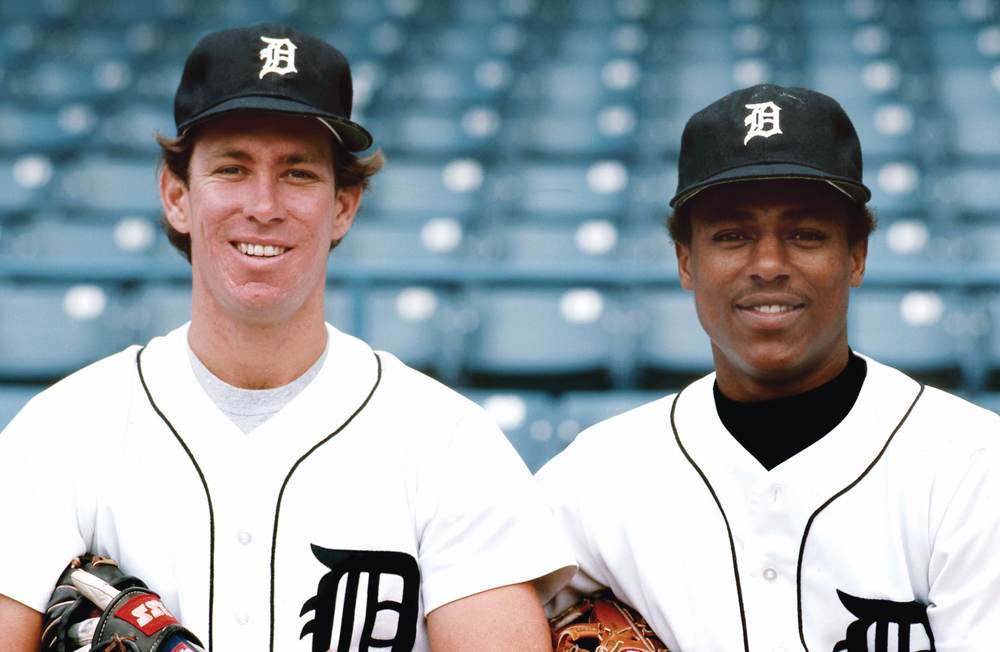 This year, the National Baseball Hall of Fame is inducting Alan Trammell without his Tiger teammate Lou Whitaker. It's like a Songwriters Hall of Fame including John Lennon without Paul McCartney. But baseball's longest-ever paired second baseman/shortstop turned more double plays than The Beatles made hits.
"It's impossible to think of either one's career without thinking about how important the other one was to it," says Gabriel Schechter, a former National Baseball Hall of Fame Library researcher.
The duo's careers were nearly tandem: Called up to the majors September 1977; they played together through the 1995 season, when Whitaker retired. (Trammell hung on another year). Trammell played 2,293 games, with 185 homers and 1,003 runs batted in (RBI). Whitaker played 97 more games, hit 59 more homers, and had 81 more RBIs.
Each year, the Baseball Writers Association of America members vote for up to 10 players who've played 10 Major League championship seasons and have been retired at least five years. A player on 75 percent of ballots is in. Under 5 percent, he's off the ballot. Shockingly, Whitaker was named by just 2.9 percent in 2001. Trammell did much better his first year of eligibility (nearly 16 percent in 2002 and over 40 percent by the end of his eligibility).
Why did Trammell get more votes than Whitaker? Gary Gillette, founder and head of the Detroit chapter of the Society for American Baseball Research, says Hall of Fame voters pay a lot of attention to a player's standout seasons. Trammell had a "slightly higher peak" — his best years were better than Whitaker's. And 1984 wasn't Whitaker's best year — he was overshadowed by Trammell, who was named the World Series Most Valuable Player.
One reason may be that Whitaker, a devout Jehovah's Witness, had a reputation as being aloof and inaccessible. In contrast, Trammell was "one of the boys," and chummy with reporters.
Holland Sentinel sports editor Dan D'Addona had heard stories about Whitaker being unapproachable. But when "Sweet Lou" came to Grand Rapids in 2013, D'Addona got a surprise: "That was the most talkative player interview we've ever had. He was jovial, he was genuine, he was relaxed."
Last year, there was another slight for Whitaker. Each year, a Hall of Fame screening committee examines baseball history to find overlooked deserving players — and construct a 10-man ballot. Trammell and teammate pitcher Jack Morris were voted in by the Modern Era Committee. Whitaker wasn't even on the ballot, and many believe he was a more deserving candidate. D'Addona thinks the ballot makers didn't want three Tigers up for consideration. And Trammell and Morris had survived 15 years of the writers' vote.
Whitaker's exclusion caused what D'Addona calls an "outcry" among number-crunching "sabermetricians." Their analyses hold sway, especially Wins Above Replacement. Whitaker's career WAR is 75.1. Trammell's is 70.7. The only modern players with WAR numbers higher than Whitaker not in Cooperstown, N.Y. are tarnished: steroid user Barry Bonds and gambler Pete Rose. More than 50 players with lower WARs are in the Hall!
Did Whitaker's personality put off so many voters? Or was it something else? "Race has an undeniable role in this," says Gillette, bluntly. "But we can't say whether 5 percent or 50 percent of the writers would have cast their ballots differently if he were white and Trammell were black."
In 2020, the Modern Era Committee will release a new list of 10 overlooked players. Whitaker should be on that ballot.
Meanwhile, the Tigers plan to retire the numbers of Trammell and Morris in August. What if, D'Addona asks, they were persuaded to retire Whitaker's number as well? At least then the two longtime teammates would be honored together.
Facebook Comments