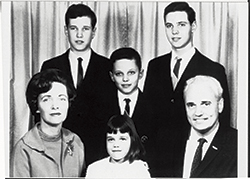 An adopted child of Michigan's north country, Carolyn Sutherland talks freely about Good Hart in the dead of winter. How the interminable snow is always whiter than the stuff downstate. How there's no salt on the roads and no dampness in the air. How the only really bad time is mud season, those ugly months of November and April when Old Man Winter can't decide whether he's coming or going.
"That's when I head for Florida," says the saucy sexagenarian, who grew up in Huntington Woods. "I have my drinks poolside."
What sets the proprietor of the village's general-goods store apart from other locals is that she's equally glib about the dead of summer in Good Hart — the dead of the summer of 1968, to be precise. "People come into the store and they all want to know about the murders. I'm a walking encyclopedia, so I tell 'em."
It was a crime that gripped the state and focused an unwelcome microscope on this stretch of wooded bluffs hugging the Lake Michigan shore.
On July 22, 1968, a caretaker investigating complaints of an overpowering stench pried open the door of an isolated cottage just two miles up the road from the Good Hart General Store. He walked into a wall of flies. Inside were the badly decomposed bodies of six members of a vacationing Lathrup Village family: advertising executive Richard Robison, his wife, Shirley, and their four children. Shirley had evidently been raped; the youngest child, 7-year-old Susie, had been bludgeoned with a hammer. All had been shot. They had been dead a month.
"The sheer mad violence of those killings burned into my mind," recalls Tom DeLisle, then a young reporter for the Detroit Free Press. "It's disturbing to this day."
Some thought the slayings were entirely random — perhaps a drifter, a cult, or a motorcycle gang had stumbled across the cottage. Many longtime residents still believe it was revenge by an unhinged local builder over an imagined slight. DeLisle chased down rumors connecting the murders to the infamous "Co-ed Killer," John Norman Collins. Ultimately, detectives closest to the case came to the conclusion that Robison's business partner was the probable killer — a determination that doesn't sit well with everyone.
"I don't think you can tie it up into a nice package and put a ribbon on it," says a former neighbor, pointing out that the case remains officially unresolved. "You have to keep an open mind."
There is an intemporal quality to Good Hart, the kind found in ancient rocks, mature mixed forests, enduring Ottawa legends, and the turquoise waters of Little Traverse Bay. The unincorporated village in lightly populated Emmet County is intersected by Lake Shore Drive (M-119), the famously picturesque "tunnel of trees" that connects the wealthy resort town of Harbor Springs 13 miles to the south with Cross Village, eight miles to the north.
The Robisons called their secluded waterfront cottage Summerset. It stood at the end of a private drive nestled in the lower reaches of the Blisswood Resort. The subdivision of widely scattered log-and-stone cabins was developed by the Bliss family, which also maintained the thickly wooded property.
The Robisons could have stepped right out of The Donna Reed Show. Richard C. "Dick" Robison was the handsome, cultured 42-year-old breadwinner. He operated a small ad agency, R.C. Robison & Associates, and published an arts magazine called Impresario out of his one-story office building at 28081 Southfield Rd., in Southfield. He enjoyed attending the theater with Shirley, his stylish and pretty wife of 20 years, painting the occasional watercolor, and flying his private plane. The churchgoing couple didn't smoke, drink, or gamble, and had no known enemies.
The children were bright and mannerly. Richie was a 19-year-old student at Eastern Michigan University. Gary, 17, attended Southfield-Lathrup High School and played in a garage band. Randy, 12, was friends with Tom Mair, who lived a couple of doors down from the Robisons' brick ranch. "We did normal things together — ride bikes, work on our stamp collections," says Mair, today a movie-house manager in Traverse City. "They were just a typical suburban family." Susie, a quiet little girl with big blue eyes, dreamed of having a pony.
Before the family left for a summer-long vacation on Sunday, June 16, 1968, Robison had dropped hints about a "big deal" that was going to make him a "tycoon." It apparently involved a certain "Mr. Roberts" who was to fly into Pellston on his personal Lear jet, spend a little time at the cottage, and then take the family on a trip south. Robison was looking to buy a horse farm in Kentucky and a beachfront condo in Florida.
Based on phone records and the recollections of tree trimmers working around the cottage, police determined the murders occurred on the evening of Tuesday, June 25. Earlier that day, Robison had called his bank to see if an expected $200,000 deposit had been made in the agency's account. A bank official said it hadn't, then inquired about the surprisingly low balance.
The only other person with access to the account was Robison's partner, Joe Scolaro, who had been running the business the last three months while Robison traveled around the country, working on his secret venture. Several calls were made between the cottage and the Southfield office. The receptionist later testified that Robison sounded angry. At 10:30 a.m., Scolaro left the office and didn't return. The family was last seen alive at 4 p.m., when the tree trimmers quit for the day.
Forensics experts reconstructed what happened a few hours later. The killer came out of the woods at twilight, approaching a window near the front door, and fired several shots from a .22-caliber rifle into the living room. Dick Robison was struck in the chest as he relaxed in an easy chair. Stunned family members had only moments to grasp what had happened before the assailant burst through the door, gunning down Randy and Shirley and then shooting Susie as she tried to run for cover. The two oldest boys were playing cards at a table. As Richie and Gary raced for the rear bedroom, trying to reach a rifle stored in the closet, the assailant shot down each in turn. The killer returned to Susie, striking her in the head with a claw hammer. As a coup de grace, each victim was shot in the head.
Such commotion might ordinarily have alerted neighbors, but owners of the nearest cabin 100 yards away were not home. A couple living a quarter-mile away later testified they heard some gunfire and the shouts of two men and a woman coming from the direction of the Robisons' cottage, but decided against going to see if anything was amiss. "We just heard a series of shots … one with a little short pause … and then three or four others after that," one recalled. "It was still light out, so we thought that somebody was shooting gulls on the beach."
Before leaving, the killer threw a blanket over Shirley, dragged Dick, Susie, and Randy into a hallway, drew the curtains, turned up the heat, and locked the cottage. Cardboard was placed over the shattered windowpane. Taped to it was a note: "WILL BE BACK — ROBISON."
For the next 27 days, the bodies lay in the heated cabin. Dust settled on the family's two parked cars. A sickening smell wafted over Blisswood, ruining one cottager's annual bridge party. Nonetheless, everybody assumed the Robisons were on the out-of-town trip they had mentioned. Finally, caretaker Monnie Bliss and a helper went to remove what they figured was a dead raccoon rotting in the crawl space. A few minutes later, the phone rang at the Emmet County Sheriff's Department in Petoskey. "There's a body inside one of our cottages," Bliss said.
Deputies encountered a grim tableau. Swaths of congealed blood and armies of dead flies covered the plank floors. The victims were dressed as if going on a trip; a partially packed suitcase was on a bed. Shirley's skirt was hiked up and her undergarments pulled down to the ankles. The medical examiner could not determine if she had been raped, but seven stab-like perforations were found in her sanitary napkin. The bodies were in such wretched condition that the hospital in Petoskey refused to accept them. Instead, autopsies were performed inside a chicken coop at the local fairgrounds.
Investigators wearing gas masks went over the crime scene. Fifteen shell casings, 11 from a .22-caliber rifle and four from a .25-caliber handgun, were found. An expensive ring and some cash were missing, but the killer left most valuables behind. There was one bloody boot print. The initial theory was that there was a maniacal gunman loose.
Seven-year-old Mardi Link was in the back seat of the family Ford, on her way to a relative's cottage, when WJR interrupted a ballgame to break news of the grisly discovery. Link, who now lives in Traverse City, is the author of the forthcoming book, When Evil Came to Good Hart, the first nonfiction account of the murders. "I guess I was struck by the fact that Susie and I were the same age," Link says. "I was always intrigued by the case. Who would kill an entire family? And why?"
Police asked those same questions. Within a few weeks, all persons of interest around Good Hart, from transients and summer people to "mentals," had been cleared. "We now believe the killer was familiar with the cabin, that he knew the family, and they knew him," the county sheriff said. The focus of the investigation shifted 275 miles south to Detroit.
Joseph Scolaro III had spent three years in the Army and a year at Harvard before joining Robison's firm in 1965. He was a stocky 6-footer with a high I.Q. and an interest in guns, Link says, a competitive trap shooter used to hitting fast-moving targets. The bookish-looking Scolaro "had no history of violence," Link says. "But detectives determined he had embezzled about $60,000 over a couple of years from the company and Robison had just found out about it. There was the motive."
Lloyd Stearns and John Flis were the veteran state police detectives assigned to the case. They grilled Scolaro about his activities on June 25, and much of what he said didn't match up. He said he had gone to a plumbing convention at Cobo Hall, then had a drink at the Salamander Bar in the Hotel Pontchartrain before doing a little shopping and then driving home in a rainstorm. Not a single person could be found to corroborate Scolaro's whereabouts in the 10 to 11 hours after he left the agency that morning.
Stearns and Flis learned Scolaro had owned two model AR-7 .22-caliber rifles, the type of weapon determined to have been used in the murders. One was recovered from a friend in Chicago, but the other, supposedly given to his brother-in-law, was never found. The detectives visited a private range where Scolaro was known to have fired the missing AR-7, and Flis dug some old cartridge casings out of the mud. A crime lab identified them as coming from the same gun used to kill the Robisons. Moreover, in early 1968, Scolaro had bought two matching .25-caliber Beretta pistols. He said he kept one and gave the other to Robison, who brought it to the cottage. Based on the rare kind of ammo the pistols used, police concluded Robison's Beretta — also missing — was the second murder weapon.
In all, Scolaro would take — and flunk — three polygraphs. "We interviewed him a dozen times," says Stearns, now retired and living on a farm near Greenville. "Not once did we ever walk away thinking, 'This guy is innocent.' "
Still, doubts remain. The drive between Detroit and Good Hart takes five to six hours. Witnesses heard shots about 9 p.m. the day of the murders, yet Scolaro's wife said he was home in Birmingham at about 11 that evening. One also has to believe that Scolaro could change from a composed white-collar criminal into someone capable of Helter Skelter-style monstrosities, a leap not everyone is comfortable making. "You come across guys like Scolaro all the time," Stearns responds. "People say, 'We never suspected him.' But out of fear of exposure, they're capable of doing these things."
Even if Scolaro was determined to kill the Robisons, skeptics say it would have been nearly impossible to do it within an 11-hour time frame. And arranging a contract killing on such short notice was improbable.
Dick Robison's own secrets began to emerge after his murder. A little spadework revealed that he'd had several affairs. He also had the habit of inviting a secretary into his office after work, then asking her to lift her skirt while he admired her legs. No sex was involved, but sometimes the ogling and fondling lasted as long as an hour.
Worse, the solid citizen dubbed by newspapers as "the man without a vice" had swindled clients out of as much as $50,000 over a three-year period, billing them for ads he either didn't run or didn't pay for. He'd also published full-page airline ads without permission in his own magazine, making it appear more successful than it was. The choice of ads was telling, as Robison saw Impresario as being a marketing tool for his quixotic scheme to create an international network of giant computerized warehouses; each would be based at an airport and feature a fly-in cultural center.
Robison aimed to raise $100 million from investors known as the "Superior Table." He described the Table as a "world-wide organization" dedicated to "complete peace and unity among all countries on Earth." Its chairman was a mysterious figure named "Roebert," who presided over other investors with names like Mr. Thomas and Mr. Peters. The cryptic references to Roebert included a St. Christopher medal Robison wore that was engraved with the words: "Richard — To my chosen son and heir — God bless you — Roebert."
Was Roebert the "Mr. Roberts" expected on the night of the murders? If so, no such person ever arrived at the Pellston airport nor inquired about the family afterward. Detectives learned Robison had spent three days at the Metro Airport Hotel just before the family left for Good Hart — not the first time he had secretly checked into an airport hotel while telling his family he was away on a business trip. Scolaro, who claimed to have almost no idea of what the secretive Robison was up to, said the hotel was probably being used as a headquarters for the new venture. But Robison evidently never left his room, saw any visitors, or placed any unusual phone calls. What, if anything, did these clandestine activities have to do with the murders? Were Roebert and other members of the Superior Table real or part of some elaborate fantasy? To this day, nobody knows.
As the investigation moved along, the search for another mass murderer seized the public's imagination. Between August 1967 and July 1969, the mutilated bodies of seven young women were found dumped around Ann Arbor. Some anxious citizens began to think the rape-killings had to be related somehow to the equally horrific murders in Good Hart. A clean-cut college student named John Norman Collins — who coincidentally had attended Eastern Michigan University with the oldest Robison boy in 1967 and may even have roomed with him during a week of orientation — finally was arrested for the last of the murders. Collins was convicted in 1970, but not before various agencies had shared information and decided he was not a suspect in the Robison case.
In early 1970, an intriguing lead emerged from Leavenworth penitentiary in Kansas. Alexander Bloxom, a career criminal recently locked up for bank robbery, told detectives that in 1968 he had shared a Detroit halfway house with a fellow parolee named Mark Warren Brock. One day, he drove Brock to a meeting at a Flint restaurant with a dark, heavyset man he remembered as "Scollata." Brock next went to Toledo to pick up some guns, then headed up north with a man named Robert Matthews in a borrowed blue Dodge. Bloxom was left behind because "there weren't no colored men up in Good Hart." Brock returned two days after the murders.
Bloxom's story was remarkably detailed. He described a briefcase of Robison's that Brock had brought back and later destroyed, as well as plans for his new venture that few people had ever seen. Brock produced a sealed black suitcase, whose heft suggested the murder weapons were inside, and a manila envelope containing a Robison family photo, canceled checks, and other material to be saved for blackmail purposes. At Brock's direction, Bloxom disposed of the suitcase at a salvage yard during a trip to Alabama and hid the envelope at the home of an unsuspecting relative. Neither item was ever found.
Bloxom paraphrased Brock's account of the murders: "We went to the cottage and knocked on the door and I faked a heart attack. While I was lying on the floor and Mr. Robison was trying to help me, Matthews came in and started shooting. The wife was the first one down and then one of the kids tried to run, so we took him down, too. Then, we just kilt 'em all."
Brock, thin but tough, had spent most of his life behind bars. Back in prison for the same armed heist that put Bloxom away, Brock verified nearly every detail of his ex-partner's story. He admitted he would consider carrying out a multiple murder if the price was right. But, no, he did not kill the Robisons.
An alibi witness had Matthews, the alleged accomplice, buying guns in Toledo at the time of the murders. Matthews passed his polygraph. Brock, however, refused to be hooked up. "I'm not going to tell you anything I might know about the murder of that family. If I ever change my mind, I'll let my parole officer know, but it ain't too likely you'll be hearing from me."
Bloxom welcomed his "liar's test" — and flunked it. Inconsistencies in his story, coupled with the lack of further cooperation from Brock and Matthews, caused the once-promising lead to dry up. However, Link says, Matthews did volunteer that "Brock was ruthless enough to kill the family, and Bloxom was too dumb to make up such a story."
Behind the scenes, friction developed between Emmet County, which was handling its first homicide case in a decade, and downstate agencies. The county's professionalism took an early hit when a deputy at the crime scene held up the bloody hammer for a photographer, obliterating any possible fingerprints.
Emmet County had jurisdiction over the case. Despite the mounting evidence against Scolaro, prosecutors resisted filing murder charges in the hope that accomplices, eyewitnesses, or the weapons would turn up. "We could've gone to trial and gotten a conviction based on circumstantial evidence alone," Stearns says. "Most cases, especially murder, are circumstantial. There just was no experience up there." Oakland County authorities met with frustrated state police detectives and decided to build their own case. By early 1973, Prosecutor L. Brooks Patterson was close to charging Scolaro with conspiracy to commit murder. But someone tipped off Scolaro's mother that a warrant was imminent, and she in turn told her son.
Scolaro was already chin-deep in woe. He had bought Robison's business interests and drove them into the ground. He was being hounded by detectives and creditors and reduced to having his mother serve as his unpaid secretary. His new venture, the high-sounding Dimensional Research Inc., was nothing more than a check-kiting scheme. Each day on his way to work, he drove past Acacia Park Cemetery, where the Robisons were buried.
On the afternoon of March 8, 1973, two men entered Scolaro's office, looking to collect a $730 debt. They discovered Scolaro in his chair, a bullet from his Beretta having sped through his brain before shattering a framed-glass picture on the wall. On his desk was a suicide note:
"Mother — Where do I start … I am a liar-cheat-phony. Any check that any of the people have with your signature isn't any good, because I forged your name to it to get them off my back … I know I'm sick, but seeking help isn't going to help the people I've hurt." He added a postscript: "I had nothing to do with the Robisons — I'm a cheat but not a murderer."
Some point to Scolaro's note as proof he didn't commit the murders. Others believe he carried his untruths into the next world. "My personal theory is he was so tied to his mother, he just couldn't bear to hurt her by admitting that he did it," Link says. Stearns adds: "Remember, practically the first words in his suicide note were, 'I am a liar…' In other words, 'From this point on, don't believe anything I've written.'" Scolaro, 38, left behind a wife and two young sons, none of whom knew what to believe.
Al Koski has covered the crime beat for various media outlets during his long journalism career. Now semi-retired and living in Royal Oak, the vinegary 80-year-old has spent exactly half his life pondering all aspects of the case. He believes the evidence points to Scolaro. "He had the motive and the weapons, so you have to figure he's the guy."
But there are other roads of inquiry Koski likes to meander down. One of Robison's ex-secretaries later married a rich and powerful manufacturing tycoon with rumored ties to organized crime in Cleveland. About the time of the murders, the woman had a miscarriage, and there were whispers the baby was Robison's and not her 70-year-old husband's. Also, the family of one of the companies Robison swindled was thought to be associated with the mob. Had either jealousy or embezzlement led to a bloody reprisal?
Link says the theory of an underworld connection "certainly has some merit." The AR-7 used in the murders was a "novelty weapon" much preferred by Mafia hit men of the era. In 1968, the press reported an informant saying Robison owed the mob $12,000 a month but was seriously delinquent in his payments. The informant quoted a colleague: "If he hadn't held back on us like he did, we wouldn't have wiped out the whole family."
The case stalled after Scolaro's death. Then, in February 1974, a state trooper from the Romeo post made a routine search of a blue 1965 Chevrolet with Ohio license plates that had been found deserted by the side of M-14. Inside the glove box was a luggage tag bearing the inscription: "Shirley L. Robison 18790 Dolores, Lathrup Village, Michigan."
What was such an item doing inside an abandoned car six years after the murders and 200 miles from the crime scene? Detectives combed the car for clues. They found nothing. A title search showed it had been purchased new off a Toledo lot in 1966. Between then and its abandonment several years later, any number of people could have driven it, legally and illegally. Every registered owner was tracked down. Nobody could recall ever seeing the tag or had any idea how it got there. The forsaken Chevy and derelict luggage tag added up to just one more baffling dead end.
In Good Hart, Carolyn Sutherland says: "People around here know who did the killings, but they politely keep their lips zipped."
Which is more than Monnie Bliss, the man who helped build the Robisons' cottage and discovered their bodies, ever did. "Bliss was an oddball," Link says. "He was a motor-mouth, constantly talking to himself, and he had a quick temper. A lot of people were afraid of him." Bliss and his father, who built scores of distinctly styled cabins beginning in the 1930s, were famous for their craftsmanship. The "Bliss homes," still highly coveted today, feature lacquered logs on a stone foundation and such artistic touches as hand-forged hardware.
Bliss died in 1980 at age 69. Family members still live in the area, making longtime residents reluctant to talk. However, one person who arrived shortly after the murders agrees to be quoted pseudonymously. "You think Good Hart is rugged now, you should have seen it 40 years ago," says "Pat," a big-city transplant. "I couldn't believe the mentality of this place — guns, superstitions, vigilante justice."
According to local lore, Bliss inexplicably held the Robisons responsible for his 18-year-old son's death. Norman Bliss, a friend of the Robison boys, crashed his motorcycle while driving home drunk one night from the Legs Inn in Cross Village. Bliss found his son's lifeless body crumpled at the base of a tree. On the day before the funeral, Dick Robison stopped by to offer condolences and regrets that his family could not attend. He gave Bliss' wife $20 for flowers. Bliss supposedly was insulted by the gesture. The following evening, the Robisons were murdered.
Pat points to the overkill of the two female victims. "To me, that says this was someone who was half-crazy, that it was some kind of revenge-style murder." While conceding the brutality could have been a ploy to make police think they were dealing with a psychotic, Pat mentions the claw hammer — just the type of weapon a builder would have handy. Talk circulated after the killings that one of Bliss' hammers was missing from his tool chest, though police eventually decided it was a rumor hatched by some locals over beers at the Legs Inn.
Bliss was cleared as a suspect. Afterward, his behavior grew more bizarre. He wandered the woods at night, chatting nonstop with equally restless Indian spirits and his dead son. "He had the keys to all the houses he built," Pat says. "You'd get up at four in the morning and find him in your kitchen, frying eggs." Locals suspected Bliss of setting several fires, including a mysterious blaze where unlucky Wilbur Gross was found tied to the bed, roasted. Some defended Bliss as a harmless eccentric, but he didn't help his cause by occasionally blurting out, "The Robisons had it coming," or saying he had killed the family during one of his rambling monologues.
Despite the compelling small-town gossip, few outsiders pin the killings on Bliss. "That poor 'sumbitch' was a nut case," Koski says. "But he wasn't a murderer."
Stearns once told Scolaro: "You killed the Robisons. And if you didn't, then you know who pulled the trigger." That remains the position of the state police and Emmet County Sheriff's Department to this day, though proving it to the satisfaction of a court is another matter.
In 2003, evidence was brought out of storage and underwent DNA analysis. There were hopes that a match could be made with a known suspect or someone cataloged in national criminal databases. However, the evidence was too degraded to yield any conclusive results. With the 40th anniversary of the murders at hand, there is talk of a renewed effort to have prosecutors finally put cold case No. 7471 to rest. "We owe it to the memory of the victims," Mair says.
Today, outside of some stray chimney stones, nothing remains of Summerset. The lingering stench caused the cottage to be leveled and burned a year or so after the murders. "It was impossible to clean the wood," Koski says. "It was saturated with body fluids." Even the top foot of sand beneath the foundation had to be replaced. Pines were planted on the spot.
To the dismay of subsequent owners, strangers occasionally traipse through the property. They are drawn by the site's macabre history and struck by the timeless tranquility. Lake Michigan laps the rocky shore as languidly as a puppy cleaning its paw. Birdsong fills the scented air. Trespassers who dare to linger are chased off — like the Robisons, premature departures from the blessed calm.
THE COLLINS CONNECTION
John Norman Collins, the infamous "Co-ed Killer," is thought to be responsible for brutally torturing and murdering as many as 15 young women in Michigan and California between 1967 and 1969. His spree stopped after he raised the suspicions of his uncle, David Leik, a state police corporal. Collins used Leik's Ypsilanti home to kill 18-year-old Karen Sue Beineman, a student at Eastern Michigan University, while Leik was vacationing in Canada.
Coincidentally, Collins and the Robisons' oldest son, Richie, attended EMU together. There were rumors the two had even belonged to the same fraternity. Police investigating the Robison murders kept their eyes on Collins, but eventually eliminated him as a suspect in their case.
The most persistent advocate of a possible Collins connection is Tom Mair of Traverse City. He knew the Robisons and has long been active in various crime-stopper programs. He insists Collins met Richie Robison during a week of orientation at EMU — a scenario police rejected, but which true-crime author Mardi Link now says is very likely, considering the small size of the student group. Mair suggests Collins may have visited the cottage before the murders. But, Link says, "There's no proof anywhere of that."
Mair also hints that Leik, who later commanded the state police post in Petoskey, may have impeded any subsequent investigation of ties between his nephew and the Robisons. "That really doesn't make sense," Link argues. "Why would Leik turn in Collins for Beineman's murder, but then obstruct a look into any possible involvement with the Robisons?"
A few years ago, a CNN report featuring Mair gave the dubious Collins theory a certain legitimacy. It also gained more traction with the publication in 2004 of Judith Guest's fictionalized account of the murders, The Tarnished Eye. Guest, a former Royal Oak schoolteacher best known for her breakout novel, Ordinary People, took tremendous liberties with the lives of some of the principal characters, going so far as to describe an affair between Collins and Shirley Robison.
Veteran crime reporter Al Koski, who covered both the Collins and Robison cases, is galled by this kind of creative license. He even confronted Guest during a chance meeting in Oscoda, Mich., where the Minnesota-based novelist maintains a summer cottage. "She told me, 'It's fiction, Al.' But this is how the public starts believing such bull—-. They get their 'facts' from people like her and Mair, and it just muddies the water."
Mair maintains he's not necessarily saying Collins committed the Robison murders, only that authorities shouldn't be so quick to reject the possibility. "They've never even interviewed him about it," he says. Collins, who changed his name to John Chapman in prison, is now 62 and serving a life sentence in Marquette. He steadfastly maintains his innocence. (In fact, four years ago, DNA evidence cleared Collins of one of the murders long attributed to him.) In his last public interview, he admitted it was bothersome being called a serial killer. "It's bad enough being convicted of one thing," he said in 1988, "without being labeled for other things you haven't done."