Nathan's Deli in downtown Detroit doesn't look like an artistic hub. Yet, in the shadow of General Motors' headquarters, it's a fitting place to find Renaissance man Tashif Turner — aka Sheefy McFly. An artist, rapper, DJ, and music-producing polymath, Turner, 29, somehow manages to pack 150 people into the tiny green diner for his Deli Raves, where thumping techno and jit-dancing go into the wee hours of the morning.
I hope to catch Turner before the end of his lunch shift as a cashier at the deli, but I'm late and he's already outside wearing a black bonnet to protect his hairdo, an asymmetrical cascade of waves that would make a young Bobby Brown green with envy. The look is the work of local stylist Rachelle Williams, but tonight is a big night. That requires a visit to barber Keith Johnson at MLI Barbershop on Cadillac Square for the finishing touches.
At the shop, Johnson expresses admiration as Turner removes the surgical cap before he lines his hair up with precision. I notice a black snapback with Turner's name written in white already on the shop's hat stand when we arrive, which Turner tells me stays there permanently. Johnson hands Turner a mirror; his response is an appreciative "Yup" in his leisurely, syrupy diction. A cloud of hairspray follows and we are off.
"There's beauty in women. I just really want to capture it in a different sense." — Tashif Turner
We make our way to Turner's home in Hamtramck, a small bungalow he shares with DJ and sushi chef Shinya Hirakawa aka Crate Digga. "I feel like I'm far from Detroit but still here," says Turner, who grew up on the northwest side of Detroit with his mother and later on the east side with his father. Party fliers litter the living room, along with turntables, stacks of vinyl records, and burned CDs. Home is where he works, as evidenced by the sketches for his latest paintings taped to the walls, and the half-finished canvas on the easel next to the couch. Turner was awake until 5 o'clock the previous morning creating work with Ford GT designer Camilo Pardo. He'll be showing a collection of his art at Pardo's Midtown studio tonight.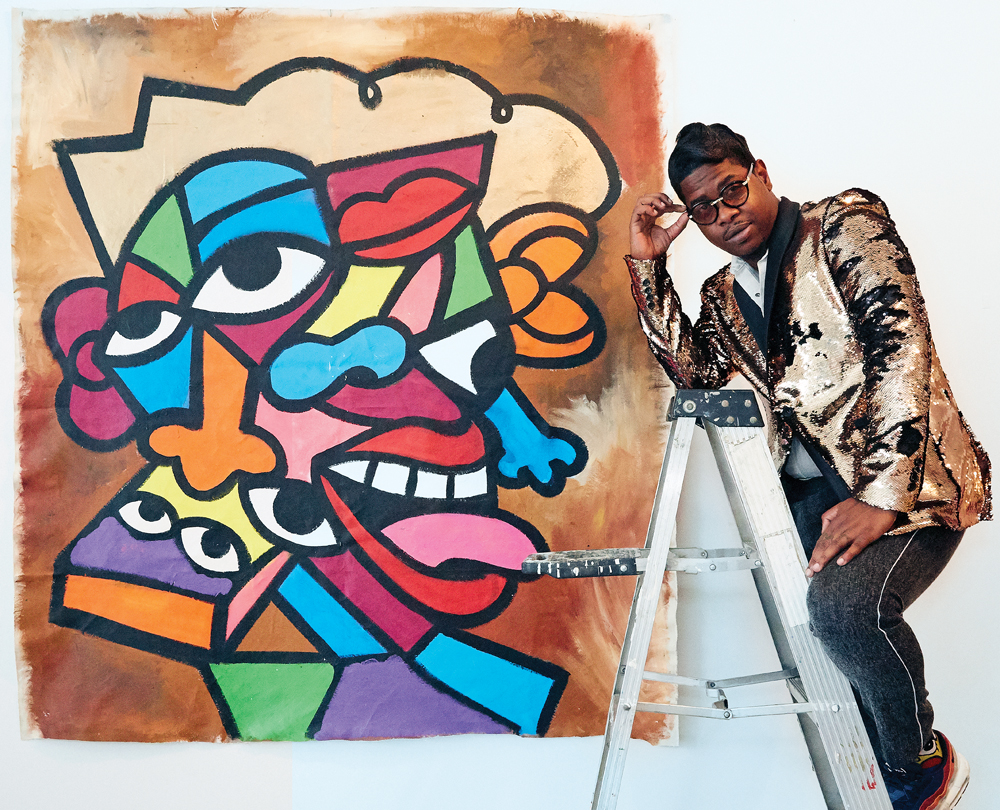 The art show is hosted by the alumni association of the College for Creative Studies where Turner studied painting and illustration for two years after graduating from Detroit School for the Arts in 2007. At CCS, he honed his technique and found inspiration in surrealists like Salvador Dalí. As one of a small pool of black students at the fine arts school, he experienced some culture shock, yet brought his own flavor to the college. He made beats during class and worked with the school to sponsor parties. In 2009, Turner launched "The Air Up There," a hip-hop showcase featuring Detroit artists Danny Brown, Dej Loaf, and Guilty Simpson. This made him a known quantity in the local scene as Brown and others rapped over his beats. He left CCS that same year and began pursuing art and music full time. That's when his career ascended.
Numerous mixtapes and albums followed, but when Turner recognized the market for rappers was saturated, he started studying one of Detroit's other rich musical cultures: techno. Under the tutelage of legendary Detroit DJs and producers like Moodymann, Dez Andres, Waajeed, and Nick Speed, Turner began creating techno tracks with his own unique twist. The resulting album, Edward Elektro, released on Moodymann's Mahogani Music label in 2016, is a psychedelic trip through modern Detroit fueled by relentless beats, music that feels undeniably current.
The album cover, a vivid self-portrait, was also a preview of his renewed focus on visual art. Already showing heavy influence from Keith Haring and Roy Lichtenstein, he transitioned to his "all-over style," a colorful mass of disembodied faces, eyes, noses, and mouths fit together like puzzle pieces. An Eastern Market mural done freehand in that style was well received, followed this year by Emergence, a series of wooden painted cutout portraits on display at tonight's event.
Much like his music, which spans genres from hip-hop to deep house to the indefinable "ghetto tech" label applied to most techno music made in Detroit — the city that invented techno — Turner's artwork is unapologetically raunchy. His fixation on sexuality and the African-American female form, however, manages to celebrate rather than objectify the women he paints.
"There's beauty in women. I just really want to capture it in a different sense," Turner says of his portraits, which often feature vivid, surreal images of black women. "I feel like I'm drawing black people; thick noses, big lips — you feel me? It's such a colorful twist that people aren't thinking about [the race of the subjects] when they look at it."
Once we arrive at the art show, I notice that the crowd is mostly CCS alumni, older and white, and Turner's friends, young and black. Guests saunter in and out, pausing to praise Turner or to snap a picture with him. Dressed in a gold, sequin dinner jacket and gray woolen trousers, Air Max 95s and custom socks he designed, Turner stands out among the fine art crowd, but his outfit is perfect for our next stop at downtown music venue Deluxx Fluxx. There, he will join fellow artist, rapper, and producer Vaughn Taormina aka Count Mack to open for celebrity hip-hop producer and rapper Swizz Beatz.
By 10 p.m., Turner and Taormina are basking in black-light glow on a cramped platform in the crowded venue. The two met seven years ago when Taormina was on break from his freshman year at Cooper Union, and they have been making music and titillating audiences ever since under the name Get Money Cru. The club is bouncing and Turner is on stage, mic in hand and gold jacket gleaming. Nick Speed mans the turntables and Taormina hypes the crowd. For a man at ease in any room, the stage is clearly where he's most at home.
"I'm so tired. Everything is accomplished," Turner says admittedly after the show at the club. Considering his boundless energy, his exhaustion is unquestionably temporary.