Collaborations on Canvas
By Monica Mercer // Photographs by Justin Maconochie
Despite the acclaim that Andy Warhol and Jean-Michel Basquiat achieved individually, any attempt to impress the art world with their collaborative pieces was a bust. Their 1985 show at a New York art gallery, in fact, was universally panned, leaving critics to wonder about the pair's motives.
That's not exactly an encouraging precedent for local artists Tony Roko and Bowen Kline, whose show of collaborative works opened last month at the Jewish Community Center of Metro Detroit. Still, they might have pulled it off — a year's worth of haunting, emotional, and expressive figures on canvas, each painted at the hands of both artists at the same time.
One Saturday afternoon at Kline's farmhouse in Romeo, the two discussed famous collaborative failures — well aware of the inherent risks of trying to fuse inner worlds.
"That's where I think a lot of collaborations have failed," Kline says. "When artists can't let go of their own egos."
"Compartmentalization" has also been a roadblock to collaborations, Roko says, recalling examples of artists who've divided the elements of a piece instead of working toward a cohesive look and feel.
By contrast, Roko and Kline don't use verbal cues. They no longer seek validation from each other. The process, seemingly impossible or gimmicky to an onlooker, just seems to work.
Both Roko and Kline spent years developing their own styles before meeting each other a few years ago. Roko has spent much of his career as a resident artist at Ford Motor Co., gaining recognition for his murals "in the bowels" of Michigan auto factories. Kline has kept his self-taught art more low key, but the Southfield native's friendship with Roko opened him up to the possibility of wider recognition.
At their core, they remain outsider artists. Because of their mutual admiration for each other's work, they say their collaborations have evolved into learning processes that have only made them stronger in their individual art.
"As an artist, you always have to be learning and evolving," Kline says. "In this situation when you're painting with someone else, you're forced to grow."
At the Janice Charach Gallery through mid-October. jccdet.org, tonyroko.com, bowenkline.com
---
Compassion Play
By Angela Flynn // Photographs by Cybelle Codish

"So shines a good deed in a naughty world." Shakespeare's timeless line from The Merchant of Venice seems to invoke what one Shakespearean group in Detroit has been doing recently. The organization, founded by Detroiter Samantha White, educates, entertains, and comforts audiences by performing vignettes from some of the Bard's famous plays.
White, a Wayne State University alumna, created Shakespeare in Detroit in early 2012 as a way to introduce the famous plays to Detroiters who couldn't afford to see performances outside the city (at press time, a mid-August performance of Othello was scheduled to be held in Grand Circus Park). Three months later, she formed a spinoff, Shakespeare Against Cancer, to pay homage to her late aunt.
The troupe, made up of local volunteer actors, acts out 15-minute vignettes of classic Shakespeare plays to children receiving chemotherapy or other medical treatments. White, who directs the performances, spends three to six months cutting and editing the language to make it more accessible to kids. After the show, the group hands out Shakespeare-themed gifts, including coloring books, wands, and finger puppets.
White's reward comes not only from dedicating the cause to her aunt, but from seeing the children's eyes light up at performances.
Sometimes she receives a personal thank you, including one from a 2-year-old boy who walked up to her and hugged her leg.
"He said 'thank you,' and he just walked away," White says. "And that, to me, was confirmation that I'm going to continue doing this."
For more information, visit facebook.com and search for Shakespeare in Detroit and Shakespeare Against Cancer
---
The Big (Screen) Time
By Paige Pfleger
It's not easy to get a movie made. Competition is intense, especially for screenwriters. But for two students each year at the University of Michigan, the reward of seeing their stories on the big screen can come before they even graduate from college.
The lucky screenwriters this year were Kyle Vinuya and A. Brad Schwartz. The two majors in screen arts and cultures beat out their peers to see their screenplays turned into short films. Through a special arrangement with the university, Lightworks Film Festival in Ann Arbor and the Traverse City Film Festival have screened these student-made films for the past five years, giving students like Vinuya and Schwartz a chance to show off their work in the real world.
"I've always been fascinated with the art of storytelling," Schwartz says, "and the University of Michigan has provided me with tremendous opportunities that I couldn't have had elsewhere."
Schwartz, who's from East Lansing, took his inspiration from classic detective stories like Sherlock Holmes, merging a whodunit plot with a bit of high school humor to write the screenplay Open House.
Vinuya's idea for his film, Fender Bender, came from his reflections on family, his impending graduation from college, and questions of how to maintain bonds with the people who matter most. It's about a self-centered high school graduate who's forced to take care of his 25-year-old disabled uncle. The only thing they seem to have in common is the work they share in restoring his grandfather's classic car.
Vinuya, a native of Bloomfield Hills, says that fixing the broken-down car is a metaphor for fixing their relationship. "A fender bender is not as easy to fix as you might think."
Both screenplays brought something different to the table, says screenwriting program coordinator Jim Burnstein, which played into the pair's success. Schwartz's intricate plot was a technical challenge, Burnstein says, while Vinuya's emotionally driven story was a challenge for the actors.
Now, both students are looking forward to full-time careers in film. After graduating in May, Vinuya moved to California, and Schwartz began co-writing a documentary for PBS' American Experience about the 1938 radio broadcast adapted from H.G. Wells' War of the Worlds.
With their first films behind them at such a young age, Vinuya and Schwartz are starting to understand just how valuable the experience was — and they want to encourage any screenwriter to not give up on their dreams.
"Keep writing," Vinuya says. "Don't stop."
---
Against the Grain
By Paige Pfleger // Photographs by Justin Maconochie
In a third-floor studio at the Russell Industrial Center, the sound of saws and the smell of freshly cut wood permeate the space. Here Alan Kaniarz plies his trade. Kaniarz (pronounced Kon-yash) is the founder and master woodworker behind Möbel Link Modern Furniture, a man who can seemingly defy both gravity and logic in his commercial designs. His Zag Zig chair looks fragile, but it can support more than 350 pounds.
Form and function are the obvious takeaways from Kaniarz's entire collection of sleek, modern furniture, which features wooden lounges and a square table with four chairs that, together, form a wooden cube. Less apparent is his appreciation of a more classic aesthetic, along with his intimate knowledge of a complex city that has always informed his work. Kaniarz has collected myriad original John L. Gaumer hand-wrought light fixtures, which dot the ceiling of his studio and hang in contrast to the custom-made modern pieces below.
Kaniarz, 60, an instructor at the College for Creative Studies and a graduate of Pershing High, remembers with dry wit the grittier side of growing up in Detroit. "[Pershing] was such a tough school," he says, "the newspaper had an obituary column."
Kaniarz has watched for decades how Detroit has gone from one of the richest cities in the country to one of its poorest, and he takes that transformation seriously. On one wall of his workshop hangs a piece he calls Key to the City — a shiny, nickel-plated crowbar enshrined in a blue-velvet-lined walnut case.
"We're all influenced by the things that surround us," he says, "and I give speech to those things."
Kaniarz's work can be found in some of Detroit's most famous structures, including the Dorothy Turkel house, for which he designed a custom, built-in bed. Unlike his students, Kaniarz never pursued a formal degree. And yet, in the classroom, he expertly shares the kind of knowledge in woodworking, metal, and design that can only come from years of hands-on practice.
His craft, he says, is really just about traveling in the proper direction of the wood's grain, even though his unique designs go happily against it.
For more information, visit mobellink.com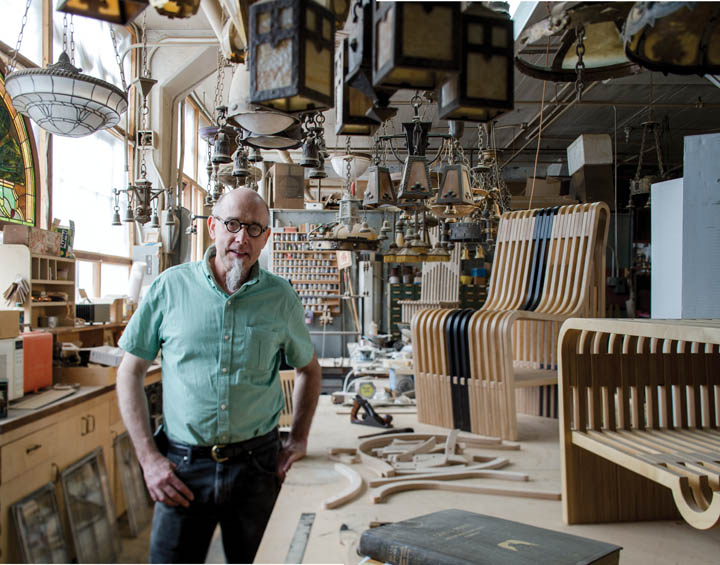 ---
Drawn (Back) to Detroit
By George Bulanda // Paintings by Nancy Mitchnick
As her visitor arrives on a steamy July afternoon, artist Nancy Mitchnick is cutting vibrant orange lilies in her Hamtramck front yard. When she carries them into the house and drops them into a vase, their hue seems to intensify her own vivid paintings hanging on the walls.
That gesture may seem accidental, but an artist's sense of form and design is always subconsciously at work, especially one of such longstanding stature.
Mitchnick was among the celebrated Cass Corridor painters and sculptors in the 1960s and '70s that included Robert Sestock, Ellen Phelan, Brenda Goodman, Gordon Newton, and Michael Luchs.
After Mitchnick's solo show at the co-op Willis Gallery in 1973, she moved to New York, then hopscotched across the country for a 10-year teaching stint at CalArts, then trekked back east to Harvard, where she taught for 15 years.
She found instructing gratifying, but it detracted from creating her own art. Not now. Mitchnick moved to Hamtramck in 2011, about a mile away from where she grew up in Detroit on Buffalo Street, near Six Mile and Mound. She also rents a studio in Detroit's Russell Industrial Center and is involved in the most ambitious undertaking of her career: The Detroit Project.
Its genesis dates back more than a decade, when Mitchnick was reading Jeffrey Eugenides' novel Middlesex, which is set in metro Detroit.
"I knew every corner, every neighborhood mentioned in the book," she says. "At the time, I was painting lakes in Ipswich [Mass.] I thought, 'What does this have to do with my own experience?' So I started to formulate the idea for The Detroit Project."
By 2004, it took wing, and the artist spent the summer that year in Detroit painting and absorbing the city's atmosphere.
Mitchnick will eventually include photographs and installations as part of The Detroit Project, which she'd like to exhibit in New York and Berlin. The series includes paintings of homes in the city, many of them abandoned and burned out, including her own house on Buffalo. But she's not among those artists who think it's "cool" to record Detroit's decay without any frame of personal reference.
"I don't think these are ruin porn at all," she says of her house paintings. "They're more sincere than that. Besides, I have a right to make them. I lived on f—ing Buffalo Street, and I was born here, came back here through the years, and live here again and have my studio in the city. I have a reason to paint something I've loved and cared about so much."
Mitchnick calls her return "my comeback."
"A lot of people knew who I was 40 years ago, but they don't now," she says. She's gradually gaining recognition, and has had solo shows at the Scarab Club and Cranbrook. Artspace II in Birmingham is also selling some of her paintings.
The scale of The Detroit Project is immense, but Mitchnick is in it for the long haul. "I'll probably work on this until I kick it," she says.
---
Mind Over Matter
By Casey Nesterowich // Photographs by Justin Maconochie
This is not your father's greasy motorcycle shop. One-way mirrored glass graces the entrance to this Auburn Hills workshop; jazz music plays overhead while coffee is freshly brewed. At first glance, it's easy to presume the 6-foot-4 man who comes out to greet you is just another tough biker guy, but Eric Gorges is a rare craftsman — and he'll be the first to tell you he's just a "tatted up" geek.
This IT professional turned modern-day metalsmith specializes in building handcrafted motorcycles from the ground up — one-of-a-kind machines with price tags that average around $40,000.
Gorges remembers the exact day he decided to become a metalsmith. After being admitted to the hospital for anxiety on April 6, 1999, he decided to leave the corporate world behind. Gorges soon began an apprenticeship with well-known metal shaper Ron Fournier, and he's never looked back.
Now Gorges is the sole owner of Voodoo Choppers, a 42-year-old adult prodigy and perfectionist focused on his own craftsmanship rather than the competition. Exposures on the Discovery Channel along with annual treks to the famed Sturgis Motorcycle Rally have helped Gorges turn his passion into a profitable business, but his work ethic and method are what differentiate him from most.
"I don't do sketches or illustrations," he says. "I sell by ideas, principles, and hand gestures; by discussion, reputation, and trust."
While Gorges admits his design process isn't for everyone, word of mouth has been a driving force for his business. He's also expanded beyond motorcycles, creating hanging sculptures to be displayed inside a new restaurant that will open later this fall in the former Zazios in Birmingham.
Jazz music follows Gorges to the garage, where all the magic happens. Bikes are presented like sculptures: No two look the same, and all are in various stages of completion.
There are no premade parts here. Gorges handcrafts each and every component — from fenders to fuel tanks — spending days making them perfectly symmetrical. Because of the improvisational nature of his work, clients are updated as time goes on — not even the paint design is pre-planned.
The typical timeline for an original bike is six to eight months.
Gorges also does what he calls "re-births" — transforming an existing bike into a completely new machine by heavily modifying the frame and adding custom-made parts.
"It's the complexity of keeping things simple," he says. "The more you look at a machine, the more you see."
And the same holds true for Gorges. The more you get to know him, the more you realize metalsmithing goes beyond a full-time job. It's a therapeutic art form that saved his life.
---
Engineered for Sound
By Ilene Wolff // Photographs by Cybelle Codish
If you were in the market for a 18th-century style fortepiano like the ones Mozart and Beethoven used, you could book a flight to Europe. Or you could hop on I-275 and take the Six Mile Road exit to Christopher Brodersen's Northville studio.
Brodersen, 64, returned to his passion of crafting historical keyboards after his "nonstop stress" job as an engineer for corporate exhibits was cut in 2009. He started building the fortepiano last year; he'd already made harpsichords and a clavichord.
One of his double-manual keyboard harpsichords sits in St. John's Episcopal Church in Detroit, and another is in a private home in Bloomfield Hills. Currently, Brodersen is crafting a commissioned harpsichord in the 758-square-foot workshop he built in 2010 next to the home he shares with his wife, Regina, and their cats, Ralph and Finn.
"I don't call myself an 'artist' because instrument making is really a totally separate world from art," says Brodersen, a lanky man dressed in a checked shirt, khakis, and Birkenstocks with socks. "They may look great and all that, but the ultimate goal is to make music."
Artist or not, Brodersen composes his pieces using spruce for the soundboards from a sustainable Swiss forest. European Spruce is ideal for the best stringed instruments. "It's the most important wood in an instrument," he says. "That's the wood that was used since day one by European builders."
Brodersen has a music history degree from the University of Michigan and can play oboe, bassoon, and English horn. He learned the basics of his craft during an apprenticeship with an organ builder and then through a job with a harpsichord craftsman, both in Germany. He lugged his German hand tools home, bought some power tools, and set up shop for a few years in the late '70s and early '80s. His first piece was a large French double-manual harpsichord for a pianist who lived in Palmer Woods.
But then for the next 26 years, Brodersen worked in the corporate exhibits world, while staying in touch with his instrumental passion over the years. He attended a fortepiano recital at the Detroit Institute of Arts that eventually inspired him to build the one he recently completed. In 1984, he and Regina, who also plays oboe, went on a museum trek to see a fortepiano built by 18th-century instrument maker Johann Stein. In 1986, they visited the Vienna art history museum, and Brodersen was allowed to disassemble and examine their fortepianos, a privilege the Smithsonian also allowed him in 2012 at one of its storage buildings in Maryland. The Brodersens had to pass an armed guard to get in.
"They don't let just anyone do this," he says. "You have to show them you're serious."
So how does a craftsman of historical keyboard instruments relax? Brodersen writes for serious music magazines, and he and Regina are in a wind octet.
---
Composing Dreams
By Casey Nesterowich
It's quite fitting that John Paesano won an Annie Award for his work composing music for a children's television series, because it was his childhood dream all along that brought him to where he is today.
The Birmingham native received the 2013 Outstanding Achievement Award for Music in an Animated Television Production at the 40th annual Annie Awards — the "Oscars" of the animation industry — for his work on the DreamWorks Animation spinoff series Dragons: Riders of Berk. The series was inspired by the box-office hit movie How to Train Your Dragon.
"You'll have to excuse my public speaking skills," Paesano joked during his acceptance speech. "I spend 90 percent of my time in a dark cave with animated characters."
Working with a small team of five people, Paesano secured the job with DreamWorks Animation after a competitive audition. His L.A.-based company, Mad Olive Productions, is a grass-roots music house specializing in original music composition.
Paesano, 36, has been pushing toward becoming a composer since he was 10 years old, when ambition struck while watching the 1987 film Empire of the Sun, directed by Steven Spielberg and scored by John Williams (who's scored all but two of Spielberg's major films). Coincidentally, Spielberg also co-founded DreamWorks Animation, so it seems as though after 26 years, things have come full circle for Paesano.
Not only was Paesano's television series based on How to Train Your Dragon, but expectations were high because of John Powell's Oscar 2011 nomination for the film's score. It was crucial for Mad Olive Productions to keep the original musical themes intact while mixing in new sounds.
Average moviegoers might understand the power of music, but they rarely realize how much work goes into scoring a single scene. A combination of computer mockups and live orchestra recordings totaled more than 400 minutes of music for the weekly show that's already been picked up for a second season.
Paesano got started by taking piano lessons in Birmingham. He went on to study music at France's Conservatoire de Paris, then graduated from Boston's Berklee College of Music for Film Scoring. At 21, he lit out for the West Coast, landed himself an agent, and has been in L.A. ever since. Having been mentored by some of the industry's best-known composers (Hans Zimmer, Jerry Goldsmith, et al.), Paesano feels his career has just taken off.
"There's no defined path to [becoming] a film composer," Paesano says. "It makes for a very tough endeavor. You never really get into this job to make money; you write music because you love writing music."
Paesano has recently shifted musical modes — from dragons to sci-fi thriller. He now holds the title of lead composer in his first major motion picture, The Maze Runner, scheduled for release early next year. A live orchestra will be used for the entirety of the film — and for a composer like Paesano, that's another dream come true.
---
Heart Strings
By Rachel Premack // Photographs by Cybelle Codish
Ara Topouzian's eyes are almost as black as the distinctive dark coffee of his grandparent's ancestral home in Armenia. He casts them upward as he tries to pinpoint the captivating sound of the kanun, the 76-stringed laptop harp he's strummed for countless audiences.
"It's got a very wide range of a harp sound," says Topouzian, a Detroit-born Armenian-American. "When I play with a band, I'm usually the first one that they look at because they're like, 'Wow, I've never seen that kind of instrument before.' "
Topouzian performs the kanun as both a solo and ensemble musician. For the past 22 years, his American Recording Productions company has made more than 30 recordings of Armenian and Middle Eastern music. Receiving one of only 12 Kresge Artist Fellowships for the Performing Arts in 2012 has allowed him to become a better ambassador for his beloved instrument.
One of his projects includes collaborating with rock and techno musicians to embellish their contemporary songs with the kanun's exotic sound.
It's a far cry from the instrument's more humble roots in Armenian folk songs, which often focus on daily life. Such "village" music is traditionally "very simplistic," Topouzian says, but still provides an interesting route to understanding the heritage of Armenia as a whole. During the Ottoman-implemented massacre of an estimated 1 million Armenians in the early 20th century, for example, many folk song lyrics were lost because they had never been formally recorded, unlike Armenian classical and church music.
What the massacre didn't take erase, however, was the music itself. "What they didn't take," Topouzian says, "was our history."
Topouzian's goal is to promote that history among non-Armenians through the kanun. He says his ideal audience doesn't have links to the mountainous Eastern European nation. This allows for a pure conversation about Armenian culture, he says.
Nevertheless, plucking the kanun's strings still has a way of transporting Topouzian from the suburbs and his day job as president of the Troy Chamber of Commerce — and the impressive venues like Detroit Orchestra Hall where he's been known to perform. He can often imagine his grandfather's ancestral home, a place of towering stone monasteries and forests that cover the rugged, mountainous landscape.
"I can actually picture my grandparents and their parents and what it [might] have looked like," Topouzian says. "They're all laughing and dancing and hearing music. I picture that. In my small part, I'm helping try to preserve that."
Facebook Comments