It took two years for Michael and Peter Solaka to open Ye Olde Butcher Shoppe. It took less than 24 hours for the Midtown grocery store to be burglarized.
The alarm went off during an after-hours smash-and-grab last October, alerting the Detroit Police Department. By the time officers arrived on the scene, though, the perp was gone. The merchant called it bad luck, swept up the broken glass, and moved on.
After the third burglary in two weeks, however, the Solakas were shellshocked. Keeping up with the cost of replacing their stolen merchandise and shattered windows would quickly bankrupt the business. Something had to change — and fast.
So Michael Solaka reached out to Wayne State University Police Chief Anthony Holt. But because of Ye Olde Butcher Shoppe's location on Woodward south of Mack, the store lay outside the department's main patrol area. Still, Holt wanted to help. "It seemed as if the local criminals were just as excited for the store to open as Solaka was," he says.
Outside the store, Wayne State police planted a bait car rigged to the rims with cameras, as a live surveillance unit watched from a block away. With three successful burglaries under his belt, the perp returned for a fourth. But this time as he walked out of the store, he was greeted by a swarm of police.
Since the arrest, Ye Olde Butcher Shoppe's burglary problems have ceased. During an interview with police after his arrest, Holt says, the suspect gave a telling quote: "We know Wayne State comes fast, so we had to get in and get out quick."
Chief Holt wants to keep it that way.
In 1966, WSU established the police force as an extension of the university. Six officers made up the initial force, each sworn in as Detroit police officers commissioned under state law. Holt has been with the force for 35 of those years, working his way up to WSU's chief of police in 2008.
Much has remained the same over the years. Each officer boasts a bachelor's degree or better, with 70 percent holding advanced degrees. The average 90-second response time put in place before Holt became chief remains the standard.
Much has changed, too. The Cass Corridor has been cleaned up and rebranded as "Midtown." The days of pimps and prostitutes prowling the streets have made way for hip restaurants, boutiques, culturally rich nightlife, and plenty of new residents. WSU is one of the safest college campuses in the Midwest.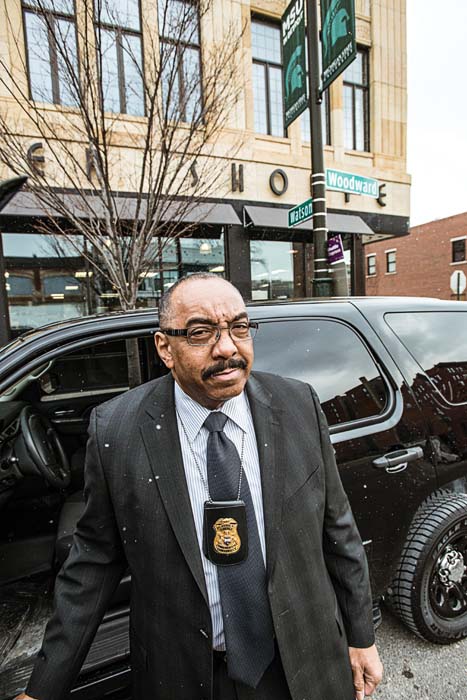 The expansion of Wayne State's police force has been a major factor. The department has nearly doubled in size since Holt was a fresh recruit, growing from 30 officers in 1977 to 54 today. He has ambitions to grow the force to 75-plus officers before he retires, not that the 62-year-old is ready for that just yet. "There's still so much work left to do," he says.
Today, high-definition cameras actively monitor the department's patrol area, rather than simply recording crimes and pursuing them after they occur. While campus safety remains a primary focus, the force has broadened its scope to patrol and respond to a roughly six-mile area bounded by Lothrop to the north, Mack to the south, 14th Street to the west, and I-75 to the east. Six to eight officers patrol the area at any given time.
To put that into perspective, in one January week, 46 arrests were made in the 2nd District (where WSU is located). Wayne State officers made the majority of those arrests — 36, to be exact. None of them were campus-related.
"In the last four years, Wayne State Police has transformed itself from a campus-safety focus to a full-service, big-city police department," says David Martin, a research professor and crime analyst at Wayne State's Center for Urban Studies.
The biggest change of all? In Holt's four years as chief, the crime rate has fallen a combined 45 percent in all major-crime categories. Holt's brand of aggressive, proactive, and service-based policing in a socioeconomically diverse 4.5-square-mile radius, which includes everything from dilapidated buildings to the Detroit Institute of Arts, has certainly helped. When Wayne State President Allan Gilmour was elected in 2011, he made a pledge to be a good neighbor to the cultural institutions, hospitals, businesses, residents, and students in the Midtown area. Holt and his agency have taken the pledge to heart.
For those serving on the force, no call is insignificant. Officers might go from helping retrieve keys from a locked car to halting an armed robbery in progress. Basic traffic enforcement and preventive programs are major cornerstones. Panhandlers and loiterers are targeted and ticketed. The SafeWalk program offers a police presence for those walking home from a late class or work shift. Instead of criminalizing the homeless and mentally ill, Holt assigns mental-health specialists to ride along with specially trained officers to identify residents in need of food, treatment, medication, and housing.
Every two weeks, Holt collaborates with local agencies to review crime statistics and identify crime hotspots and repeat offenders. It's neatly wrapped up in what's known as a CompStat report. The meeting sign-in sheet is diverse — Wayne County Sheriff, State Police, and Detroit officers work alongside the Department of Corrections, probation agents, and community members. Recently, the meetings resulted in a bust of an illegal brothel.
"No one agency can do it by themselves," Holt says. "We see these patterns in our reports — where it's happening, the time frame in which it's happening — and we strategize to solve it."
The WSU Police Department isn't without its share of issues. Crime remains a serious concern. If Midtown were its own city with a population of roughly 25,000 people, Martin says, it would still rank as one of the more dangerous cities in Michigan for robberies, auto theft, and larceny.
And while local businesses consider the agency a godsend, some students and residents only know them as a glorified security crew. "Dialing 9-1-1 is ingrained," says Wayne State police officer Ryan Spangler. "Unless you're aware of us, dialing 313-577-2222 is not." In his four years on the force, Spangler says that perception has changed immensely.
The success of the Wayne State police speaks volumes. The hybrid university police agency has made students and residents feel safer, while demonstrating to business owners that their investment in Midtown is safe. It's left many wondering if Wayne State's model could be applied to other parts of the city. As the Detroit Police Department struggles under the city's budget woes, could tackling the little issues and embracing a WSU-like community policing effort be effective at this point? Perhaps on a precinct level, Martin says. "We've found that crime is localized. People who live in the area are victimizing other people who live in the area. You've got some very prolific offenders in the area who account for a lot of the crime … and this holds true for most parts of the city.
"The key is spending time in these hot-spot areas, talking to people, and intimidating the criminal elements."
For the Wayne State Police, it's about keeping a simple but vital pledge — to be good neighbors.
Facebook Comments