From the very beginning of its three-decade existence, Chene Park Amphitheatre has been a remarkable little gem that outshined its setting on the Detroit River.
"Thirty years ago we started the Wednesday night jazz series, which still goes on today," says Shahida Mausi, CEO of Chene Park and owner of Right Productions Inc., which books entertainment for the venue. "Among our acts that first year were Carmen McRae, Wynton Marsalis, Ornette Coleman, [and] Dianne Reeves. It was wonderful.
"There were no seats then," she recalls. "It was just a hill. And the day we did Carmen, it rained. Our traffic tied up [the intersection of] Chene and Jefferson. Six thousand people came, in the rain, and sat on that wet hill with their umbrellas. I was calling the airport to find out if the rain was going to stop, because I couldn't unload the Steinway until it did!
"The rain stopped, they put the Steinway out, Carmen McRae did it, and Mayor [Coleman] Young said, 'We might have something here,' I was hooked," says Mausi.
They certainly did have something.
Part of the Young administration's grand design to create a series of interconnected parks along Detroit's woefully under-utilized riverfront, Chene Park Ampitheatre has evolved from that soggy mid-1980s bump between Atwater Street and the Detroit River to an intimate, glittering 6,000-person showplace. The concert tour industry guide Pollstar once ranked it as one of the world's Top 100 concert venues.
Chene Park features 5,000 covered pavilion seats and 1,000 lawn spaces — and probably hundreds more free spectators with "free" seats on boats that routinely drop anchor along the Detroit River behind the stage during performances.
The amphitheater now books an eclectic mix of 40 or more events every summer.
And to celebrate its 30th anniversary season this summer, Chene is dropping names. Big names.
George Clinton (with the SOS Band, Mary Jane Girls, and Cameo, July 10). Erykah Badu (July 11). Freddie Jackson (July 29). The Roots, Jimmy Fallon's house band on The Tonight Show (Aug. 9). Techno pioneer Derrick May with the Detroit Symphony Orchestra, May's first performance with an orchestra in the U.S. (Aug. 14).
And on Aug. 22, the coup beaucoup: The Queen of Soul and empress of the Motor City, Aretha Franklin, is making her Chene Park debut.
"Aretha is a very special person," Mausi says. "We have been working for a number of years, quite honestly, to close this deal. In years past, other Detroit venues … their pockets are a little deeper. We were finally able to meet her requirements … so we're happy about it."
Mausi, 60, a woman of Lena Horne-esque beauty and soft-spoken grace, was first assigned to do programming for the park in her position as executive director of the Detroit Council of the Arts under Young. And in much the same way, Young assigned her to produce the historic 1990 Nelson Mandela appearance in Detroit.
For the past 12 years, Mausi has held the contract through the City of Detroit Recreation Department to manage and operate Chene Park under her Right Productions business umbrella, with an option to continue through 2027.
"We've built the attendance from 30,000 to somewhere around 120,000," she says, "and I'm not satisfied. Oh, I'd like to double it."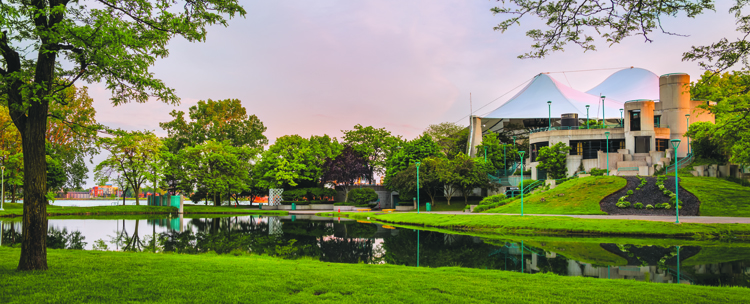 "You've got to take your hat off to her," says Alan Lichtenstein, longtime entertainment impresario as executive director of Nederlander Detroit, which manages the Fisher Theatre and the Detroit Opera House. "A lot of different people had a shot at that space, and she was able to find the right programming and marketing to make it successful."
Mausi has also established a business legacy for her family: Her four sons play key roles. Sulaiman Mausi is vice president and general manager of Chene Park; Dorian, her oldest, is director of food and beverage; Malik is assistant general manager; and Rashid, a veteran ad executive, is New York-based director of brand integrations.
It's "unique," working for family, concedes Sulaiman, who also books acts in Durham, N.C. "But it's a great experience. My mother is accomplished, strong, and has done a lot of amazing things. We bump heads when we disagree, but we're also partners. What makes our relationship work is, we don't hold back. We say what we have to say, drop it, and move on. She knows I have her back 100 percent, and I know she has mine.
"The downside is," he says, "you can get calls at all hours of the night about business."
For all its waterfront beauty and concert success, Chene Park Amphitheatre remains relatively unknown to many metro Detroiters. Because of its location, it may have had to fight the stereotype of being labeled "the black concert venue."
"There have been times I've gone to radio stations and was told, 'We won't partner with you on a show because our audiences won't go there,' " Shahida laments.
"I was disappointed. Audiences come to the city from the suburbs for all types of events. I think that's changing as the city changes.
"We've been very, very blessed, and I know that. We've only had to call the police once in 12 years," she adds. "Chene Park is a place that people love, and what people love, they take care of. It is my honor to be able to work hard and be a good steward of this amazing place."
Because when the lights are low, the music is tight, and a gentle breeze is blowing off the river, Chene Park feels like the best place on earth.
"You know what I've never done?" she suddenly realizes. "I've never watched a show from the river. People keep saying, 'Yeah, I'll take you out on my boat.' Nobody. Just a lot of talk.
"The boaters come out for every show. I haven't figured out how to get a dollar out of them yet. Maybe now that gas is cheaper, they'll send us some donations."
---
For more information, go to cheneparkdetroit.com,  2600 Atwater St., Detroit, 313-393-7128.