VITAL STATS
Born: Tewfic (likely an uncommon spelling of the Arabic, Tawfik, interpreted as "fortunate" and "success" (Wikipedia), Gores, July 31, 1964, in Nazareth, Israel.
Hometown: Genesee Township, Mich.
Current address: Beverly Hills, Calif. (Also a three-address waterfront compound in suburban Detroit.)
Education: Genesee High School, class of 1982; Michigan State University bachelor's degree in construction management, 1986.
Career: Founded Platinum Equity, a private equity firm ranked 27th on the 2010 Forbes list of America's Largest Private Companies, in 1995; Forbes "400 Richest People" position: No. 159.
Personal net worth: Estimated $2.5 billion.
Wife: Holly (née Murdoch), a Grosse Ile native.
Children: Katrina, 14; Amanda, 13; Charles, 9.
---
One of these things is not like the other: Pro basketball. Seven-figure salaries. JumboTrons. Playing the tambourine.
Still, they all have a place in the world of new Pistons owner, aka family guy, soccer coach, and newbie studio musician, Tom Gores.
When Pistons executive Joe Dumars first met with his future boss, the conversation between the former hoops star and the incoming team owner had surprisingly little to do with the NBA, coaching decisions, or the business of professional athletics in general. As Dumars recalls, he and Gores swapped fatherhood stories while watching videos of Gores' kids playing soccer.
"This is a very unique guy in the sense that he's a very successful business guy, but the guy is a father and a husband, as well," says the Hall of Famer and current president of basketball operations for the Pistons. "There's no question that family comes first with him."
Sports again were off the table during Gores' first meeting with Ethan Davidson, son of longtime Pistons owner, the late William "Bill" Davidson. After a few scheduling conflicts between the two, Gores boarded his private plane and flew to Detroit to meet the younger Davidson in a Hazel Park recording studio, where the musician was laying down tracks with his band. Davidson was uneasy about meeting the billionaire buyer of his father's sports franchise in the studio, located "down a dark alley behind a carpet store." But any ambivalence was quickly put to rest. As he quickly learned, Gores is a pretty down-to-earth, casual guy.
"We handed him a tambourine and we told him to go to work," Davidson says. "He jumped right in there with the band. I don't know if we'll ever finish this record, but if we do, he'll be on it."
And, no, Gores (pronounced GORE-es) didn't come to jam in a billion-dollar suit. Fans paying attention to the changes at The Palace of Auburn Hills may remember the jeans and the white collared shirt with short sleeves that Gores sported during the Pistons home finale against the Cleveland Cavaliers. As Gores danced from the stands for the JumboTron, George Blaha, the longtime Pistons TV play-by-play announcer, introduced the team's new owner, pronouncing his name "Gores."
The Pistons fell to the LeBron-less Cavs in a game that — had it been played in the same arena just a few years earlier — would have been a local-celebrity studded, sell-out event. The message on the court and on the big screen was clear: There's a changing of the guard at The Palace — and in the NBA.
A Regular Guy
Gores is aware that the circumstances of the recording-studio meeting with Davidson were a bit bizarre. "He might not have expected me to go, but we had a wonderful time," Gores says. "It was important to meet Ethan as part of the deal."
Gores had set personal terms for himself, which included meeting everyone in the Davidson clan and the four minority owners, Ethan being one.
For Davidson, Gores' regular-guy display was a welcome surprise. "He could've come in and he could've been a big shot," he says. "He could've not had the desire to meet me at all and he could've still bought the team."
At 47, with an estimated $2.5 billion to his name and a comfortable perch at No. 159 on Forbes' "400 Richest Americans" list, the Michigan native and founder of one of the most profitable private equity firms in the country has made a career and life out of shattering expectations.
Last fall, when Tigers and Red Wings owner Mike Ilitch publicly expressed interest in adding the Pistons to his hometown pro-sports crown — going as far as securing an exclusive negotiating period with Davidson's widow, Karen — Gores' name was barely whispered in basketball circles. But after Ilitch's negotiating period expired without a deal in place, Gores and his executive team — already waiting and working in the wings — swooped in and scooped up the Pistons and Palace Sports & Entertainment for $325 million.
Gores closed the deal to become only the fourth owner of one of the oldest franchises in NBA history on June 1, 2011. (A purchase agreement had been in place for months.) The deal also included the entertainment venues under the Palace Sports & Entertainment umbrella: The Palace of Auburn Hills, DTE Energy Music Theatre (formerly Pine Knob), and operating rights to Meadow Brook Music Festival. But Gores had been celebrating since April, dancing in the stands and singing along with "Don't Stop Believin,'" as readers of the need4sheed.com blog observed. Did Gores know the crucial line of the first verse? The one that says, "Just a city boy/Born and raised in south Detroit"?
Change "south Detroit" to "north of Flint," and you're singing Gores' song.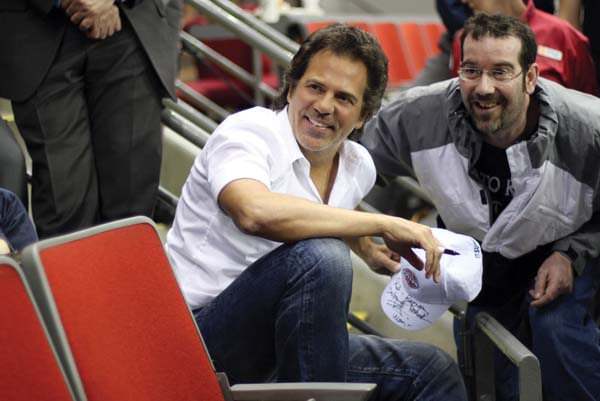 'Tommy' Gores from Genesee
The youngest son of a Greek father and Lebanese mother, Tom (born Tewfic) Gores immigrated to Genesee Township from Nazareth, Israel, with his family at age 4. His parents, Charlie and Marie, settled with their six children into a small apartment in Genesee, a town about 20 minutes north of Flint.
Kids pick up languages amazingly fast, and Tewfic (now Tommy) had no trouble assimilating. School — school sports, especially — became a Rosetta Stone for the Gores children. By the time he reached high school, the family was living in a modest ranch just down the road from Genesee High. Tommy, as those in Genesee remember him, biked to and from practices for baseball, football, basketball, soccer, and school plays.
John Pintek, Gores' math teacher and assistant football coach at Genesee High School, remembers all the Gores kids — and their friends — as being active students. "They got the whole high-school experience," Pintek says. "They were on the prom committee. They were doing announcements on the PA. They were class presidents and [on the] student council, and doing it all."
Along with brother Alec, with whom he is reportedly very close despite a competitive past, Tom thanked the school five years ago with a $250,000 donation for a new track in honor of Tom and Julia Joubran for their golden wedding anniversary. It was Uncle Tom Joubran who sponsored the Gores family's emigration from Israel. A Flint businessman and native of Israel himself, Joubron gave "Tommy" his first job as a carryout boy in the produce section of his grocery store, Tom's Supermarket.
In young Gores, Pintek saw an honor student who knew when to break up locker-room tension with a well-placed quip. "He wasn't a troublemaker by any means," Pintek says. "He was a little comedic. He liked to make you smile."
But winning — and earning it — were just as important. "He was very competitive," Pintek says. "There was always that big driving force: 'We're not just playing a game. We want to go out and we want to win and dominate.' It'd be kind of nice to see that carry over to the Pistons."
The Platinum Treatment
If Gores' June 2 press conference officially closing the deal had been a little bit more like the political rallies of this early campaign season, the song to introduce him could have been Sister Sledge's "We Are Family." That's a song he can dance to.
"I felt like [the Pistons deal] was a family decision," Gores says. "I discussed it pretty deeply with my family and the Platinum family — the folks that have been great executives and supporters of me."
Charlie Ittner, 30, director of the office of the chairman at Platinum Equity, illustrates what's possible for ambitious people at Platinum. He began his career at the company seven and a half years ago, fresh out of college. After toiling away at the lowest rungs of Hollywood's film industry, Ittner responded to a blind post on a local job listing. Assistant job for a businessman who had some film-financing interests, it read, as Ittner recalls. "I loved the people I was meeting when I was interviewing," he says. "There was something that felt very different, very unusual to me."
At 22, Ittner became a utility man in the organization, serving as a gofer when something needed to get from Malibu to Beverly Hills on very short notice. Through that time, he got to know Tom and the Gores family well (all six siblings now live in California). "You get to know the cousins," Ittner says. "You're at these events, and what's kind of amazing is … you're not treated as 'the help' in these situations."
As Gores and Ittner say: Loyalty is built into the culture. "I don't like to fly solo," Gores says. "I've gotten here with a tremendous amount of support and momentum from these folks."
Throughout Gores' eight-minute press conference speech in June, he talked about Detroit's passion, growing up on the streets of Flint, and becoming friends with the Davidsons. An unrehearsed microphone change, which caused some sound issues, prompted him to switch-up on the fly. Gores kept his cool. "Gotta adjust, right?" he said into his replacement mike.
All in the Family
"It's the end of one golden era," Karen Davidson said at that conference, "and the beginning of another."
Although there are certainly differences between Gores and Bill Davidson (like the JumboTron dancing and the open-collared shirts), there are similarities. "I'd heard the stories about how they were a very proud family," Ethan Davidson says about the Goreses. "They'd grown up working in the supermarket business. People that weren't afraid at all of hard work — the story was, in some ways, similar to my father's family. They were immigrants, self-made."
Dumars, who, in addition to working under Davidson as general manager once played for the team as shooting guard in one of the best backcourts — alongside Isiah Thomas — in NBA history, can already spot the similarities, too. "Both of them understood how to get people to be at their best. I can see that already," Dumars says.
"I can see why [Gores'] company is so successful. When you're in an environment with him, he creates a culture of you not only wanting to be successful, but knowing that you have the resources and the backing to be successful. That's exactly what Davidson did."
The family theme hits even closer to home for Gores. "I'm trying to convert my kids from Lakers fans to Pistons fans," he said at the press conference. "We're going to give that a shot. We're making progress. Right now, my little boy [Charles, 9] is saying that the Pistons are top four in his choices."
He went on to acknowledge his "old friends from Michigan," and his "Platinum friends." And then he returned to family — his mother and his siblings. Gores is always surrounded by family, whether it's his Platinum family, the Pistons family, or his wife, Holly, and their three children.
Working for It
After high school, Gores received a scholarship to Michigan State University. There, he completed a program in construction management, receiving a bachelor's degree in 1986. His father, a smoker, died of lung cancer five months later, at 57. In the construction business himself, the elder Gores had lived long enough to see the torch passed to his youngest son.
The trauma of his father's death inspired a deep desire in Gores to redouble his efforts. After a two-year stint spent back in Genesee, Gores packed up his used navy-blue Cadillac DeVille and drove his girlfriend, Holly, to Grosse Ile to say goodbye to her family. The young couple was headed west, where Tom's older brother Sam had gone to work in the entertainment business. California's promise lay within a software company whose founder had offered Gores a job.
Gores says he woke up one day just knowing he had to leave for California. He asked Holly if she wanted to come along, unsure of what her answer might be. "We weren't that serious," he says. "But she took me up on it."
The gamble didn't stop there. During their road trip, the young couple made a pit stop in Las Vegas. "We figured, what the heck, we'll stop in Vegas and just have a good time," Gores says. They ended up losing most of their money at the blackjack table, leaving them shy of the funds needed to pay the movers waiting for them at the other end.
How did he adjust? Gores says: "Before the Nevada state line ended — right before California — there's a place called Whiskey Pete's. I still had a few hundred dollars in my pocket. And Holly was kind of sleeping." Gores pulled over, played some blackjack, and walked out with $4,000 in his pocket.
"She bet on me, and she was good with me losing it," Gores says. "Ended up a good bet."
In California, they rented a $600-a-month, one-bedroom apartment, sight unseen. "We thought we were just going to get this great place," Gores recalls. "It wasn't that great."
The next few years were spent toiling away, working 16-hour days making small handshake deals. Those hours stretched — like Tom and Holly's budget at the time — past 1995, when Gores founded Platinum Equity. The year brought more than one important notch on Gores' historical totem pole: It was also the year he married Holly.
Fabulously successful today by nearly every measure, Gores' main home is in Beverly Hills, Calif. The family also maintains a compound-like residence in Downriver's Grosse Ile, where the expansive waterfront property has three addresses nestled into a manicured landscape with a boat dock and kids' soccer field. That suburban-Detroit foothold includes an approximately 4,000-square-foot, 1940s-era main house that was completely remodeled eight years ago. Other structures on the site include a clubhouse and a 3,500-square-foot guesthouse with a back patio setting suitable for poolside at an upscale hotel.
According to Duncan Murdoch, Holly Gores' brother, who's the Grosse Ile fire chief, the setting allows the family to congregate when the California relatives are in town.
Like his homes, Gores, himself, is securely buffered, which makes him a tough man to pin down. Ittner and two others run interference and manage his agenda and travel, with plans ranging from his children's soccer games, which Gores coaches, to brokering a deal for a steel company in Pennsylvania. There's plenty of crossover between Gores the businessman, and Gores the family man.
He illustrates that overlap by sharing the advice he gave his daughter, Katrina, after an injury on the soccer field this summer. "How great you'll be is how you recover from when it doesn't go well," he told her. "We can almost for sure know that at some time it's not going to go well. So it's our ability to recover from those situations and turn them into something that's positive."
Have Good People
"If you have great people, you can invest in them," Gores says. "And then who the heck knows where they could go? I don't like limiting anything."
Ittner, who's now Gores' right-hand man, says he could see himself retiring from the company some day. It's mostly thanks to the conduct of his boss.
"In a wonderful way, he'll kind of wind you up and then give you plenty of room to run — plenty of room to execute. It's empowering, I think. It allows us to feel like a bit of an entrepreneur in his or her own role."
But what about that whole pushing everything to the last minute, and living so in the moment that he can't plan more than a few minutes into the future?
"I think people who know him just kind of get it and understand it. People who don't know him, I think, can definitely get a little irked by it," Ittner says of his boss' tendency for tardiness. "But, whatever the situation … whenever they finally connect, the way he is kind of disarms the whole thing."
This strategy also works as a filter for Gores to ensure he connects only with those committed to having his ear and his time.
"Tom will tell you that he never had a five-year plan for Platinum in 1995, or 2000, or five years from now," Ittner says. "It's more about coming in every day and executing like crazy."
Gores has even coined a phrase he seems proud of: Plan on it, but don't count on it.
"Adaptability is so key to business, and also a key to being happy," Gores says. "Because you'll constantly be disappointed if you aren't able to adapt." Adaptability came in handy during that summer press conference, when Gores had to adjust and plough through that microphone glitch.
Take risks and never be limited by perceptions — two more Platinum guiding principles — might help explain Gores' decision to buy the Pistons, as well as 30-plus other businesses, including The San Diego Union-Tribune, that are part of Platinum Equity's portfolio.
"A lot of people thought maybe we might have been crazy going into Detroit while it was having such a hard time," Gores says. "But, if you really study the fan base and the town, and you understand the town and the uniqueness of the assets that are there, you see that it's a tremendous opportunity."
As a former part owner himself (who says he might be interested in reinvesting in the Pistons in the future) Ethan Davidson offered Gores a piece of advice when they first met. "You're buying a piece of the city. You're not the only guy that owns this.'"
Gores seems to have taken the counsel of his predecessor's son to heart. "Part of what has inspired me about this particular deal is to affect the community in a positive way," Gores says. "I want to make a difference.
"I think I'm in a unique position, given where I'm at in the world and the current stage in my life, to really make a difference and try to inspire people."
Of course, questions remain. Will Gores strike a deal for the Pistons and Red Wings to share a venue (as they did at Olympia when the basketball squad first moved here from Fort Wayne, Ind.)? Would that site be downtown?
The likely answer: Only if it makes sense.
Gores isn't the type of guy to plan that far ahead. Prepare, maybe. It's certainly not a goal. Gores doesn't set goals.
"I'm afraid of goals, because I don't want to limit myself," he says. "We work hard. And I'm a big believer that if we just do the right activities, the results should be there."
---
Fast Break
What book is on your night stand?
Lately, [it's just been] a soccer-coaching book. [I] have been coaching for years, but like to always learn. I tend to like reading books that have you learning versus [being entertained].
Do you remember Nazareth [in Israel] at all?
I have vague memories of Nazareth.
Have you been back to your birthplace?
I have not. Mostly, I want to see the home my dad built on his own, brick by brick, that housed us six kids and parents.
Do you practice or subscribe to any religion, or are you more spiritual?
Spiritual is a good way to put it. I am a big believer that religion is something that can enhance your life but shouldn't control it. Mostly, I consider myself … respecting everyone's own belief.
What characteristics in other people do you most dislike?
Arrogance and lack of humility.
What was your first job?
First job was a bag boy at a grocery store. Second job was a janitor. Tough job.
If you could describe your parents in three words, what would those words be?
Love. Determination. Hope.
Responses were edited and slightly condensed from written email replies.
---
If you enjoy the monthly content in Hour Detroit, "Like" us on Facebook and/or follow us on Twitter for more frequent updates.

Facebook Comments