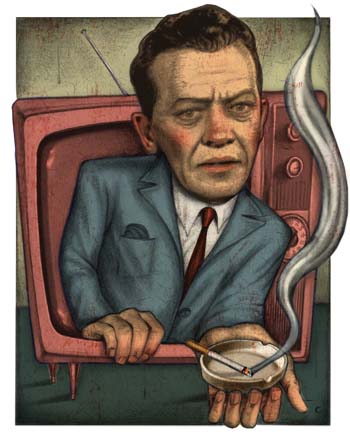 The commercial that began airing in the fall of 1968 featured a face familiar to millions of television viewers. As fictional prosecutor Hamilton Burger, Detroit-born actor William Talman had lost case after case to defense attorney Raymond Burr during nine seasons of Perry Mason. Now, Talman was reaching from beyond the grave to issue a startling firsthand warning about the lethal effects of smoking.
Donald Hillman produced the landmark commercial, the first anti-smoking spot to feature a celebrity — and a dead one at that. The American Cancer Society "decided to do this film," he explained at the time, "because it presented a unique opportunity for the society to dramatically and realistically portray to the American TV audience the beliefs and feelings of a man soon to be a victim of his own smoking habits." Besides, Hillman continued, Talman was "all the more effective because he had previously been established as a loser."
Loser? Jim Caldwell considers Talman a savior. Stuck at home that fall because of a lingering illness, the 10-year-old schoolboy was jolted by the black-and-white images he saw flickering across the screen of the family's RCA television. "Hamilton Burger looked terrible," remembers Caldwell, today a teacher in New York. "Sickly. Horrible. At death's door. That sat me right up, let me tell you. He looked like he had one foot in the grave. I can still see his face. But it was his pleading that deeply, deeply impressed me." Aside from "a cigarette or two in college," Caldwell kept away from tobacco, "thanks in no small way to Hamilton Burger."
Whether cast as serial loser Hamilton Burger, as the ruthless killer Emmett Myers in the film-noir classic The Hitch-Hiker, or as a phantasmal spokesman for the American Cancer Society, Talman demonstrated a flair for memorable performances. "We're just that way," says Tim Talman, one of the late actor's six children and himself a veteran of stage, film, and television productions. "We don't do anything unless there's an effect. What my dad was telling the world was, 'When you see this, I'll be gone.' It doesn't get any more dramatic than that."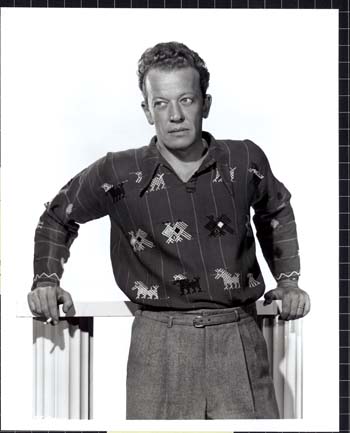 William Whitney Talman Jr. was a third-generation Detroiter whose ancestral line included a member of George Washington's staff during the American Revolution. Talman's father and namesake was born in 1878 in the family home at Congress and St. Antoine, then attended the University of Michigan before embarking on a career in industrial electronics. On Feb. 4, 1915, the second anniversary of William Sr.'s marriage to a New Jersey woman named Ada, William Jr. came into the world.
The future actor and his two younger brothers, Jim and Tom, grew up in a privileged household that even during the Depression numbered more servants than children. (The imposing century-old house, erected on a half-acre lot on Seminole Street in Indian Village, still stands.) Every day, Talman rolled up to school in a chauffeured limousine. "Public school," he later said. "That meant I had to fight my way in and out." In self-defense, he joined the boxing program sponsored by the local Episcopal Church. He developed a lifelong passion for baseball, golf, sailing — and cigarettes.
Talman was exposed to the theater at an early age. His father was involved with the all-male Players Club of Detroit, which, by 1925, was staging its one-act "frolics" from a newly built clubhouse on East Jefferson. Talman and his brothers attended the Cranbrook academy in Bloomfield Hills. All performed in the drama club. Although Tom would go on to teach at Rutgers and Jim would become an aeronautical engineer, "Bill had the most brilliant mind in the family," insists Jim Talman, who today lives in Pennsylvania. "He could read a page once, turn it over, and recite every word by heart."
Talman entered Dartmouth College in 1932. Tragedy struck during his sophomore year. Talman, who had borrowed another student's car to take a girl from Smith College out on a double date, was forced off the road by a bus. The car struck a tree. Talman and two girls survived the accident, but a young man was killed. To make matters worse, it turned out that the loaned auto actually had been stolen. "He was encouraged to resign," Jim Talman says. "Dartmouth invited him back a year later, but he didn't go. He played some roles at the Players Club before leaving for New York."
The young actor was just starting his Broadway career when World War II broke out. He was appearing in the comedy Spring Again at Henry Miller's Theatre when he was drafted into the U.S. Signal Corps. He went in a private and came out three years later a major, having spent his time in the Pacific arranging shows and training service teams that won championships in baseball and boxing. After his discharge, he returned to Broadway, getting roles in the postwar productions of Dear Ruth and A Young Man's Fancy. In 1949, he moved to Hollywood, looking to break into films.
He first appeared on the big screen as gangster Bunny Harris in Red, Hot and Blue, a 1949 musical comedy starring Betty Hutton and Victor Mature. He went on to perform in nearly 20 features, including such stylish crime dramas as I Married a Communist (1949), Armored Car Robbery (1950), The Racket (1951), Big House, U.S.A. (1955), and Two-Gun Lady (1956). His cynical and hard-boiled characters rarely made it to the end of the movie alive. His most memorable role was in the 1953 film The Hitch-Hiker. Cast as the murderous kidnapper Emmett Myers, Talman "makes the most of one of the year's juiciest assignments," wrote The New York Times. "He is a braggart who taunts his captives, mocks their softness and proclaims that 'you can get anything at the end of the gun.' "
Talman's performance inspired an unusually affective response from one moviegoer. Shortly after the film came out, Talman was stopped at a traffic light in Los Angeles when he noticed the driver of the car idling alongside his glaring at him. "You're the hitch-hiker, right?" the stranger asked. When Talman acknowledged that he was, the man got out of his car, walked over to Talman's convertible, and slapped him hard across the face. The stunned actor watched his assailant calmly return to his car and drive off. "You know," Talman said later, "I never won an Academy Award, but I guess that was about as close as I ever will come to one."
In 1956, CBS announced it was creating a television show based on fictional Los Angeles defense attorney Perry Mason, a character found in the crime novels of Erle Stanley Gardner. Talman originally auditioned for the role of Mason, but lost out to a heavyset veteran character actor named Raymond Burr. Producers then offered him the part of district attorney Hamilton Burger. "Bill Talman is really a wonder," Gardner later said. "He actually looks like he expects to win a case."
Perry Mason debuted on CBS on the evening of Sept. 21, 1957. It was the first of 271 hourlong episodes, all but one shot in black and white. A pattern quickly emerged. "Burger would always present a seemingly airtight case against Mason's hapless client," observed an Associated Press writer. "But Burger never won a case because the script was loaded against him. … More often than not, one of Burger's star witnesses went to pieces and confessed on the stand that it was he, and not Mason's client, who really committed the murder." Perry Mason was a success from the start, turning cast members into pop-culture figures that remain vivid today thanks to reruns, the Internet, and DVD sales. (In 2009, the U.S. Post Office issued a commemorative first-class stamp featuring Burr and Talman.) By the early 1960s, Burr had won two Emmy Awards and was commanding an annual salary of $1 million. Talman earned $65,000, much less than the show's star but still a healthy figure for the time.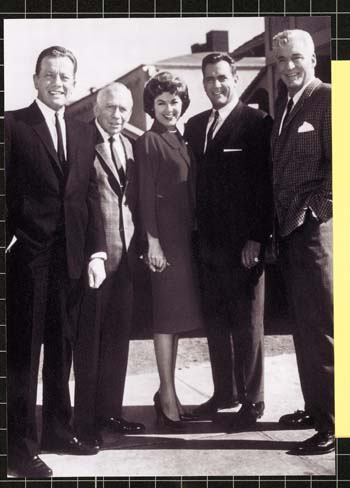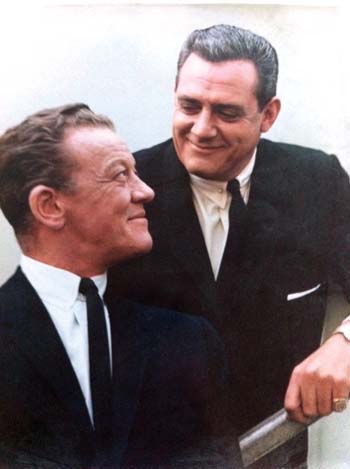 Talman is remembered as an affable man with a wry sense of humor and a live-and-let-live attitude that instantly put strangers at ease. But trouble seemed to follow him around as much off screen as on. Heavy drinking contributed to domestic discord. He had married actress Lynne Carter before entering the army. They divorced in 1952, with his ex-wife claiming extreme cruelty. She was awarded custody of their daughter, Lynda, and 24 percent of his income. The next year, Talman married actress Barbara Read, with whom he had two children, Barbie and Billy. This marriage also unraveled, the result of Talman's chronic overindulgence.
On March 12, 1960, Perry Mason fans watched Hamilton Burger lose yet again in an episode called "The Case of the Singing Skirt." The following day — Friday the 13th — Talman was one of eight people arrested during a sensational raid in Hollywood. According to police, four men and four women had been found smoking marijuana inside a private home. All were naked. Talman maintained he had just dropped by a friend's house for a drink. While tabloids had a field day, the network quickly fired Talman for violating the morals clause in his contract. In June, a judge dismissed the charges of "gamboling without clothes," saying, "I don't approve of their conduct, but there has been no violation of the law established." The network refused to rehire Talman.
As the blacklisted actor scrounged around for work in Hollywood, the members of Perry Mason's remarkably close-knit cast worked hard to have CBS reinstate him. A small but potent symbol of protest was their refusal to remove Talman's coffee cup from the crew's famous rack of personalized mugs. In December, due largely to a letter-writing campaign orchestrated by Burr, CBS brought Talman back.
By then, Talman and his second wife had divorced. In 1963, Read closed up her California home and turned on the gas stove. She left a suicide note blaming her poor health. That year, Talman married Peggy Flanigan, a fun-loving divorcee he had met at a friend's poker party. Talman adopted her two children from a previous marriage. The couple went on to have two children of their own, Susan and Tim.
Meanwhile, Perry Mason continued to outwit Burger. Fans of the courtroom drama begged for the hapless prosecutor to win just one case, with a professional gambler once approaching Talman about the possibility of springing a surprise courtroom victory. "He wanted me to say the wrong thing, cross 'em up and win the case," Talman said. "He was going to cut me in. Said he could get 30-to-1 on it." As the defeats stacked up, week after week, season after season, Talman started to tout the distinction of having "the longest losing streak in history."
Perry Mason ended its original run on May 22, 1966, with Hamilton Burger outdoing himself by losing two cases in the show's final episode. "Once again, good old Hamilton Burger picks the wrong man to prosecute in both cases," Talman told the press. "Mason gets one of them off on a trick and I get sore about it. I wouldn't want to hit Ray Burr, but I think Hamilton Burger would like to hit Perry Mason." As reruns of the show immediately went into syndication, Talman cashed residual checks and tried to keep busy. He spent six weeks in Vietnam entertaining the troops and worked with Doris Day in The Ballad of Josie, a comedy Western. His role wasn't much of a stretch: He played a district attorney who fails to convict a young woman of murder. It turned out to be his last film.
In September 1967, Talman visited his doctor to treat a cough he couldn't seem to shake. X-rays showed a mass in his left lung. He underwent surgery, and the biopsy result was chilling. His cancer had spread and was inoperable. He underwent radiotherapy treatments, but the cancer soon moved into his other lung and his brain. By the following summer he was taking increasingly larger doses of morphine to fight the pain, a treatment that left him dazed and weakened. Then, one Friday afternoon in July 1968, Talman called the American Cancer Society in New York. "He spoke to me very directly," recalls Irving Rimer, then head of public relations for the organization. "He said, 'I want to do a TV spot. I'm not going to be around very long, so you better get a crew out here right away.' "
The dying actor had unwittingly prepared for what would become the role of a lifetime by smoking up to three packs of unfiltered Camels a day for more than 40 years — somewhere between 750,000 and 1 million cigarettes in all. When he was young, his father had offered him $1,000 and a gold watch if he could reach the age of 21 without smoking. As Talman ruefully noted, "I lost that case before I was 12."
Talman was hardly alone in his nicotine addiction. "Smoking was the thing to do," says Rimer, now retired and living in North Carolina. "In the army, you got free packages of cigarettes, and that's where many picked up the habit. In Hollywood movies, a cigarette was the perfect prop. Everywhere you looked — magazines, billboards, TV — you had famous athletes and entertainers and even doctors encouraging people to smoke." Celebrity pitchmen included John Wayne, Gary Cooper, and Steve McQueen (all of whom died of cancer). Actors often stayed in character, making their endorsements more persuasive. For example, in one of the spots for Winstons that ran each week during The Beverly Hillbillies, Granny Moses (actress Irene Ryan) put a cigarette from Jed Clampett into the bowl of her corn-cob pipe, took a puff, and exclaimed, "My thunder, Jed! That is good smoking!" Even popular cartoon characters Fred and Wilma Flintstone fired up cigarettes in primetime commercials.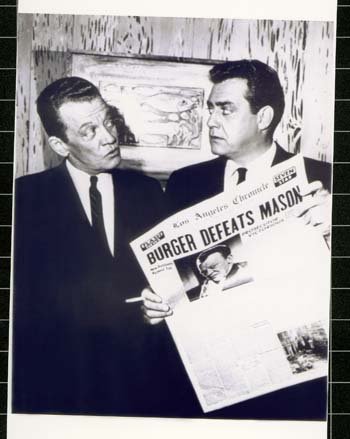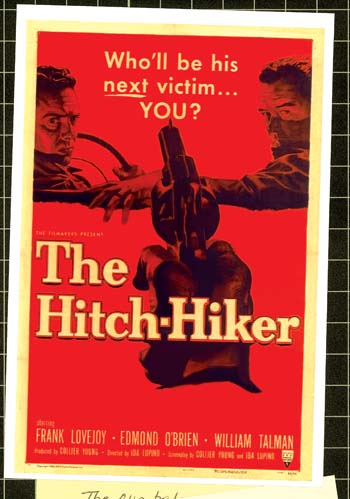 In June 1967, the Federal Communications Commission ruled that all stations airing cigarette commercials also had to broadcast anti-smoking ads as part of the agency's "fairness doctrine," a policy designed to ensure a variety of viewpoints. "Anti-smoking ads were just starting to hit the airwaves," Tim Talman recalls. "My father had read somewhere that actors were unwilling to make them because they were getting paid pretty well to endorse cigarettes. He said, 'OK, that's it.' "
The filming took place at Talman's home in Encino, Calif. Burr was on hand to lend support. It was an ordeal, with Talman undergoing cobalt treatments at the hospital the morning of the shoot. "Dad barely fit into his suit, he'd lost so much weight, and he was slurring his words," Tim Talman says. "Mom was shooting morphine into him every 20 minutes just so he could make it through the spot."
A three-minute film was created from the day's shooting. That was shown to American Cancer Society volunteers for fundraising purposes and had limited circulation. The core of the longer film was a 60-second public service announcement. That was the message most of the country would see.
The commercial began with Talman's smiling children being introduced one by one as they frolicked outdoors, followed by a shot of his wife, Peggy, "who looks after all of us," Talman said in the voiceover. From there, the view shifted to an interior shot of Talman seated on a chair in the living room, next to an oversized photo of him and Burr. "And that's me, Bill Talman, with a friend of mine you might recognize," he said.
"You know," he continued, "I didn't really mind losing those courtroom battles, but I'm in a battle now I don't want to lose at all. Because if I lose it, it means losing my wife and those kids you just met." The camera then moved in on Talman's anguished face. "I've got lung cancer," he said. "So take some advice about smoking and losing from someone who has been doing both for years. If you don't smoke, don't start. If you do smoke, quit!"
With that Talman gave a quick wink and said, "Don't be a loser."
Everyone present marveled at Talman's courage and concentration. He was groggy and in obvious pain throughout. "Later, I asked the writer about the script," Rimer recalls. "He said, 'I didn't write a word.' He did it all off the cuff. It was just a remarkable performance." Adds Tim Talman: "People who saw the ad were blown away. Everything he said came straight from the heart."
On Aug. 30, 1968, six weeks after filming the commercial, the 53-year-old actor died at West Valley Community Hospital in Encino. He was buried at Forest Lawn Hollywood Hills. "He was the consummate joker, right up to the end," Tim Talman says. "He was still paying alimony to his first wife. The day before he died, the whole family is gathered around his bed, there's all this gloom and tension, as you can imagine, and he says, 'Well, at least I won't have to pay her another red cent.' He wanted others to feel comfortable."
Talman's groundbreaking advocacy encouraged other celebrities to take up the cause. Soon Brooke Shields was posing with cigarettes stuffed in her ears and John Wayne was warning of the perils of tobacco. In 1985, Yul Brynner, a five-pack-a-day smoker dying of lung cancer, echoed Talman's performance by recording a commercial for posthumous release. "Now that I'm gone," the actor said, "I tell you: Don't smoke."
Despite sophisticated public-awareness campaigns, a better understanding of the physiological nature of nicotine addiction, an array of options to treat the craving for "cancer sticks," and a societal crackdown on smoking in public spaces, there clearly is much work to be done. According to the Centers for Disease Control and Prevention, cigarettes continue to account for one of every five deaths in the United States. That's roughly 443,000 victims annually, including more than 49,000 from exposure to second-hand smoke.
Peggy Talman, also a chain smoker, quit briefly after her husband's death but went on to die of lung cancer. Jim Talman, now 95, never touched tobacco and stopped playing competitive tennis only because he'd outlived everybody else in his age bracket. Jim Caldwell, scared straight as a youngster, figures that if William Talman's final role saved just a single life — his own —then the eternal loser went out with a winning performance. "I still watch the old Perry Mason reruns with my wife," he says. "Great show. Raymond Burr was a class act all the way and William Talman was a great, great man.
---
If you enjoy the monthly content in Hour Detroit, "Like" us on Facebook and/or follow us on Twitter for more frequent updates.

Facebook Comments