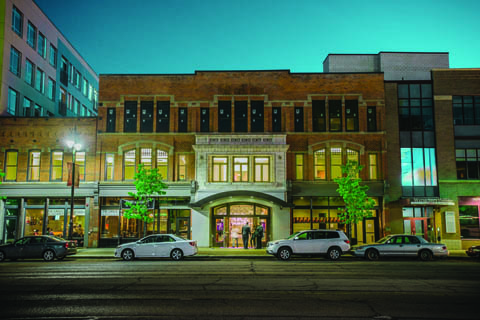 Saturday night in Midtown. Orchestra Hall is hosting Canada-born pianist Louis Lortie, who is playing Chopin. The Majestic Theatre boasts English electronic music producer James Blake.
The Grille Midtown restaurant is nearly packed. The food is great; drinks are flowing; it's sort of loud — and wonderful. And there's not even an event going on at the restaurant's adjoining theater.
Some of the crowd made the trek up Woodward Avenue from the Chrysler Black Box Theatre after a Cabaret 313 show. Others drifted in from the massive hospital complex on John R Street across Woodward Avenue or perhaps from a freshly painted apartment building that stands on footing once housing a novelty shop.
After dinner, couples head to a parking lot, walking past on the northern end of the block. It, too, is busy, even though it's after 11 p.m.
In other words, the block is hopping.
It's a vision that George Stewart and Michael Byrd have dreamed about. And after 15 years of filling out paperwork, scrambling for financing, and basically waiting for the city's revival to catch up with their dreams, it's coming together.
Paradise Revisited
As a young man, George Stewart came to Detroit from Baton Rouge, La., to attend Wayne State University and study for his Ph.D.
He was drawn to the city's nightlife. "Detroit was alive," he recalls. "It was socially rich. There were house parties, the Flame Show Bar, the Chesterfield … Paradise Valley … Detroit was vibrant."
Fast-forward a half-century or so. After his career with General Motors ended in 1996, it didn't take long for Stewart to become bored with retired life.
Stewart and another ex-GMer, Michael Byrd, got interested in Detroit real estate. Then they came upon a stretch of largely dilapidated buildings on Woodward. It included a theater that, in one earlier life, was the Sassy Cat adult movie house.
But it wasn't just any theater — it was The Garden Theater, built in 1912 and designed by the architect C. Howard Crane (of Orchestra Hall fame). Its Beaux Arts façade was fashioned after a garden complete with vines, flowers, and birds.
Stewart wondered: Could a version of the Detroit he remembered ever return?
'THE WORST BLOCK ON WOODWARD'
Recent headlines often feature Quicken Loans founder and Chairman Dan Gilbert buying large swatches of buildings. But that's not the typical model of development in Detroit.
The usual way? "You get a committed, passionate individual, or group of individuals, that have a vision — and oftentimes partly a social mission — to create something of value in the city," says Sue Mosey, the unofficial "Mayor of Midtown." (Officially, she's president of Midtown Detroit Inc.) "That's definitely what you had here. The Garden Theater was very nostalgic in a way for [Stewart]."
"Here" is the Woodward Gardens Block Development, between Selden and Alexandrine streets. The Max M. Fisher Music Center and DSO are to the south; the Majestic and Garden Bowl are just north across the street. Up the street: The Union Street restaurant and The Whitney hold court.
"[Stewart] came to see me really early when he bought his first building over here [in Midtown]," says Mosey. "He said 'The reason I'm picking this block is because it's the worst block on Woodward Avenue, and I want to really make a contribution and make a change here."
And it certainly was bad. A block you might cross the street to avoid, or at least pick up your pace when passing its largely abandoned storefronts.
"This block was blighted … there were homeless people," camped out in the ruins, Stewart says. But amid the rubble, "we saw an opportunity to have live entertainment … we wanted to recreate a feeling."
Then the long, hard road began.
A LOT OF LUCK, A LOT OF PAPERWORK
According to Mosey, Stewart brought a Ph.D. in math and an understanding of finance and project management to the table. And something else.
"He's just a wonderful man," Mosey says. "Everyone likes to throw his or her weight behind him."
And the saga began.
Stewart connected with the economic development gurus at Zachary & Associates, Inc. for the "visioning" side of things. He also tapped Quinn Evans Architects — an "adaptive" use firm that plotted out the block's four phases.
But it took quite a long time to even get started on Phase 1. "The buildings on the block had separate owners [but] we got lucky," Stewart says. "Max Fisher's son-in-law was starting the school of arts nearby, and shared information with us [on who the owners were]."
So began a bit-by-bit odyssey to buy the whole block, through land contracts and whatever else they could cobble together, since they couldn't get traditional financing.
Getting connected with Midtown Detroit Inc. and Mosey certainly helped. "Sue's the glue holding it together," says Stewart. They had contacts with organizations like Kresge and other area anchors like DMC, Wayne State, and the DIA.
The first step was a parking lot and demolition of blighted areas. Again, they got lucky. Once the lot was up, two organizations were looking for parking. There went some 300 spaces leased (and a little income stream, too).
Then another phone call. Wayne State was looking for some office space. Then the Kresge Foundation wanted a Detroit office.
The final key was acquiring the site of Zakoor's Novelty Shop for apartments.
All in all "it was 15 years of pain," Stewart says with a laugh. "But I was retired and could devote time and energy to fill out all those forms."
REHABBING, RECLAIMING, REPOPULATING
"The theater was a rotten mess. The roof had caved in and a wall was open," Stewart says.
After the parking lot was done, Midtown Detroit Inc. and Mosey became a much more critical partner. "I felt strongly that we needed to make sure we got in a strong set of users," she says. "This was sort of a pioneering part of the neighborhood. There wasn't a lot of interest in commercial … at the time."
But after Midtown Detroit Inc. merged with the New Center Council, they needed bigger office space.
"We wanted to plant a flag in a more transitional part of the neighborhood," Mosey says. "So we decided to invest and build out our space. And help recruit tenants."
One of those tenants was the Great Lakes Coffee Roasting Co. They had been roasting coffee for many wholesale customers — restaurants, corporations, churches, you name it — since 1999. But they decided to launch a retail outlet.
"We connected with Sue who introduced us to George," says Scott Rutterbush, one of Great Lakes' partners. "We looked at it on a macro scale."
The Majestic, DMC, the DIA, and the DSO would be "basically our neighbor," he adds. "There were a lot of things happening, and plenty of synergy in the area."
Plus, Stewart and Byrd had been doing business in Detroit "for a long time," Rutterbush says. "They were great advocates for us and walked us through the process and speed bumps."
Great Lakes was immediately embraced by the community. The whole block sort of "feeds" off each other, Rutterbush says. "That helped. Plus there's walkability and more and more foot traffic."
Whole Foods coming in has helped as well. And Mosey and Midtown aren't done. Another 120-plus units of mixed-income housing just around the corner is planned for 2016. That should generate even more foot traffic.
SALVAGING A GEM
While Quinn Evans was the master architect, after the new parking lot and office space construction were done, the day-to-day "build out" was handled by the architecture firm McIntosh Poris Associates.
"We had to hone in on what the theater was going to be," says Michael Poris. "It was largely a burnt-out, vacant shell." The lobby wall had fallen down, but the stage and inside shell were intact.
"We had no idea how much was there until we took the ceiling down," Poris says. "[We] kept a lot more than what we had hoped for."
In the end, Poris estimates that around half of the entire block was salvaged building. The rest of the project is brand-spanking new.
"Most people would have thought there was no way to save it," says Poris. "We were a little ambitious. But then, there's always hope. [How long have] ruins have been sitting in Rome?" he says with a laugh. This building? "It wasn't going anywhere."
A FAMILY AFFAIR
Now that the project is up and running, Stewart and Byrd are turning it over to the next generation.
"It's a legacy for my grandkids and Michael's daughters," Stewart says. "We mentor and counsel, but let them run it."
Running it are Stephanie Byrd, marketing director; her sister, Cristina Byrd, director of operations; and a cousin, Leslie Byrd, production director.
For the last 27 years, the Byrd family has operated Flood's Bar & Grille in downtown Detroit.
"We all grew up doing dishes," says Stephanie Byrd. "My sister was [managing] along with our cousin at Flood's. We're doing double duty now. And I help there [at Flood's], too.
"We're everywhere."
Growing up, Byrd was vaguely aware of her father's vision.
"I was still in high school; I just knew it was a project my dad spent a lot of time on," she says.
But she left for Howard University, landed a job at XM Radio, and then went to grad school at Johns Hopkins. "When I left [Detroit], I never thought I'd be back," she says.
But family called. "It's amazing that George and my father are still passionate about Midtown, 15 years later," says Byrd.
So far, the easiest part of the job has been working with her family. "I thought it would be harder. We are very close anyway [but] now spend 24/7 together. … it actually worked out well."
The hardest part? "Learning the music business. The ins and outs of concerts. Stage productions. … Booking acts. The politics involved," she says. And like a true neighbor, the Majestic is helping out. "They advise us. We wouldn't have been as far as we are without them."
The original strategy has changed a bit, too. There will be concerts, but demand for private events has been bigger than expected. So The Garden is hosting everything from weddings to corporate events. Meeting rooms can hold up to 60 people, and for shows, the balcony VIP section accommodates up to 75 people.
As for moving back to the D? Another pleasant surprise. "Detroit is coming along and reminds me more and more of D.C.," Byrd says. "And some friends who have moved away are coming back as well."
SO FAR, SO GOOD
At press time, there was only one unleased commercial space in the block. Nearby, a mega-craft-beer emporium called Hopcat will add traffic. And the soon-to-break-ground M-1 mass transit project should give more access and flexibility for the Woodward Garden's residents and visitors, linking the area from the DSO on up to the DIA and MOCAD.
"Right now we barely have any space available [in Midtown] for any commercial," Mosey says. "We're trying to do a lot more with the Quicken and the Bedrock folks [and work] closer together as a team to leverage opportunities. With the rail [we're] all going to connect."
For the city of Detroit to make a comeback, "It will be ordinary people doing extraordinary things," says Stewart.
Mosey agrees. "He's been an asset to the neighborhood. I hope he goes on to do a few other projects."
And in typical "we're not done yet" Mosey fashion: "I have a whole laundry list of things I'd like him to do with me."
COMING FULL CIRCLE
A neighborhood isn't a neighborhood without people. And at press time, most of the project's one- and two-bedroom apartments were already rented out.
Here's a bit of poetic justice. A retired GM employee originally from the south started with a vision. Now one of the first tenants is a relatively new GM employee, also from the south.
Aaron Stich grew up in Texas, but he moved to the metro Detroit area to work for GM's Design Staff. He lived in Ferndale for a few years, but wanted to be downtown. "A lot of co-workers are living down here," he says. And peers who went to the College for Creative Studies still live in Midtown. "I fell in love with the community."
His unit on the fifth floor faces southwest, toward downtown and the DSO's home at the Max.
"It's been great," Stich says. "I can take bike rides … we can walk down the street and [visit]," he says, adding that Whole Foods, Nest, City Bird, and an expanding restaurant scene have turned the area "into a very livable community."
Sort of what Stewart had in mind, after all.