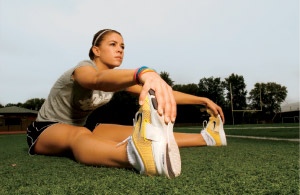 Meghan Brennan has never been one to sit on the sidelines and watch as others play the game.
At Grosse Pointe North, she played volleyball and soccer. In college, at the University of North Carolina, she played varsity volleyball and continued with club volleyball at Michigan State. And when it came time to compete for a job, she sought guidance from her mentor, WXYZ-TV sports director Don Shane, and applied for one of the most coveted jobs in broadcast journalism for young graduates: Nike Field Reporter.
Today, the Chicago-based correspondent gives the NikeWomen brand an easily identifiable, young, female voice as she reports on celebrity sports figures. Her manner is candid, conversational, fresh, and approachable. "I feel like I have a connection with my target audience," Brennan says. "Not too long ago, I was that girl in high school, thinking about a career in sports and wondering what was next. I can definitely relate, because I still sort of am her."
Brennan's correspondent duties include writing a thrice-weekly blog and traveling to report on events such as a double-dutch (rope-skipping) tournament in New York or an urban triathlon in Chicago. "I shouldn't be calling this work," she admits. "I do work hard and try my best, but on the other hand, it's just so much fun. I have to pinch myself, because it wasn't too long ago that I was down in the dumps without the job I really wanted."
Ambitious and driven, she develops stories that hinge on her affability and knowledge of every angle. That means her blogs, streaming videos, and clips of fast-paced interviews mingle with analysis and dissection. It's familiar territory for Brennan. "I think my past internships [Brennan worked in the Detroit Tigers club house for both WJBK and WXYZ] helped me familiarize myself with professional athletes," she says. "You have to remember that, although they are stars, they're still human beings."
Like the competitive sports figures she admires, Brennan mixes her blogging and reporting with personal challenges that push her own athletic prowess to the next level. She's currently training for an Olympic-length triathlon in Miami this spring and is also determined to snowboard alongside Gretchen Bleiler.
"I like to know everything and anything, but I also need to be myself," she says. "After all, I want to make the athlete feel like we're friends, like we're hanging out. That brings out the best in any person."
Facebook Comments