I
f you could peek into a classroom at any point in the Detroit Waldorf School's 50-year history, things would look remarkably similar.
You'd see first-graders learning to cook, second-graders learning to knit, third-graders picking up the violin, and students throughout the school's pre-K through eighth-grade classes practicing eurhythmy (expressive moment). And even now, when over half of DWS' 230 students are too young to know a world without the iPhone, you still wouldn't see a single one checking messages between classes.
But what's most remarkable about the Detroit Waldorf School isn't that it's endured despite its adherence to its "developmentally appropriate" approach to education, but because of it.
Founded by German philosopher and scientist Rudolf Steiner in 1919, Waldorf education strives to "bring forth the gifts that all children possess" through a curriculum that integrates the arts into the academics. Students are encouraged to learn at their own pace and teachers typically remain with a class as it progresses through the grades. In lieu of traditional textbooks, grading systems, standardized tests, or computers, the educational philosophy relies on creativity, imaginative play, and independence to help each child reach his or her full potential.
"It's an education that really stretches the human being to connect to every part of the world," says Simone Shurney, a current DWS teacher and '03 graduate. "You really learn about yourself so that you can feel confident in yourself and have some sense of direction when you go out into the world and when you interact with other people."
The unique educational approach was introduced to Detroit in the 1960s by Detroit physician Rudolf Wilhelm and his wife, Amelia. The German immigrant couple had long been interested in establishing a Waldorf school in the city, and in 1966, just a year before the '67 riots/rebellion, DWS opened as one of the city's first private, racially integrated schools.
Originally, the school was located in the basement of a Methodist church, but later moved into its current building in Indian Village, a former Liggett girls' school designed in 1913 by Albert Kahn. Last September, a commemorative marker designating DWS as a Michigan Historic Site was erected on the school's lawn.
Today, DWS is one of over 150 Waldorf schools in the U.S., and one of two in Michigan (the other is in Ann Arbor).
Though the school has indeed remained open for five decades, its existence hasn't always been secure. In the '70s, a disagreement inspired some parents to form a breakaway school. In the '80s, DWS' high school closed.
And in the late '80s and early '90s, relocation was on the table.
"Like most other private or independent schools in Detroit, we looked at perhaps moving to the suburbs," says Linda Williams, a third-grade teacher at DWS. "But we stayed and made a real commitment to the city that we had to have an alternative form of education here."
In 2008, when the recession hit, the school's enrollment dipped tremendously. Dissolution seemed imminent, but again, DWS found a way to keep its doors open.
"Teachers took pay cuts, administration took a 10 percent pay cut, we combined classes, and we had to lay off teachers," says Charis Calender-Suemnick, enrollment and outreach director at DWS. "I remember parents attending an all community meeting when we downsized and people were crying. It was just so emotional."
More recently, DWS has been flourishing. Within the past five years, the school has nearly doubled its enrollment from around 120 students to 230. Faculty members attribute the growth to multiple factors including a more structured marketing campaign and its ability to adapt to a changing Detroit.
"The things that survive in Detroit are the things that respond to Detroit," Williams says. "We've really embraced our Detroitness and that is reflected in the community that's come together."
"It's almost as if the openness to Waldorf education has grown with an openness to Detroit," Shurney adds. "Students are able to come here and feel good about living in Detroit, going to a school in Detroit, in such a beautiful, historical place, in spite of all the difficulties that we've had."
Parents in and around Detroit have been sending their children to DWS for decades, but as Detroit Public Schools continue to grapple with mismanagement, budgetary issues, and a general lack of resources, parents living in the city proper continue to seek alternatives to DPS beyond both charter and parochial schools.
"My husband and I have always worked and lived in the city and I wanted a school that was in the city," says Sarida Scott-Montgomery, whose daughter is a fourth-grader at DWS. "I was extremely drawn to their motto, which is 'cultivating a lifelong love of learning.' I have older stepchildren, and particularly with my stepson, I could really tell that as he went through the [public] school process, he wasn't enjoying learning. It wasn't sparking any kind of passion in him for learning."
New Center resident Sandi Heaselgrave says she and her husband were also looking for a local school with a more alternative approach to education. Heaselgrave's son is now a first-grader at DWS.
"We were looking for a very diverse student body, and we were also looking for somewhat of a more natural learning process than the new standardized testing education systems," Heaselgrave says.
Of course, private education comes at a cost. Annual DWS tuition ranges from just under $10,000 for five full days of pre-K to around $13,300 for third through eighth grades. There are reduced rates if a family enrolls more than one child at the school.
To lessen the outlay and expand its outreach, DWS has developed an accessible tuition program. As part of the initiative, which was introduced a few years ago, the school's business department meets with families one on one, lays out the school's budget, and has a conversation about what the family can realistically afford.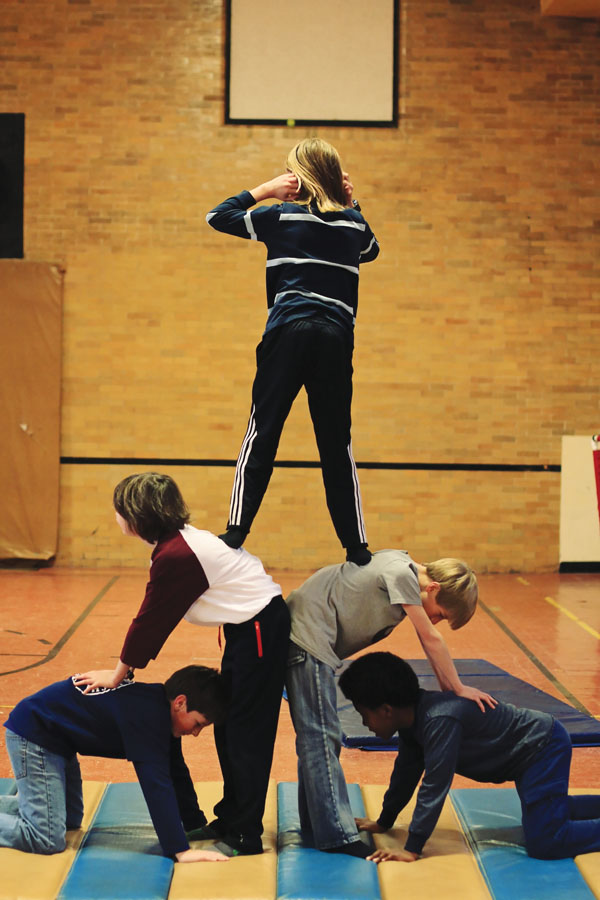 According to Calender-Suemnick, 80-percent of the school's revenue comes from tuition and half of the students at the school benefit from some form of tuition assistance.
"We really try to work with families, and I believe it strengthens our community," Calender-Suemnick says. "It's helped us fulfill our whole mission, to offer this quality education to as many children in the city of Detroit as possible from these varied backgrounds, including socioeconomic."
Regardless of financial background, family is a key ingredient to DWS' longevity. As Shurney puts it, DWS is "a school of families," with parents frequently sending multiple children to the school. Issa, an eighth-grader in Shurney's class, has seen five brothers graduate from the school. Melody, another of Shurney's eighth-graders, currently has younger brothers who are in the first and second grades. Shurney herself has a younger brother who also graduated from DWS.
But beyond blood connections, DWS strives to foster close relationships among its students.
As classmates get to know each other over the years, they also frequently interact with students in other grades. Eighth-graders and first-graders, for example, are traditionally paired up via the school's "rose ceremony."
"We have a first-grade buddy," Issa says. "At the beginning of the year we give them a rose for coming into first grade and at the end of the year, they give us the rose back for graduating. We do that every year and that's really nice."
As students develop a network of support among each other, parents and teachers often do, too.
Myra Anderson, mother of Detroit-born rapper Big Sean (Sean Anderson), who graduated from DWS in '02, says she remembers how supportive the parent-teacher community at DWS could be. To this day, the Andersons stay in touch with Sean's kindergarten teacher, Ms. Beth.
"She came to his concert when he was in Seattle the year before last," Anderson says.
But most of all, Anderson believes Sean's experience at DWS contributed to his becoming a creative and compassionate person.
"I see him thinking outside of the box, and I see a sense of compassion for others and wanting to give back," Anderson says. "It just laid a great foundation for him to spring forward from."
In the end, every school hopes to lay a great foundation for its students. And although DWS has succeeded so far in building a strong, 50-year-old foundation of its own, it continues to strive for improvement — like any good teacher does.
"Fifty is big, and it's a wonderful thing," Williams says. "But I hope that we see 50 more."
---
For more information, visit detroitwaldorf.org or call 313-822-0300.