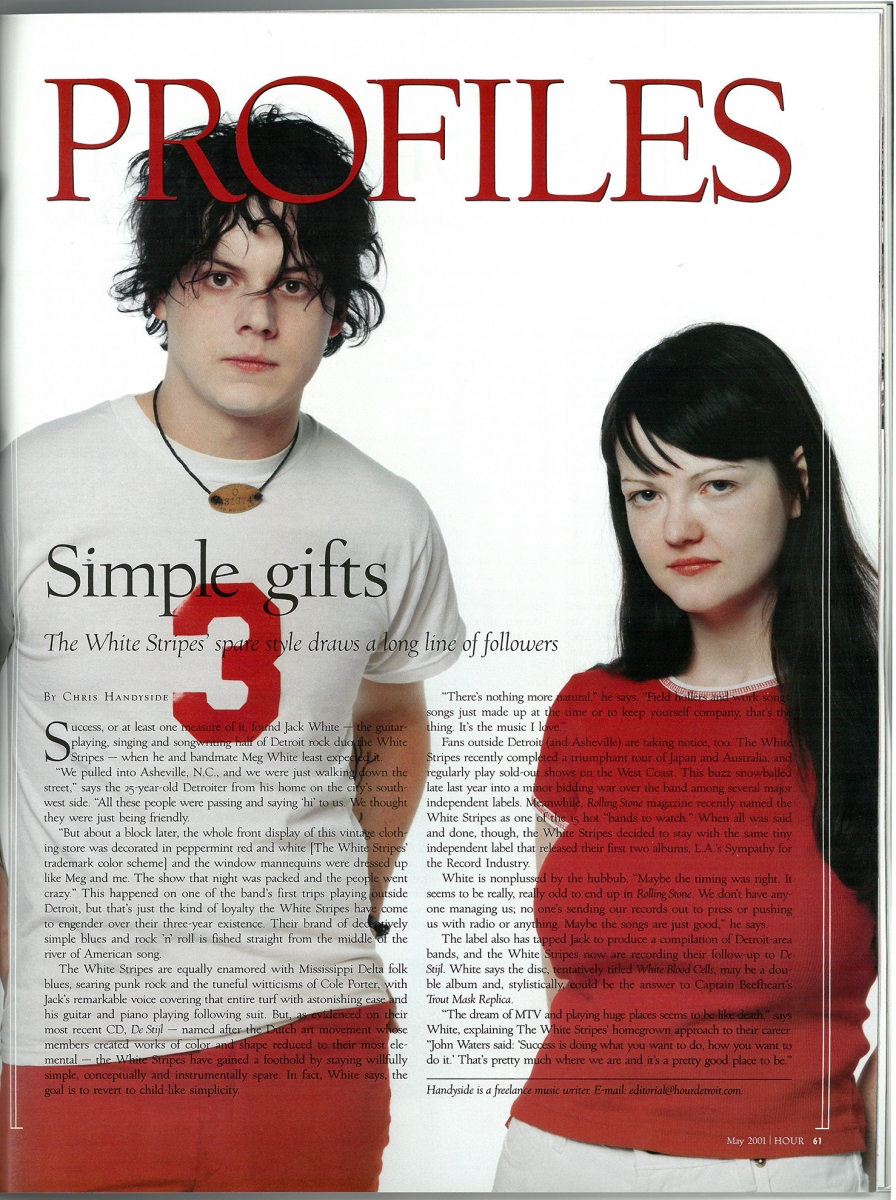 Success, or at least one measure of it, found Jack White — the guitar-playing, singing and songwriting half of Detroit rock duo the White Stripes — when he and bandmate Meg White least expected it.
"We pulled into Asheville, N.C., and we were just walking down the street," says the 25-year-old Detroiter from his home on the city's southwest side. "All these people were passing and saying 'hi' to us. We thought they were just being friendly.
"But about a block later, the whole front display of this vintage clothing store was decorated in peppermint red and white [The White Stripes' trademark color scheme] and the window mannequins were dressed up like Meg and me. The show that night was packed and the people went crazy." This happened on one of the band's first trips playing outside Detroit, but that's just the kind of loyalty the White Stripes have come to engender over their three-year existence. Their brand of deceptively simple blues and rock 'n' roll is fished straight from the middle of the river of American song.
The White Stripes are equally enamored with Mississippi Delta folk blues, searing punk rock and the tuneful witticisms of Cole Porter, with Jack's remarkable voice covering the entire turf with astonishing ease and his guitar and piano playing following suit. But, as evidenced on their most recent CD, De Stijl — named after the Dutch art movement whose members created works of color and shape reduced to their most elemental — the White Stripes have gained a foothold by staying willfully simple, conceptually and instrumentally spare. In fact, White says the goal is to revert to child-like simplicity.
"There's nothing more natural," he says. "Field hollers and work songs, songs just made up at the time or to keep yourself company, that's the thing. It's the music I love."
Fans outside Detroit (and Asheville) are taking notice, too. The White Stripes recently completed a triumphant tour of Japan and Australia, and regularly play sold-out shows on the West Coast. The buzz snowballed late last year into a minor bidding war over the band among several major independent labels. Meanwhile, Rolling Stone magazine recently named the White Stripes as one of the 15 hot "bands to watch." When all was said and done, though, the White Stripes decided to stay with the same tiny independent label that released their first two albums, L.A.'s Sympathy for the Record Industry.
White is nonplussed by the hubbub. "Maybe the timing was right. It seems to be really, really odd to end up in Rolling Stone. We don't have anyone managing us; no one's sending our records out to press or pushing us with radio or anything. Maybe the songs are just good," he says.
The label has also tapped Jack to produce a compilation of Detroit-area bands, and the White Stripes now are recording their follow-up to De Stijl. White says the disc, tentatively titled White Blood Cells, may be a double-album and, stylistically, could be the answer to Captain Beefheart's Trout Mask Replica.
"The dream of MTV and playing huge places seems to be like death," says White, explaining The White Stripes' homegrown approach to their career. "John Waters said: 'Success is doing what you want to do, how you want to do it.' That's pretty much where we are and it's a pretty good place to be.
Facebook Comments