Detroit doesn't exactly have a great track record when it comes to preserving the past. But there's a new feeling around town, and with it comes success stories, old and new wish lists, and even some brand-new construction.
---
3 Recent Historic 'Wins'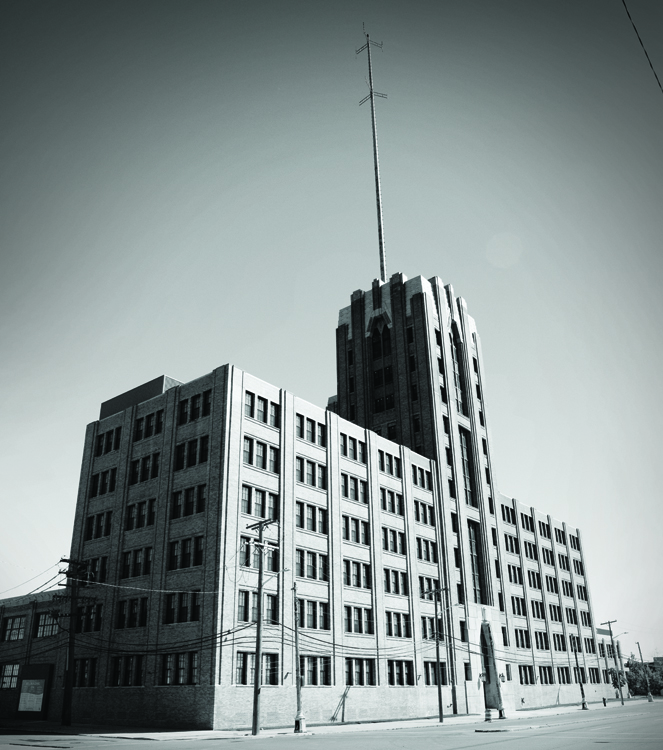 NSO/Bell Building
The Neighborhood Service Organization human services agency has been around for more than 55 years. They've brought new life to the historic former Michigan Bell Building (right) on Oakman Boulevard. It contains both their headquarters and housing for homeless adults. Photo gallery: nso-mi.org/gallery-bell-building-renovation.php
DoubleTree Hotel/Fort Shelby
Historic Hotels of America recently inducted this DoubleTree by Hilton into its prestigious Historic Hotels collection — a program of the National Trust for Historic Preservation. The refurbished Beaux Arts-style high-rise was cited for "faithfully maintaining their authenticity, sense of place, and architectural integrity."
The Garden Theater/Woodward Gardens
What was once one of the worst blocks on Woodward Avenue is now thriving. The Woodward Gardens Block Development, cobbled together one building at a time by a team that includes George Stewart and Michael Byrd, now boasts the always-busy Great Lakes Coffee Roasting Co. to the north, slick apartments to the south, and a restored Garden Theater and Grille Midtown in between.
---
1 Building Most Worth Saving
Michigan Central Station
It's a landslide. Every year. Hour Detroit readers (and pretty much every Detroiter) feel that the 18-floor Michigan Central Station is our "Building Worth Saving." And really, what would be more symbolic of the city's revival?
The good news: There's hope — and even a bit of action. The massive structure once open to thrill-seekers, vandals, and the homeless has been secured by a company owned by Manuel "Matty" Moroun. They've installed a freight elevator and began replacing windows.
At the end of April, Mayor Mike Duggan announced an agreement with the Ambassador Bridge Co. It was basically a land parcel swap: The company wanted a site for a potential second span; the city got an expanded Riverside Park. The side benefit: the renovation of the Michigan Central Station's exterior. The deal calls for some 1,050 windows to be installed by Dec. 31.
Moroun is not about to spend the estimated hundreds of millions of dollars to renovate the landmark all by his lonesome. But it's hoped that the face-lift will make future redevelopment more likely.
The station has a storied history. Construction began in 1910; the first train pulled out of the station on Dec. 26, 1913. Original plans called for a hotel, offices, or a combination. In reality, it was never completely used; top floors never got furnished.
Michigan Central was added to the National Register of Historic Places in 1975, but in 1988, the last train left at 11:30 a.m. Jan. 5., bound for Chicago.
Since then, there have been a lot of proposed uses, from an international trade and customs center to new digs for Detroit police headquarters. None ever happened. In 2009, the Detroit City Council passed a resolution requesting the emergency demolition of Michigan Central at Moroun's expense. That didn't happen, either.
Maybe this time around, someone will find the right combination.
— Steve Wilke
---
3 Historical Proposals to Watch
Historic Fort Wayne
It's still in the early feasibility/planning stages, but there's talk of restoring Fort Wayne (right). The state of Michigan, which has a say since the site is on the federal National Register of Historic Places, has hired a New York urban planning firm known for developing successful turnaround strategies.
Brush Park
The Dan Gilbert-backed Bedrock folks are branching out into residential. They're part of a group of investors planning a $70 million new development in Brush Park. Plans include the rehab of four mansions. Hope they turn out as beautifully as the Inn on Ferry Street.
Tiger Stadium/The Corner
The Larson Realty Group's $33 million plan is to preserve the historic playing field plus add residential and commercial space. Detroit PAL will maintain the field for youth sports. Wonder if they'll set aside times for the Navin Field Grounds Crew to play there. After all, they've kept it up for years.
---
3 'Wish List' Items on Preservation Detroit's Radar
Southwestern High School (right): The Preservation Detroit folks wanted Detroit Public Schools to "explore other options for adaptive reuse and rehabilitation." They got their wish. Sakthi Automotive will invest $31 million to redevelop it into a 650-employee manufacturing campus and training center.
Park Avenue Hotel and Eddystone: The groups want the inclusion and rehabilitation of both historic buildings in the new arena district. Olympia Development wants to rehab the Eddystone and raze the Park Avenue.
More Involvement: Preservation Detroit, started as Preservation Wayne in 1975, is celebrating its 40th anniversary. They're always looking to recruit new tour guides and "shepherds," but if you simply want to participate in some of their many tours (from theaters to cemeteries and walking to biking), or donate and support the cause. Info at preservationdetroit.org.
---
3 Confirmed Rumors… or One's Worth Watching
A riverfront soccer stadium for Detroit FC? (But not on Le Rouge?)
Campgrounds and a restaurant on Belle Isle?
The Gordie Howe International Bridge (true!)
---
3 Hot Apartment/Loft Developments
Rental rates are rising in Detroit, and it's because of increased demand. Matt O'Laughlin, director of commercial real estate at The Loft Warehouse, picks some housing developments to keep tabs on.
The Metropolitan Building (above): Once known as Detroit's Jewelers Building, the long-vacant building is undergoing a historic renovation/gut job. Seventy-one high-end units are slated to be ready by next summer, and a boutique hotel is being built in the Wurlitzer Building next door.
DuCharme Place: This 185-unit new construction apartment community located in Lafayette Park will feature a "soft loft" design. The project broke ground in May, and is planned to be ready by the end of the year.
The Yorke Lofts in Midtown: Another historic renovation, this building will have 24 lofts with wood beam ceilings and brick accents. The building was originally built in the early 1900s, and the project is expected to be ready by spring 2016.
---
3 Office/Mixed-Use Building Restorations
Who will be working where? A.J. Weiner, executive vice president of JLL (Jones Lang LaSalle), filled us in on two projects, and we added a favorite Bedrock property.
The 751: Once known as the Olde Building, this old bank is getting a full gut job. It will have an edgy look and retail space on the first floor.
607 Shelby: It's being transformed into modern "techy" office spaces. At press time, announcements were being readied to reveal the new tenants.
Vinton Building: Bedrock has begun renovating this 12-story Albert Kahn building with plans for a street-level retail space and residential units — and perhaps a tiny rooftop deck.