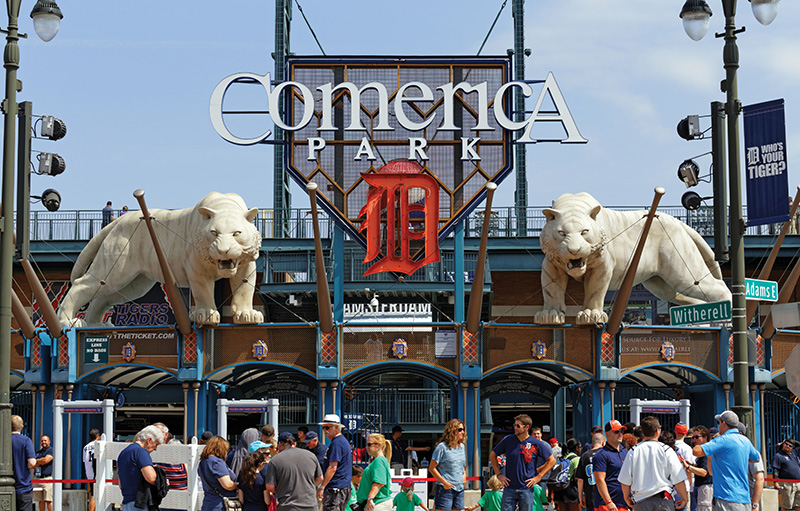 A Stone's Throw from Comerica Park
Detroit Beer Co.
Opened in September 2003 in the historic Hartz Building, Detroit Beer Co. is a short walk from Comerica Park, making it a popular pre- and post-Tigers game destination. The eclectic menu features everything from soft-shell crab tacos to jambalaya and pairs well with the rotating lineup of fresh house brews. Detroit Beer Co., 1529 Broadway St.; detroitbeerco.com
The District Detroit
The Tigers' home is part of the Ilitch family's 50-block entertainment district, which also includes several new restaurants offering everything from Cuban-inspired fare to Mom's Spaghetti. Union Assembly, the newest restaurant from restaurateurs Curt Catallo and Ann Stevenson's Union Joints restaurant group, boasts a three-season terrace overlooking Woodward Avenue and the ballpark. For a change of pace from the usual burger and fries, Frita Batidos specializes in Cuban-style fritas, with beef, chorizo, fish, and vegan options, topped with fries. Emimem's famous lyric about getting nervous before a rap battle may not sound appetizing, but it inspired the restaurant Mom's Spaghetti, which offers pretty much that. The District Detroit; districtdetroit.com
Elwood Bar and Grill
For more than 60 years, this historic art moderne diner sat at the intersection of Elizabeth and Woodward, until it was relocated to make way for Comerica Park. Now steps outside the ballpark's gates, it's a popular spot before, during, and after the game, to grab a beer and a burger. It's fully reopening this year, after getting a refreshed look that maintains its iconic cream and blue facade and historic charm. Elwood Bar and Grill, 300 E. Adams; elwoodgrill.com
Cliff Bell's
After the game, grab a cocktail and catch some live music at this restored art deco gem just a short walk away from the park. Named for the former speakeasy operator John Clifford Bell, who opened the spot after Prohibition was repealed, the club was revitalized in 2006, after decades of sitting dormant, and is quickly becoming one of the city's top spots for a night on the town. Last spring, the club debuted a new menu, a mix of brasserie fare and elevated comfort food (think steak frites and mac and cheese). Craft cocktails like The Violet Sky (Scapegrace Black Gin, creme de violette, maraschino liqueur, and lemon) typify Cliff Bell's classic-meets-modern approach. Cliff Bell's, 2030 Park Ave.; cliffbells.com
Shuttle/Walking Distance
The Detroiter Bar
This good old-fashioned sports bar has stood the test of time while staying relevant to legions of sports fans looking for a laid-back place to party ahead of the game (the bar offers shuttles on game days and recently expanded the patio). The bar's Greektown location influences the menu, which offers many Greek-inspired dishes like the Saganaki Sausage, which combines the best of both worlds, with flaming cheese and sausage in one dish. However, those in the know get The Detroiter House Special: the burger (ham, bacon, and Swiss and American cheeses) with fries and a mug of beer. The Detroiter Bar, 655 Beaubien Blvd., facebook.com/thedetroiterbar
The Old Shillelagh
Another Greektown institution, The Old Shillelagh is less than half a mile from the ballpark and serves a mix of classic Irish and pub fare, plus a solid selection of vegetarian and vegan dishes, such as vegan chicken fingers and shepherd's pie. There are around 30 beers on tap and 20 different bottled beers to choose from, plus a rotating selection of Michigan craft beer. There's a DJ and dancing every Friday, so after the game, celebrate (or let off some steam) on the dance floor and rooftop deck. The Old Shillelagh, 349 Monroe St.; oldshillelagh.com
Harry's Detroit
Harry's upper deck plays host to one of the biggest opening day parties in town. The menu offers more than your standard pub grub, with dishes like lamb kafta flatbread, shrimp tacos, and more. It's just a little under a mile, if you opt to walk off your lunch and beer, but there are also shuttles to take you to the park. Harry's Detroit, 2482 Clifford St.; harrysdetroit.com
McShane's Irish Pub
Tiger Stadium may be gone, but fans continue the Corktown revelry at McShane's Irish Pub, often via a free shuttle to and from the team's current digs. The menu's hearty fare ranges from Irish favorites like Irish whiskey steak and shepherd's pie to more Emerald Isle-inspired fare like Irish egg rolls (stuffed with cabbage, potato, scallions, and corned beef). McShane's also boasts one of the most extensive collections of Irish whiskeys around. McShane's Irish Pub, 1460 Michigan Ave.; mcshanespub.com
Nemo's
One block east of the former Tiger Stadium, Nemo's is a classic sports/dive bar, cherished for more than 50 years, not just by Tigers fans, but by any Detroit fanbase looking for a spot to grab a burger and a beer. The bar is beloved for the Nemo's Famous Burger: ground round cooked to order, with lettuce, tomato, onion, pickle, and your choice of American or Swiss cheese. Nemo's, 1384 Michigan Ave.; nemosdetroit.com
---
Plus, Head to this

Opening Day Party
Start celebrating early at the Detroit Home Opener Festival, just steps from the ballpark
The festivities — including the Tigers and Pistons' official DJs; bands and live entertainment; and food and beer — kick off at 9 a.m. on opening day at the Madison Avenue Festival Grounds. Proceeds will benefit Angel's Share, an organization that serves and supports the hospitality community. 440 W. Madison Ave.; detroithomeopener.com
---
This story is from the April 2022 issue of Hour Detroit. Read more in our digital edition. 
Facebook Comments