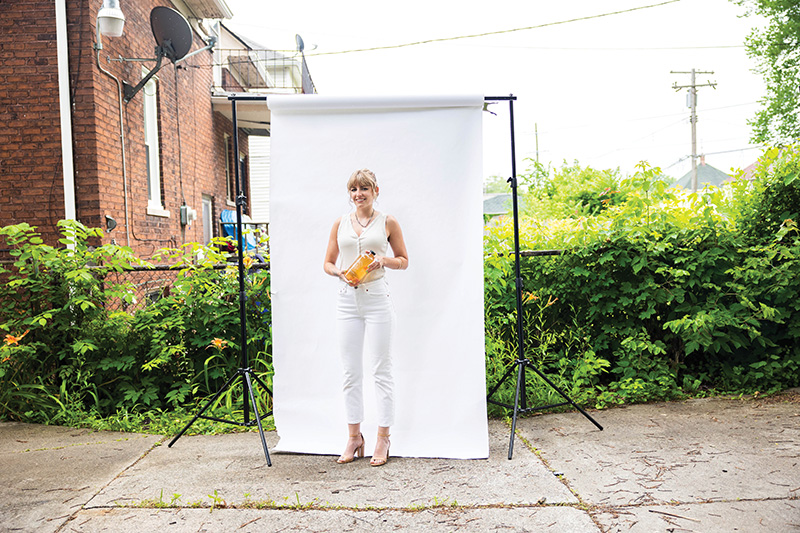 It was love at first sip when Jenna Blackson tried kombucha during a trip to Thailand in 2016. She enjoyed it so much, in fact, that upon returning to the U.S., she enlisted her friend and now-business partner, Mary Srabian, to help her learn the art of crafting the fizzy beverage out of her own kitchen. In less than a year, Blackson had become a master brewer and was eager to share her creations.
In 2017, she launched Marymai Kombucha, a small-batch line of organic, fermented teas, made solely from whole fruits and herbs — no juices or added sugars. But it's Blackson's penchant for experimental flavor combinations that truly drives the brand. Marymai Kombucha has become known locally for its rotating cast of fun varieties, from refreshing Strawberry Mint, Grapefruit Thyme, and Orange Ginger, to the less conventional Dill Pickle and Southwest Special — a piquant medley of pineapple, jalapeño, and cilantro.
While Blackson relishes the creative freedom that comes with owning a business, she's even more grateful for the opportunities it provides. "Community is huge for me, so running a business that allows me to build relationships with other Detroit creatives and entrepreneurs has been incredible," she says.
For all its trials and tribulations, the past year and a half has only highlighted the value of these connections. "Seeing the community bounce back from the pandemic and start to thrive again is so inspiring, and honestly, it has lit a fire under my ass." She says the display of entrepreneurial spirit by her peers has renewed her motivation to take
her business to the next level.
Metro Detroiters should prepare to see much more of Marymai Kombucha. "Big things are in the works," Blackson says. "I want our product to be available at coffee shops, yoga studios, and bars across the city." She's also working to make tapped kombucha a more readily available beverage option in Detroit and beyond. "My overall goal is to keep growing and sharing this product, that is made with my heart and soul, with the community I love
so dearly."
visit facebook.com/marymaikombucha for more information.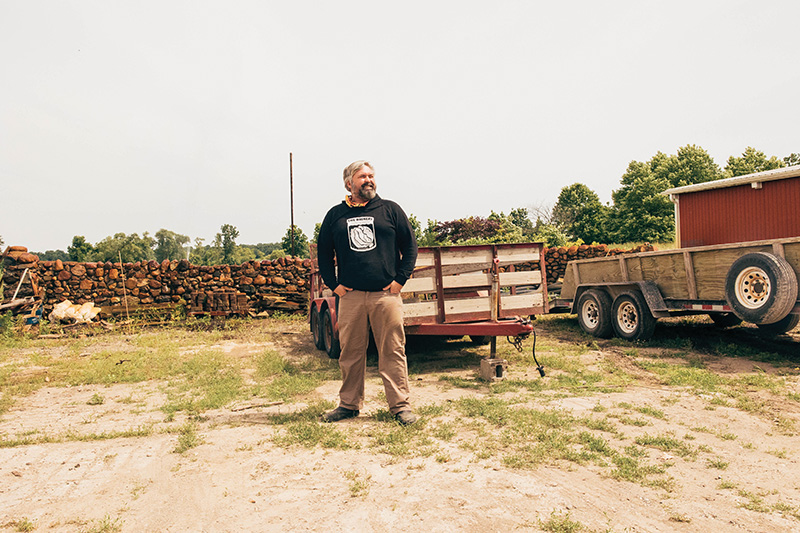 As a young agriculturist working on Tantré Farm in Chelsea, David Klingenberger was interested in all forms of traditional food preservation. So, when a friend and fellow farmer was struggling to sell a surplus of cabbage, Klingenberger didn't hesitate to step in with a creative concept. He helped his friend avoid financial loss by turning the excess product into tasty sauerkraut, and in the process, he fell in love with fermentation.
Klingenberger went on to develop a unique fermentation technique that uses a natural salt brine to greatly extend the shelf life and nutrient-retention capabilities of farm-fresh produce. He began using this method to craft his own sauerkraut to sell at the Ann Arbor Farmers Market, and in 2010, The Brinery was born.
The brand has since experienced considerable growth, expanding its product range to include five flavors of kraut, as well as kimchi and four hot sauce varieties. These products are still available at the Ann Arbor Farmers Market year-round, but now they can also be found in more than 700 stores across the Midwest. 
The Brinery, like many small businesses, was hard hit by the COVID-19 pandemic. "The past year brought us closer to the brink of financial ruin than we had ever been as a business," Klingenberger says. But the brand came out of the crisis stronger than ever. He attributes this in part to The Brinery's foray into one of the fastest growing food categories: plant-based proteins. In September, Klingenberger and his team launched a retail line of tempeh. 
Made from fermented soybeans, the traditional Indonesian food is high in protein, fiber, and an array of vitamins and minerals. This range currently consists of Original, Burger Patties, Bacon Style Strips, and Chorizo Crumbles.
Klingenberger says customers should expect to see more tempeh products from The Brinery, as growing this line — and plant-based proteins in general — has become a central focus for the brand. "I believe increased consumption of plant-based proteins is important to our own health as well as the planet's." 
Visit thebrinery.com for more information. 
---
This story is featured in the August 2021 issue of Hour Detroit magazine. Read more stories in our digital edition. And learn more about this year's Taste Makers here. 
Facebook Comments