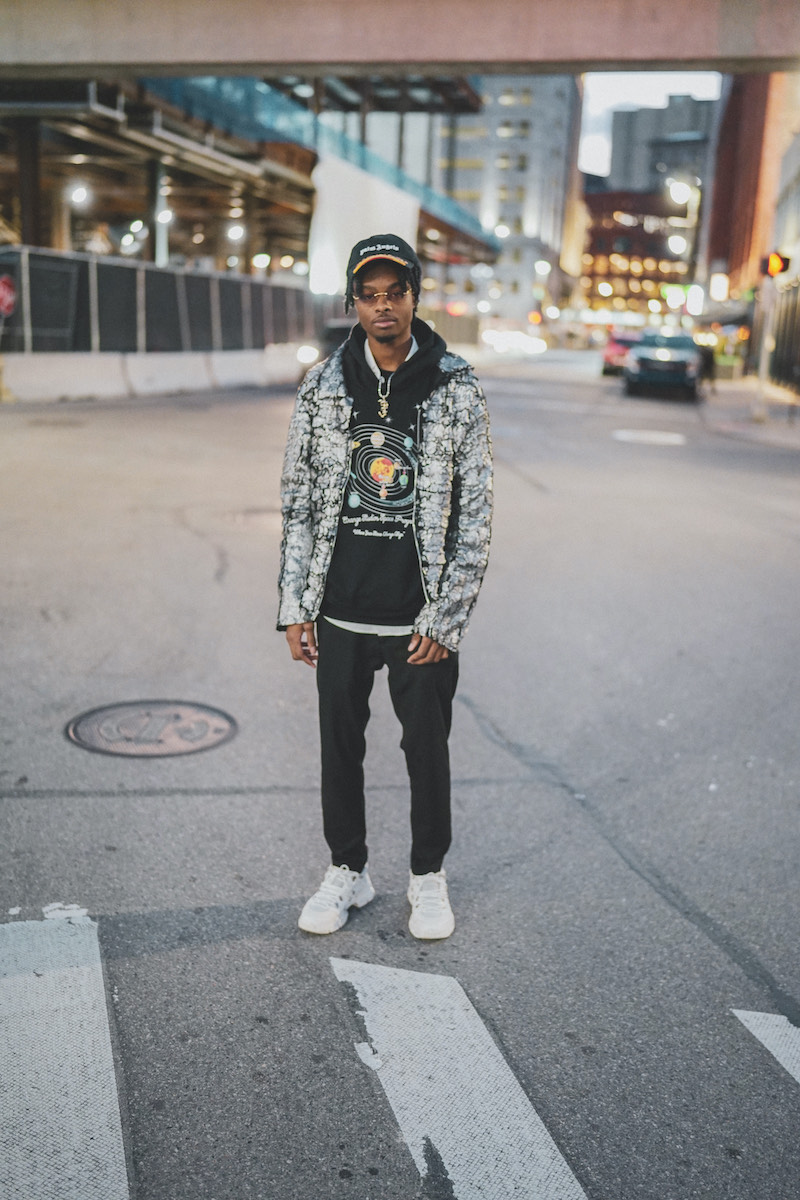 It wasn't a scam — it was a dream come true for Detroit native Shelton Hawkins Jr. when he received a letter from Flying Solo that said he would have his designs featured at the brand's Paris Fashion Week segment on Feb. 27. "We thought it was fake… I can't even put into words how it makes me feel to have my art recognized on this type of level," he says.
At 21 years old, Hawkins Jr. is the owner of Étrange Studios, a Detroit luxury streetwear brand that makes graphic T-shirts, sweatshirts, pants, and other accessories that are sold online, at shops like Détroit is the New Black, and at pop-ups at spots like Burn Rubber, Midtown Market, and Rivertown Artist Market. For him, fashion design is a form of art that allows him to express his emotions — he uses garments to "paint" what he feels, allowing his customers to dress in the image of their sentiment.
Hawkins' Jr. stumbled upon the Flying Solo opportunity online. "I had to just talk a little bit about myself and then a little bit about my brand, and submit some pieces," he says of the application. The New York City-based collaborative fashion company opened its applications up to designers around the globe and received 1,000 submissions. The name of its upcoming segment is Salons Marceau.
Prior to heading to Paris Fashion Week this month, Hawkins Jr. spoke with Hour Detroit about how it feels to show his designs in the City of Lights, uplifting Detroit artists, leaving school to pursue his passion, and more.
​​Hour Detroit: How does it feel to be selected for Flying Solo's Paris Fashion Week segment?
Shelton Hawkins Jr.: It's kind of a surreal feeling. When I got the email, my mom straight read it, and we thought it was a scam or something. I work hard, just like everyone knows, and for me to be selected is a crazy feeling. Me, along with a few other artists in Detroit, are helping people younger than us see that it is possible for a kid from Detroit to make it big off strictly art… they're looking at me like, 'if he can do it, it's possible.' People ask me about starting a brand or getting into the fashion industry all the time, and I try my best to give them as much advice as I can while staying genuine. I try to remember how it was when I was starting and how difficult it was to find help in my field. So I try to be that for other people to help as much as I can.
What are you doing to prepare for the runway?
I was informed that Flying Solo has models they provide. I just have to worry about production of my products and my pieces. I get eight looks, and I have to make sure all of that stuff comes out the way it's supposed to. I definitely want to network, too. I want to meet as many new people as I can, especially in my field of art, just so that I can have those connections so maybe next time I go to Paris, I can link up with them and we can create some art.
When did you first have an interest in fashion?
I told my mom growing up that I don't want to have a style like anybody else. My mom and dad always preached that to me — you don't want to be a follower, you don't want to ride anybody's coattail, you want to be your own person. What I wanted to do was create a style that was unique to me, and just me. 
How did you get into fashion design, and what inspired you to start Étrange Studios?
Eighth grade is when I started my first clothing line. It was called Kings Clothing, and I had some white T-shirts with "Kings" vinyl printed on the chest with a gold crown. I continued Kings up into freshman year of college. It took me some time to figure out my design style; I did a lot of soul searching and research about branding. I came up with the name Étrange because I wanted to have a foreign twist, and I felt like French was going to work because the word Detroit is originally a French name. I realized that I wanted a household brand that will be around forever, and Étrange is unique and different. … I released my first collection with Étrange in fall of 2018 and it's been history from there.
Where do you draw inspiration from?
A lot of different things go into a certain piece or collection. It's kind of hard for me to pinpoint where my inspiration comes from, because it comes from so many different places. I can walk outside and see something random and be like, "it'd be cool if I made a piece based off of that," kind of like abstract art.
You left Michigan State University to pursue your fashion design career. Did you have any fears when you did this?
I made the decision kind of because I wasn't happy. I felt like I was wasting time and wasting money at school. I made the decision to focus on my art and trying to advance my brand and myself. I don't regret not going back. I was kind of skeptical about leaving university, kind of solely based on what my parents would think — both were preaching "gotta go get a good education" — but when you have a talent or when you have a dream that you want to pursue, school for me, wasn't part of that plan.
What do you hope for the future of Étrange Studios?
I hope to be as big as brands like Gucci. I want to be up there with those guys. I am pretty open to being a creative director somewhere, like at a big fashion house. I just want to continue to promote art. I feel like art, especially in Detroit, is kind of on a steady incline right now. I want to help continue to promote that and other artists.
For more on Étrange Studios, visit etrangestudios.com.
Facebook Comments