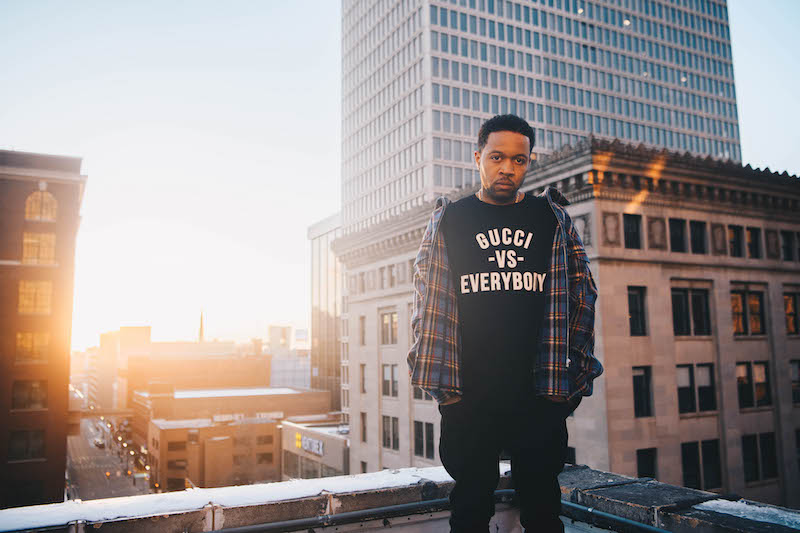 Tommey Walker — the founder of Detroit Vs Everybody, a clothing brand that champions hometown pride and the resilience of Detroiters —has teamed up with luxury fashion brand Gucci on a new T-shirt line that celebrates "changemaker" cities across the country.
"My partnership with Gucci is a dream come true, not just for me and my team, but also for celebrating the city of Detroit's cultural richness and innovation," says Walker in a press release. "I've long admired the creative genius that is [Gucci designer] Alessandro Michele and am honored and humbled that Gucci respects my work. Detroit Vs Everybody and Gucci share the same unifying ethos, to bring people together for a greater good and to transform a feeling into a cultural moment."
The collaboration is part of the Gucci Changemakers social impact initiative. Launched in 2019, the initiative focuses on inclusion and diversity in the fashion industry and across communities through partnerships in its 11 U.S. Changemaker cities — Detroit, Atlanta, Chicago, Houston, Los Angeles, Miami, New Orleans, New York, Philadelphia, San Francisco, and Washington, D.C.
The line with Walker is the initiative's first product collaboration. A press release from Gucci says the collection's Black cotton jersey T-shirts intertwine "Italian craftsmanship and Detroit's industrialist savoir-faire." The shirts are made of Gucci's fabric and raw materials. Walker's iconic "Vs Everybody" graphic is featured on the front of the shirt with a U.S. changemaker city, and the Gucci logo appears on the back.
The tees retail for $390 and are available at Gucci flagship boutiques in the U.S. Changemaker cities and online. In honor of the collaboration with Walker, a special-edition T-shirt that reads "Gucci Vs Everybody" is available at the Gucci store at the Somerset Collection in Troy.
From the collection, a donation will be made to the 2020 and 2021 Gucci Changemakers North America Impact Fund winners. The fund awards grants to nonprofits in the Changemaker cities that are focused on social impact. In 2020, Design Core in Detroit was named an Impact Fund winner, and this year, Detroit tech nonprofit Journi was a winner.
To coincide with the launch of the collection, Gucci partnered with a Detroit production house to create a video that highlights Walker's story and other locals (watch the video above). Walker will also appear on Gucci's podcast channel in a conversation with activist and educator Brittany Packnett.
For more information, visit gucci.com.
Facebook Comments