Shinola is honoring an art icon with the latest release from its Great Americans Series. The Detroit-based brand's Georgia O'Keeffe watch will launch on Nov. 15.
"This season, Shinola decided to honor Georgia O'Keeffe in the latest iteration of our Great Americans Series to celebrate the impact her career had on modern art," says Ruthie Underwood, vice president of creative design at Shinola. "Known as the 'Mother of American Modernism,' Georgia O'Keeffe leaves behind an incredible legacy resulting in more than a thousand works showcasing her unique take on New York City skyscrapers and abstract florals to the raw landscapes of New Mexico."
Shinola created the limited-edition timepiece with the Santa Fe, New Mexico-based Georgia O'Keeffe Museum. The watch — crafted in the Shinola Birdy style with a black leather strap, open dial, and slender hands — is a minimalist watch inspired by O'Keeffe's painting "My Last Door."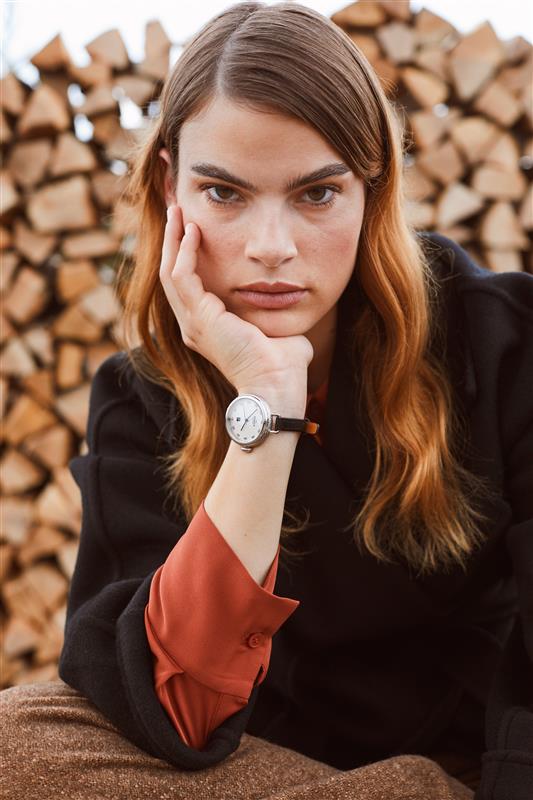 The piece, which is owned by the museum, is dated around 1952-1954 and is considered one of the artist's most abstract works. Set at O'Keeffe's home in Abiquiu, New Mexico, the painting features a large black square that mimics a door and dashed lines that are meant to be stepping stones. "…The door has been translated to the calendar aperture, and the stepping stones serve as indices," Underwood says of the watch design.
According to the museum, O'Keeffe was one of the most significant artists of the 20th century. Some of her most well-known work includes paintings of natural landscapes and flowers, the latter of which are said to represent female sexuality. O'Keeffe is the latest individual to be recognized by Shinola's Great Americans Series, which has also launched watches dedicated to Henry Ford, the Wright brothers, Smokey Robinson, Maya Angelou, and Muhammad Ali.
The Georgia O'Keeffe watch is $750 and will be available to shop on Shinola's website and select retail locations. Only 100 watches will be created.
For more information, visit shinola.com.
Facebook Comments