It's funny. If you Google "Detroit style," a list of pizza restaurants pops up, promoting their perfect Detroit-style pizza. But what exactly is Detroit's fashion style? Detroit is well known, of course, for automobiles, Motown Records, and the birth of techno music. What you might not know is that Detroit is also recognized for projecting a distinct fashion style of its own. Narrowing that style down to one form is the challenge. 
 Traditionally, Detroiters have been known to dress up all the time. Perhaps even to overdress from time to time. We are the city of suits and dresses. Where else in the world will you find such a strong representation of Life Savers candy-colored suits — lemon yellow, lime green, orange orange — with matching alligator shoes?  
 Mauri, perhaps the world's most popular creator of men's dress shoes made in exotic skins, proclaimed in the early 1990s that Detroit was its No. 1 customer. More of the Italian shoemaker's alligator shoes had been purchased from City Slicker in downtown Detroit than anywhere else in the world. 
Coordinating with those fancy suits and shoes, especially for Sunday religious services, Motor City's church ladies dress to the teeth in big hats, St. John knits, Chanel suits, and custom-made beaded ensembles. 
 The hip-hop industry, which is making a name for itself in Motown, has also introduced its own Detroit fashion feeling, with an abundance of bling and designer-labeled hats, outfits, and sneakers — sometimes real, oftentimes fake. 
The culture and arts community is coming forth with a strong "do your own thing" movement in fashion. And serious, high-end fashion is well established in metro Detroit as well. 
It's not uncommon to see lines waiting to get inside the luxury stores at the Somerset Collection, particularly Gucci and Louis Vuitton. Bottega Veneta has its eye on Detroit, too — it chose the Motor City for its third, new-format show, Salon 03. The event, showcasing the spring 2022 collection, took place in late October, with a Detroit-located pop-up shop to appear not far behind. In June, the luxury brand Hermès opened its first store in the Detroit market, a 5,000-square-foot boutique at the Somerset Collection. 
There are a number of local fashion movements in progress, including the Detroit Garment Group, which fuels Michigan's fashion and industrial sewing communities, and The Seen Detroit, a collective of passionate creatives who consistently and freely exhibit and promote genuine style. They all encourage Detroiters to discover their own style — and to wear it proudly. 
 For years, fashion designers everywhere have looked up to and applauded Detroiters for their passion and support of the garment industry. We embrace most styles strongly and boldly — good or bad. 
That's Detroit, the fashion town. 
With that, we give you our annual nod to a select cast of metro Detroiters who consistently get it right — photographed this year at the equally stylish Siren Hotel. We aim to present a variety of tastes to suit everyone's palette. 
Kind of like pizza.
---
2021 Best Dressed List 
---
Angela

Wisniewski
Owner of Coup D'état, a women's lifestyle boutique in Detroit
Fashion style: "I've been this way since I was a kid. I'm a little piece of everywhere I go and everybody I meet. There's sort of a blue-collar aesthetic to the way I dress. I love pop culture and films and music and glamour, and all of those things have shaped my style and how I get dressed every day. Imagine a mechanic suit with a pair of stilettos." 
When did fashion become important to you? "I found myself wanting to express myself through clothes in the first or second grade. When my parents wouldn't buy me what I wanted — later on in life, sixth or seventh grade — I got a job busing tables so I could go shopping on the weekends." 
Did the pandemic affect the way you dress? "Early on, I embraced the loungewear, but still never let myself get too comfortable or sloppy with it. I didn't walk around the house wearing a gown and heels, but you can be comfortable and stylish at the same time." 
Favorite designers: "Designers I carry at my store, like Copenhagen-based Stine Goya, Paloma Wool, Simon Miller, Sterling King Jewelry."
Favorite shops: "Caruso Caruso — those are my dear friends. I love what the ladies at Tender have been doing for years. Linda Dresner was a trailblazer, and we will definitely miss her shop greatly. Supernatural Lingerie is incredible, which is important. Lost
and Found Vintage is also one of my tops. Dr. Joe at Optik in Birmingham, and Zana at Spectacles. We've got to give it to her. She's been doing her thing forever, holding true to
her aesthetic." 
Fashion hero: "For an all-encompassing style icon, not for just what she wears, but Erykah Badu. She's so interesting and unique and true to herself." 
Fashion advice: "Always stay true to yourself, but always be open to new things. Don't stay stuck. And shop locally."
---
Yan S

tewart
Image and brand consultant at Yan International Consulting in Birmingham
Fashion style: "My image is eclectic. A mix of styles and price points. You'll find me in edgy Lululemon leggings paired with spiky Louis Vuitton heels. Shoes are very important with a blazer — and some cool statement jewelry." 
When did fashion become important to you? "When I was a little girl — 3 years old. My mom and my dad have always been very passionate about art. They've always had an eye for art and beauty, and I inherited that. I grew up with it. My mom used to dress me up in fancy clothes — bows, tutu dresses with sparkly shoes. I would stand out. So now I do the same thing. Not intentionally trying to stand out, but just making an artistic statement."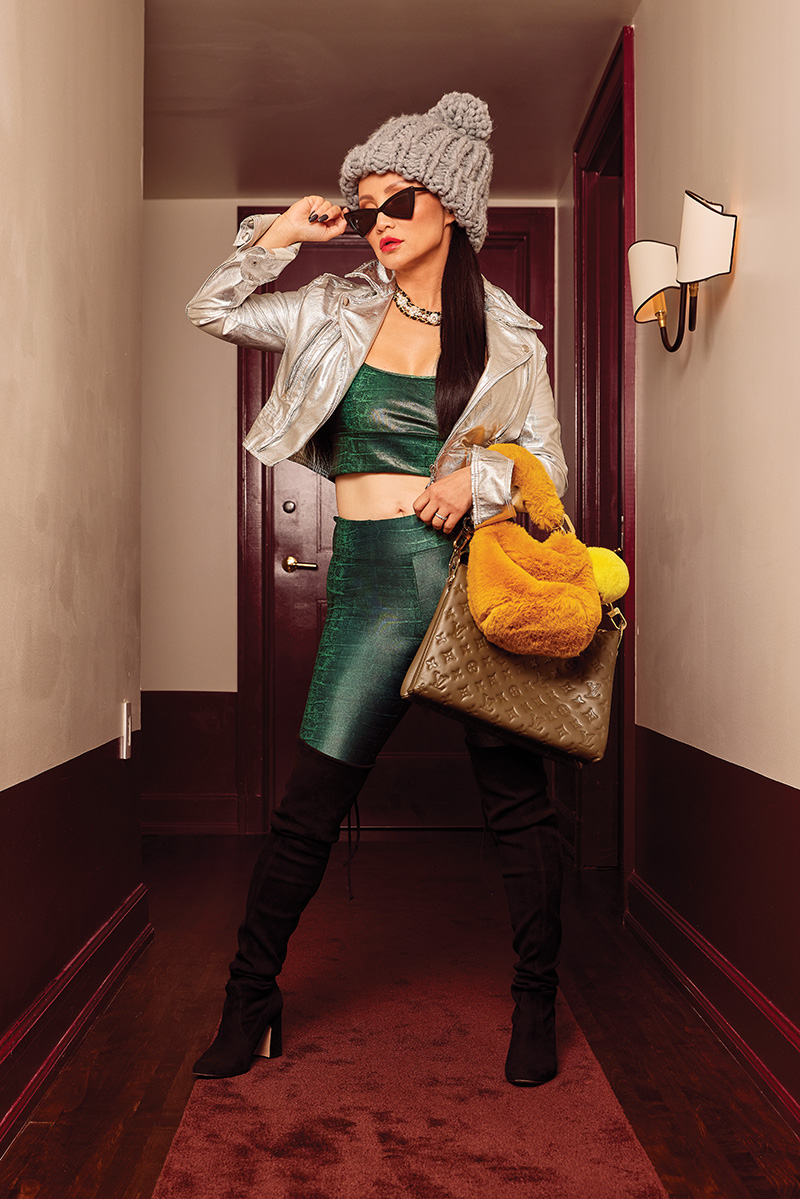 Favorite designers: "Recently, I am obsessed with Chanel. I'm collecting vintage Chanel every chance I get. My new passion is a Chinese designer named Guo Pei (she created Rihanna's unforgettable trailing yellow gown at the 2015 Met Gala). Her stuff is amazing." 
Favorite shops: "Saks Fifth Avenue, Neiman Marcus, Nordstrom, Tender." 
Fashion hero: "Russian digital entrepreneur Miroslava Duma. She's a powerhouse, and she has a brilliant vision." 
Fashion advice: "Just be yourself. There's nobody you need to impress but yourself. Life is short. Enjoy."
---
Larry P

liska
Owner of Planterra, an interior landscape design company and wedding venue in West Bloomfield
Fashion style: "Casual but chic. No ties. Blazer, open-collar shirts, slacks, or Levi's." 
When did fashion become important to you? "I had to wear a suit every single day when I was a draftsman at General Motors before I started my business. I was about 19 years old, and that was the General Motors uniform — a nice suit. Dressing well was part of the job." 
Did the pandemic affect the way you dress? "Not at all. I'm casual when I'm working. I'm casual when I'm not working. The way I dress hasn't changed." 
Favorite designer: "John Varvatos. His stuff is pretty cool. A nice mix of casual, chic, and rock
'n' roll." 
Favorite shops: "L'Uomo Vogue. They're good guys over there. I go see Doug Hoffman." 
Fashion hero: "I don't really have a fashion hero. I guess I don't look at it like that. I do like the way George Clooney dresses, though. He is a perfect example of casual chic. When I was in the auto design industry, I was always impressed with John DeLorean. He was always very fashionable." 
Fashion advice: "Wear clothing that you feel comfortable in is No. 1. Also, learn the colors of your skin and what colors go with your complexion. It will make a big difference in your overall appearance."
---
Brittni 'Bee'

Brown
Owner and principal publicist at The Bee Agency in Detroit
Fashion style: "Very bold. Very vibrant. A mix of urban and posh. I love mixing prints and fabrics, stripes and polka dots, velvet and leather. But I also love monochromatic." 
When did fashion become important to you? "When I became founder of Eastern Michigan University Fashion Week. I loved the backstage. I loved the production aspect of it. Then suddenly, I found myself in love with the clothes. I started studying fashion more." 
Did the pandemic affect the way you dress? "Yes. I stocked up on my cute, casual clothing. I bought lots of two-piece outfits and sneakers. I love sneakers. But now I have to shift back over to being professional." 
Favorite designers: "Prada, K. Walker Collective is a favorite of mine, and I love Zara pieces because they fit me very well."
Favorite shops: "Salvation Army in Ann Arbor. I love it. The whole store is color coordinated. It is the best. Dose Collective on Woodward downtown. Of course, I love Détroit Is the New Black. And StockX." 
Fashion hero: "My mom and my dad. They taught me from the beginning about dressing well. I've never seen my dad in a pair of jeans. And my mom is just an icon. She taught me to be myself in fashion. And to buy statement pieces." 
Fashion advice: "Don't be afraid to mix and match. Don't be afraid to do what they say you can't do."
---
Mohamed

Saad

 
Cosmetic dentist at Saad Dental Group in Birmingham
Fashion style: "I prefer a European, slim fit. Most often I'm wearing Ralph Lauren Purple Label head to toe." 
When did fashion become important to you? "It wasn't until I was in dental school, around 21, that I learned you have to look the part, dress the part, feel the part if you want to be the part. Fashion is a statement. It gives people a chance to see who you are before they get to know who you are." 
Did the pandemic affect the way you dress? "Honestly, it did. It enhanced it. If I was going out, I made sure I looked good. Even if I was going to Papa Joe's. I did a lot
of shopping online and played with color a lot. I bought a lot more yellows and oranges." 
Favorite designers: "Definitely Ralph Lauren Purple Label. That's my go-to. I also like Massimo Dutti." 
Favorite shops: "Ralph Lauren in New York and Chicago. 1701 Bespoke and Dandy Detroit locally." 
Fashion hero: Ralph Lauren 
Fashion advice: "It's all about the details. Something in your outfit should really stand out — the jacket, the shoes. It should make a powerful statement." 
---
May Bazzi Meslemani

 
Lifestyle fashion blogger and CEO of new fashion line called MBM
Fashion style: "I love glam. I love chic. I love classic. I love wearing gowns." 
When did fashion become important to you? "I've always loved clothing and fashion since I was a little girl. I would always watch fashion shows. I would look at celebrities, wonder what they're wearing." 
Did the pandemic affect the way you dress? "If anything, I like to dress up more now. We were stuck wearing sweats for so long that now when we have the opportunity to go out, I look forward to dressing up more than I ever did." 
Favorite designers: "Alexander McQueen, Tom Ford, Olivier Rousteing at Balmain."
Favorite shops: "My favorite used to be Linda Dresner before she closed. Now I go to Neiman Marcus or Saks Fifth Avenue." 
Fashion hero: "Elizabeth Taylor. I loved her confidence when she wore whatever she had on. Everything she wore looked perfect on her. It was always well tailored. Everything she wore fit like a glove." 
Fashion advice: "Be creative, but most importantly, be comfortable. Comfort is queen!"
---
Christopher

Burcham
Entrepreneur and property developer
Fashion style: "It's not really a style. I wear whatever I want and don't give a f***. Like the time I wore a long sleeve T-shirt as an ascot. Just in case I got cold. You might find me wearing a bathrobe in public with a nice white shirt. You know, kind of the Hugh Hefner thing. But I have to be comfortable."  
When did fashion become important to you? "I was wondering what else was out there when I was wearing uniforms in middle school at Country Day — what was there for me to wear other than jeans and whatever my mother bought me. I even went to Parsons in New York for fashion design when I was 16."  
Did the pandemic affect the way you dress? "I started dressing up to go to Whole Foods. Anything to feel like a real person again. I had to get out of those yoga clothes." 
Favorite designers: "Missoni — they do something different, and they do it very well. Gucci is great, if you get some pieces that not everybody has without the G's all over it."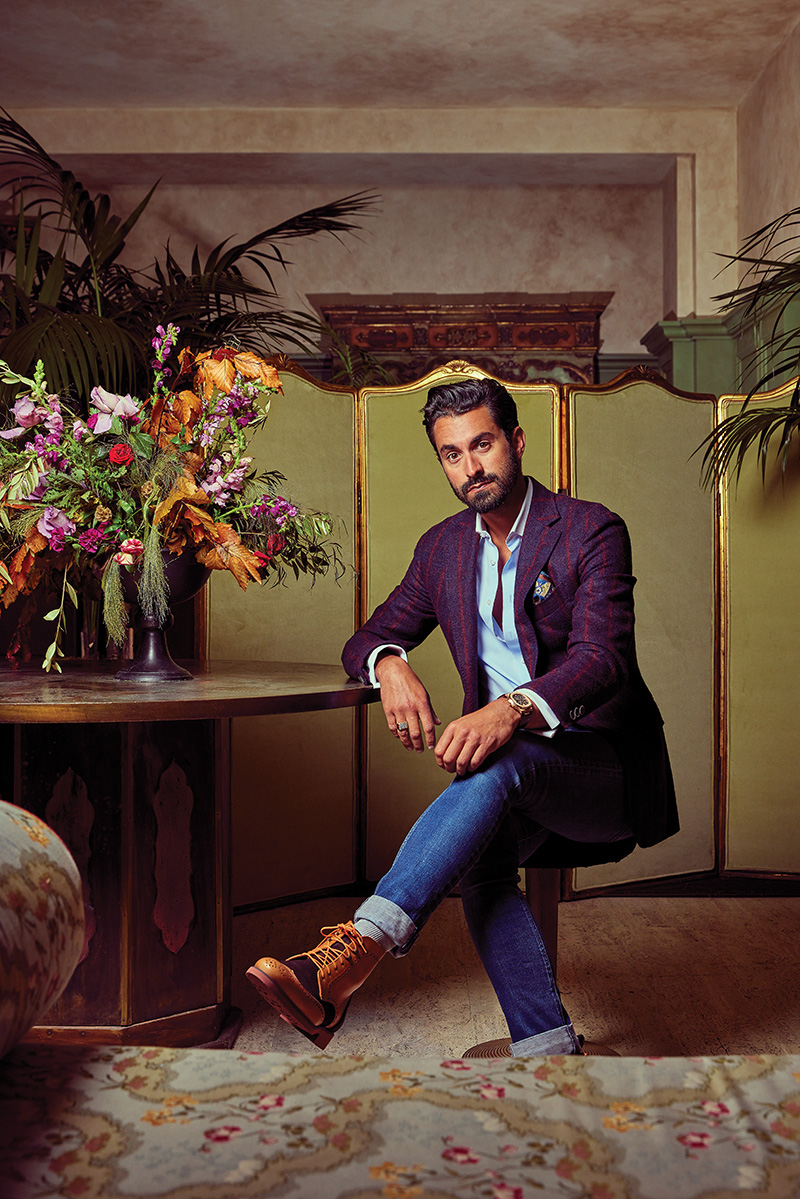 Favorite shops: "Best place I go for everything is Today Clothing in Ann Arbor. They get a lot of Scandinavian stuff and Japanese goods and really cool things." 
Fashion hero: "Lagerfeld always crushed it. But he always wore the same thing. Versace in the '90s. Alexander Kraft. He's like the James Bond of fashion and lifestyle. He's a cool dude." 
Fashion advice: "Be comfy. Be cozy in what you wear. There's more to life than what you wear. And it's gotta fit right. Comfort and fit. That's why I wear tights. What fits better than that?"
---
Mark A. Douglas

 
President of Avis Ford Inc. in Southfield
Fashion style: "You will usually find me in a fitted suit with a contrasting tie, socks, and pocket square combination." 
When did fashion become important to you? "Fashion was important to me from a young age. From my early high school days when it was about Levi's, polo shirts, and Roots shoes. For college, I attended Howard University, where fashion was really in your face on a daily basis. You were almost forced to create your own style. Ultimately, I did some modeling, and in short, I became more aware of certain fashion trends and how they enhanced my personal style. That's when I learned how to remain current yet unique in my look. However, thank God for my wife, Tiffany, who sometimes does a better job of keeping me current by introducing things I might not always be willing to try. I must admit, she is usually right."  
Did the pandemic affect the way you dress? "Not really. Perhaps on a daily basis. However, when I dress, I dress. I would say I was most affected by not having places to wear real clothes." 
Favorite designers: "If there was only one designer I could wear, it would be Giorgio Armani. His tailoring fits me almost perfectly right off the rack. Today, I primarily use a custom clothier, but I often find myself mimicking the Armani look. Salvatore Ferragamo is my favorite shoe designer." 
Favorite shops: "It depends on what I'm shopping for, but when I'm truly shopping, I go
see my man Ray Hines at Cicchini Custom Clothier in Birmingham. Ray has been dressing me for upwards of 10 years, be it casually, professionally, or formally. Ray has a keen
eye for my style." 
Fashion hero: "Giorgio Armani and/or Ralph Lauren." 
Fashion advice: "Don't be afraid to change or adjust your look. Be willing to try different cuts and styles. You never know — you just might find your next trend or those trends that work best for you."
---
Lori Ann

R

app
Wife (married to noted neurosurgeon Lawrence Rapp), mother, socialite, philanthropist
Fashion style: "Modern, feminine, with a bit of an edge (I love drama in clothes). Classic, high-end glamour with great attention paid to every detail." 
When did fashion become important to you? "When I was a little girl. We were very poor, and I'd always look at the magazines and try to emulate what I saw. As I got older, I'd save my money to buy an important sale piece. Maybe DKNY. Fashion is a way to express yourself. You make yourself feel good, and you can do it every day. You can change it up. You can reflect the mood you're feeling at that moment." 
Did the pandemic affect the way you dress? "No. I live and breathe fashion. We'd still go out to dinner every night. It was winter and we'd sit on the patio at Bella Piatti in Birmingham, and I'd have so many layers of clothes on. It was fun dressing up like that. My hair got singed from the heaters on the patio, but it didn't stop the fashion and good times." 
Favorite designers: "David Koma, Alex Perry are two that aren't too mainstream, but I also love Chanel, Alexander McQueen, Givenchy, and Yves Saint Laurent."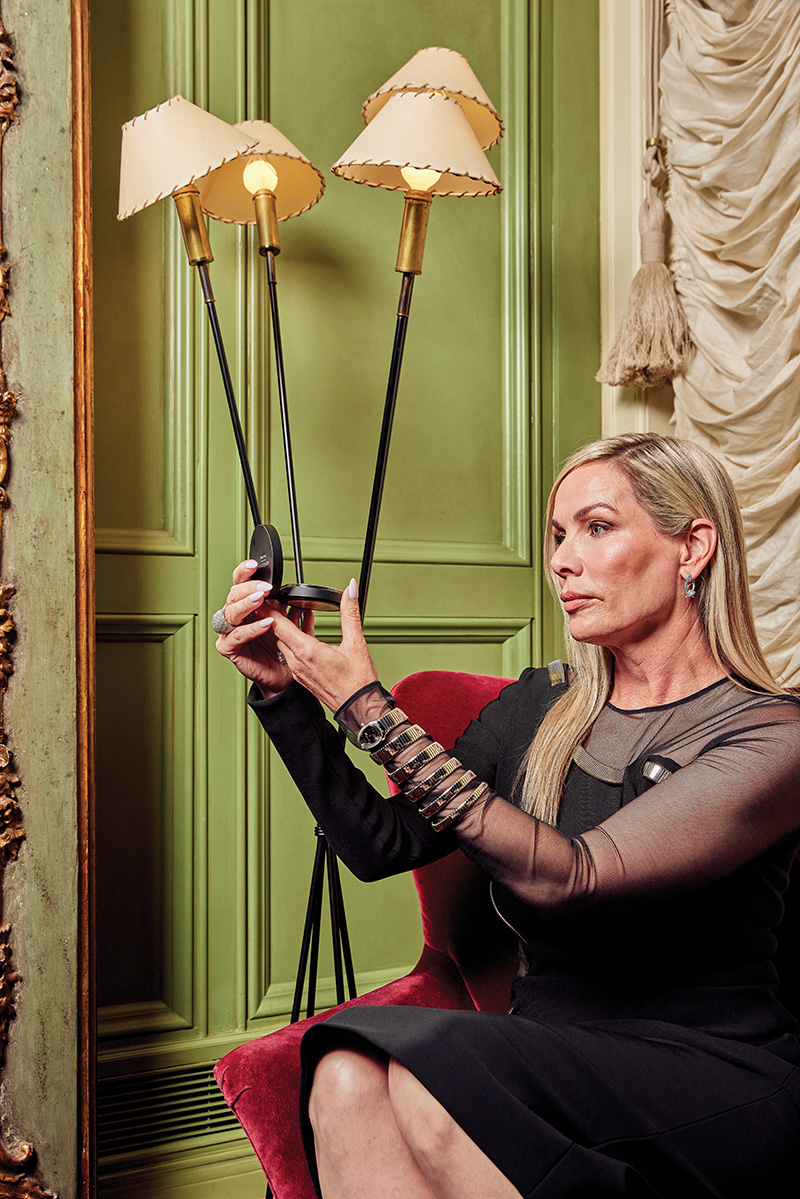 Favorite shops: "I try to always shop locally. I want to give our community the business. I've also been a customer of Neiman Marcus for years and years and consider many of the associates to be dear friends. I go to Saks Fifth Avenue, Lori Karbal, Tender, and of course, before she closed, Linda Dresner. She is an icon." 
Fashion hero: "Elizabeth Taylor. And Nicole Kidman — she's very elegant." 
Fashion advice: "Mix it up. Dress how you feel, and shop at all different types of stores. It's OK to put different styles together."
---
This story is featured in the November 2021 issue of Hour Detroit magazine. Read more stories in our digital edition. 
Facebook Comments