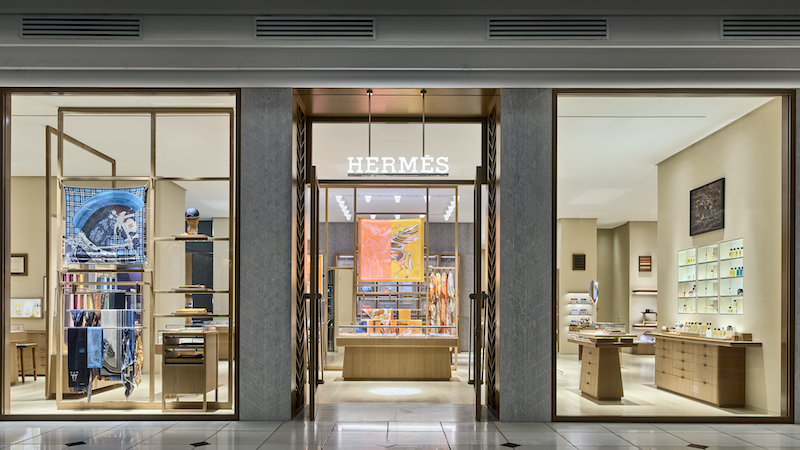 Hermès — the French luxury goods brand known for items like its silk scarves, watches, tableware, and of course, handbags like the iconic Birkin — opens its first Michigan store at Somerset Collection in Troy today.
"We are excited to be moving into a new state for Hermès, Michigan," says Robert B. Chavez, president and CEO of Hermès USA. "We are honored to join the Troy community at the Somerset Collection, bringing Hermès culture and craft to the heartland of American ingenuity and industry."
Guests can shop for enamel and leather bracelets, silk pieces, leather goods, home items, watches and jewelry, ready-to-wear garments, shoes, and perfumes and other beauty items — including the brand's makeup collection Rouge and Rose. Pieces from Hermès' equestrian collection will also be available. The brand began as a harness and saddlery manufacturer in Paris in 1837, and it still has deep ties to the equestrian community today.
The store was designed by Parisian architecture agency RDAI. The shop's interior is informed by Hermès' French heritage as well as the Greater Detroit area's lakes, forests, and rock formations. This inspiration is evident in the store's façade, which is made of honed St. Clair stone.
Further embracing these inspirations, the shop also features American oak floors, floral fabrics, wooden wall coverings, warm gray stone walls, and bespoke carpets, which are designed to mimic the rings of a tree trunk with a gradient design with shades of warm ochre, brown, and cool blue. Glass globe lighting, designed for Hermès in 1925, enhances the store's ready-to-wear and watch and jewelry areas as well as a VIP suite.
"RDAI, the Paris-based architect for Hermès stores around the world, aims to bring inspiration from the boutique's location in the choice of materials used in the design," says Peter Malachi, senior vice president of communications for Hermès. "In the case of the Troy boutique, local stone and American wood are elegantly featured. This decision always ensure each Hermes store is unique and created a sense of 'home' for the local clients to experience and visitors to enjoy. In this spirit not one boutique is identical to another."
Hermès is located on the first level of Somerset Collection South between Tiffany & Co. and Tommy Bahama. Open from 10 a.m. to 6 p.m., Monday through Friday, the shop is hosting appointment-only visits at this time. Although, a representative says this will likely change soon.
For more information, visit hermes.com.
Facebook Comments