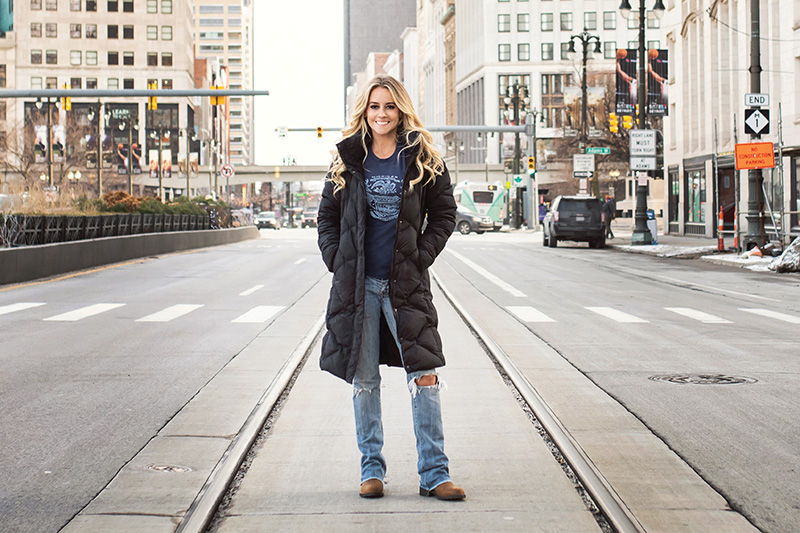 The rise of Nicole Curtis from a working single mom in Michigan to a bonafide HGTV star with a devoted following of do-it-yourself preservationists is well-documented. That doesn't mean fame has been easy for the 44-year-old Curtis. 
"When you start getting recognized all of a sudden, it's the oddest thing," she told me during a 2019 radio interview. "They used to just scream, 'Rehab girl! Rehab girl!' " 
That's why she started introducing herself right at the beginning of her long-running show, Rehab Addict on HGTV, which relaunched back in January as Rehab Addict Rescue with eight new hourlong episodes of Curtis helping Detroit homeowners with their overwhelming home improvement projects. The two-year hiatus from Rehab Addict gave Curtis time to adjust to her breakneck schedule. 
On a recent phone call from her home in Los Angeles, with helicopters whirring in the background ("In Detroit, we have sirens; in L.A., it's all helicopters," she quipped), Curtis' energy was infectious as she detailed her hectic schedule of rehabbing homes in Detroit, focusing on motherhood, and her decision to step away and recalibrate before reintroducing herself to the world.
Hour Detroit: Can you take me inside that moment when you decided to get back into the swing of things and produce episodes of Rehab Addict Rescue?
Nicole Curtis: My life really went from this little single mom house cleaner in Detroit that moved to Minneapolis, started working on all these old houses and created this show that skyrocketed — and then I had 10 years of nonstop, absolutely insane madness. I finally just reached a point where it was too crazy for me. The reason I started all these businesses and started the show was to have this good life. And it just kind of dawned me on that I'm running around like crazy and I'm not happy right now. So I just called a halt to all of it, just to go back to a private, quiet life. And I needed it. Being at home and being a mom during those years was a luxury I was able to give myself through the show — and that was most important to me. To get to take a breath because, I mean, we did not stop shooting [Rehab Addict] for 10 years straight.
It feels like a lot of people were reassessing their lives — and ultimately, their homes — during the pandemic, but you got a head start on it.
Oh, yeah. It's funny that I got to do all this revelation before the pandemic, and when it did hit, I was already in this relaxed, sedentary vibe. I was like, "sweet, the whole world can stop now and I'm not losing any game because everybody has to stop." That's really when I thought this is the time to come back, because I was able to do it at my own pace. And most importantly, I wasn't just going to come back on any terms; the way we wanted the show to go was a lot of negotiation.
And, even when the cameras were off, you never really stopped rehabbing homes, including here in Detroit.
Oh, yeah. I shine my brightest when I'm home in Detroit because people just let me be. There's some sort of peace about it. I control my show, but then you have this whole other side that people don't see, which is a network who hires you. They're buying a product. So having that dictation in my life for so many years, that's a lot. Finally being able to be in an old house again — we still filmed, and those episodes will come out one day — but it was just refreshing. It was a nice break. We just completed another really amazing restoration over in [the Detroit neighborhood of] Islandview. 
A lot of people have taken on their own home rehabs during the pandemic — and some have failed terribly. What's your advice for anyone out there who might have bitten off more than they can chew?
I really cringe right now. I'm a lifelong Detroiter, so I've seen the architectural stock that we've had for years that's just been sitting there because no one had the money to do anything with it. And the scariest thing for me as a preservationist, restorationist, and somebody who's invested in Detroit for life — not just for spur of the moment investment because it's trendy — is that we're losing that architectural detail faster than we ever have before. Because people have the means to do it and they don't know what they're doing. They're just gutting all this architecture and it's terrible to see. I'm hoping with this show that we can put a stop to some of these disasters. Listen, you just bought a really kick-ass Detroit house that has original tile and the original bathroom and all these original features. Don't listen to the trends. Follow us, because we know what it takes to do these houses and we can show you the right way.
---
Episodes of Rehab Addict and the first season of Rehab Addict Rescue are available on HGTV and can be streamed through Discovery+.