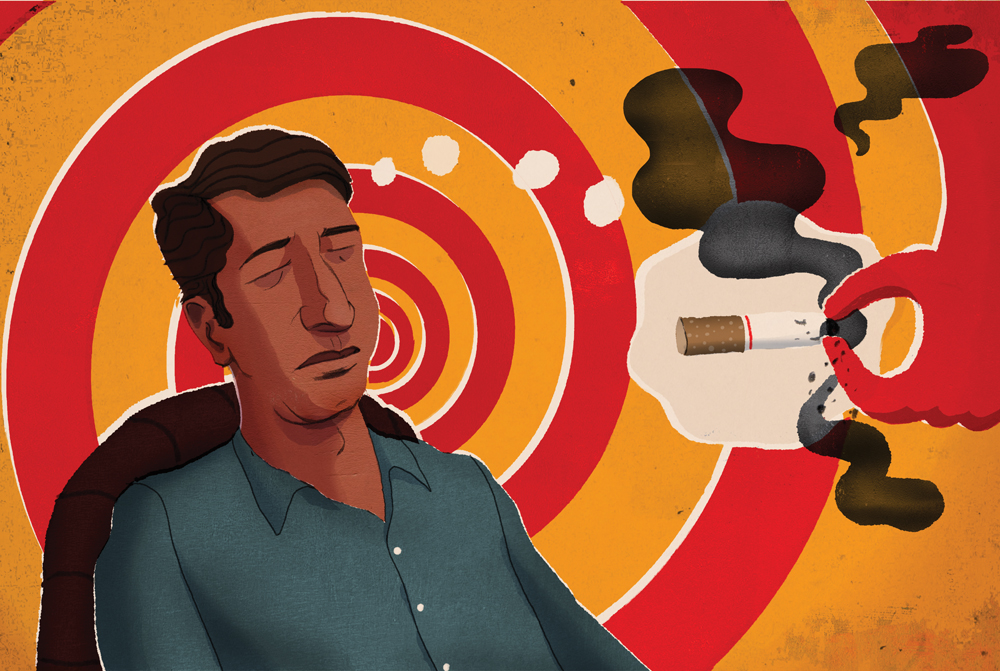 I've been smoking off and on (mostly on) for 40-plus years. I once quit for a year and a half, but long after the physical cravings were gone, a voice in my head kept nagging me to just have a few.
I've hired David Wright to kill (or at least muzzle) that voice. Wright, known as "The Motor City Hypnotist," got my attention via a press release promoting a "secret weapon to improve your golf game." I'm a terrible golfer, but I also noted he's helped people quit smoking.
Since Wright performs hypnosis comedy stage shows in southeast Michigan as well as across the country, I thought he'd like the joke I sent asking if I could get a "two-fer" and fix both of my issues simultaneously. (He advised on taking it one at a time.) I decided to start with the smoking habit. Then I got to thinking: Is hypnosis even legit?
I emailed my friendly Providence doctor. Had he ever prescribed hypnosis? (No.) Did he think it was "bunk?" (He's often urged me to quit smoking and is for anything that works.)
I also checked to see if paying for this service was allowed with a tax-deferred medical card. (Yes.) Would insurance cover it? That's a bit fuzzier.
There are mixed signals about hypnosis. The American Medical Association takes a wimpy "no-official-position" stance. The Mayo Clinic gives it thumbs up. Health service giant Cigna states: "Hypnosis is not intended to cure disease but rather to relieve symptoms of illness. Hypnosis has been effective in relieving pain associated with surgery, paralysis, and childbirth. Also, it is widely used to control addictions to drugs, alcohol, food, and smoking."
Hypnosis is sometimes covered by health insurance (not mine, unfortunately), but it varies by policy and individual case. Locally, Beaumont offers HypnoBirthing to help women through labor and delivery — a method reportedly used by Kate Middleton, the Duchess of Cambridge, for her three royal births. It involves a combination of breathing exercises, deep relaxation methods, and visualization techniques along with positive thought.
So perhaps it's all in your head? (Just like that voice urging me to smoke.) I decide to give it a try.
The Skeptics
First things first. I'm a cynical person. That's OK. So was Wright.
"Believe me, 30 years ago, I was a skeptic before I did this," he says. Wright graduated in 1987 with a bachelor's degree in psychology, then got a master's in counseling. As a master's level clinician, he used relaxation and visualization techniques, like "close your eyes, take a deep breath," he says. "At some point I'm like, 'You know what, I really am doing hypnosis … getting [clients] into that relaxed state [and] going through suggestions. … Why not just get my certification?'"
There's no governing body for hypnosis in the United States, and some hypnotists simply get "certified" online. Wright would welcome stricter forms of licensing. "I'm a practicing clinician, [and] I went to school for six and a half years," he says, adding: "The fact that I have a mental health background … makes it more valuable."
For now, there's a semi-sanctioning body. The American Society of Clinical Hypnosis calls itself the "largest U.S. organization for health and mental health care professionals using clinical hypnosis." Members must be licensed healthcare workers and have a master's degree.
The crux of hypnosis is about getting into such a relaxed state that the hypnotist can make suggestions to your subconscious mind.
Getting Really Relaxed
"It can work for everybody," Wright tells me on my first visit. But there needs to be buy-in from the client. If someone says they're only at four on a scale of one to 10 in their desire to quit smoking, for instance, he'll tell them to call back when they're at eight or nine.
"This analogy I use a lot with clients is that when you drive your vehicle, you don't have to think about consciously all the things you have to do to drive," he says. "You've done it so long. It's an automatic process. It's embedded in your subconscious." He cites an "internal conversation" you might have about smoking, such as: "Oh, I need to quit. If I quit, it's going to be difficult."
"We can shut that all down and just get to the root and say, 'OK, smoking is an inner subconscious habit,'" he says.
Wright knows there are a lot of misconceptions about hypnosis. "The classic … 'Somebody's going to make me jump up and down like a chicken or something,'" he says with a laugh. But really, the crux of hypnosis is about getting into such a relaxed state that the hypnotist can make suggestions to your subconscious mind.
Smoking cessation is among Wright's highest success rate, followed by treatment for anxiety, panic attacks, and insomnia. The goal is to teach you a technique to "shut your mind down and just turn off the gears," he says.
Wright's website (motorcityhypnotist.com) notes a cost of $125 per session or three for $325. It states that "most issues can be resolved in two to three sessions with many issues being resolved in just a single session."
The goal is to teach you a technique to "shut your mind down and just turn off the gears,"
— David Wright, The Motor City Hypnotist
Message Received
"You just are telling your subconscious mind right now that you want to quit," I hear Wright tell me once he's got me in a hypnotic state. I know that I'm in that state because I start laughing when he tells me my eyes are feeling so heavy, I can't open them. (He tells me later that he knew he had me "because you laughed a little bit when I said you can't open your eyes.")
Some more messages he suggests:
"There are a lot of associations connected with smoking. … When you're driving … when you're having coffee. … These connections have been made in your subconscious thinking, but today, we're removing those connections."
"Simply tell yourself, 'I was a smoker at one point in my life, but at this point, smoking is just simply something I used to do.'"
"There is always something to do that's better than smoking."
After the session, he points to a garbage can and asks if I'm ready to throw away my remaining cigarettes. When I hesitate, he asks the "one to 10" question. I admit to a six or seven.
"Typically, I would have said, 'You know what, let's wait until you're a nine … and I'll have you come back in,' " he says.
We decide on a "step-down" approach. "If you're smoking a pack a day, for the next month, you're only going to smoke three quarters of a pack a day," he says. "And then after that you're going to smoke half a pack a day…" and so forth.
Success! (Sort of)
After that first session, I didn't immediately light up after leaving Wright's office. And throughout the day, I felt fewer urges to smoke than normal.
Wright also emailed me an MP3 to listen to. To my surprise, and again, amusement, I found I was able to hypnotize myself at home, simply by following prompts on the nearly 30-minute tape and staring at an old clock on our fireplace mantle.
I went back the following week and did a second session. Another is planned in a few weeks.
The bottom line? At press time, I'm smoking nearly half of what I used to — without feeling mental anguish. Normally, I'm also a pretty hyper guy. My wife says that Wright's ability to simply get me to sit still and relax for nearly a half hour a day is in itself totally worth the money.
So, I'll try another session and keep scaling back on the smokes. And then? Maybe I'll go back and fix that lousy golf game!
Facebook Comments