People who smoke weed have gotten used to being called a lot of things over the years: pothead, stoner, burnout. Now they might get to add another label to the list: health nut. 
To be sure, people will always use marijuana to get high. But for some, it's also becoming more of an integral part of self-care. Whether that means using cannabis for pain relief, to combat insomnia, or as a way to spark creativity, people are exploring the effects of cannabinoids, like THC and CBD, on their personal well-being and incorporating weed-based products into their daily routines.
If you've had any conversations about cannabis lately, chances are people you know are getting more into the details, such as which low-dose edible helps stave off anxiety or how a friend has figured out the trick to being high in social situations without feeling paranoid. The talk is less a hushed conversation about where to score an eighth and more about discovery, education, and celebration. In short: We're taking pot more seriously.
So, what exactly is a "cannabis lifestyle"? As you might expect, it takes on slightly different meanings for everyone. But in essence, it describes the idea of incorporating pot into different facets of your life. This might mean ingesting very small amounts each day (otherwise known as "microdosing") to achieve better focus and mental clarity, or using it before working out, as a potential motivation booster (according to a 2019 study that was published in Frontiers in Public Health, 70 percent of survey respondents felt that cannabis use before and/or after workouts made exercise more enjoyable).
"[Cannabis lifestyle and culture] has been around for generations," says Adam Brook, who has been a marijuana activist in Michigan since the late 1980s. Brook was the organizer and emcee of Ann Arbor's Hash Bash celebration from 1993 to 2011, and he has been road manager for John Sinclair (one of Michigan's most legendary marijuana activists) for about 25 years. More than anything, Brook sees weed as something that brings people together: "[Cannabis lifestyle] comes in every size, shape, color, creed, straight and gay — no matter who you are or where you come from." 
Anyone who has been following marijuana's ascent into the mainstream knows that veteran activists aren't the only ones embracing this mindset.
Former Detroit Piston John "Spider" Salley, a wellness advocate who adopted a plant-based lifestyle long ago, is one of pot's more recent outspoken supporters. "I was already on the right path — doing yoga, taking herbs, and eating a raw diet," he says. "Cannabis was just the topper."
Salley started exploring veganism in 1991 and has been a devoted vegan since 2006. Even the family dog, named Neo Carter Salley, is on a vegan diet. "We live a plant-based life. The cars we drive have vegan interiors. I'm a major proponent of PETA, mercy for animals, and farm sanctuary. So, I do things in accordance with leaving small — even though I have big feet — footprints on the planet."
Salley, part of the infamous Bad Boys, wasn't always a fan of weed. While he adhered to a strict wellness routine throughout his 14-year playing career, he didn't start smoking pot until about a month before he retired from the NBA. First and foremost, he was worried about his reputation. "Back then, they called you a 'pothead' or a 'stoner' or a 'slacker.' I didn't want to be known for anything other than what I wanted to be known for," he says. 
But his older brothers, Willjay, Ron, and Jerry, also influenced his decision. "My brothers smoked, but they always told me not to, as if it was going to take away from my focus. And I wish they wouldn't have, because I think it would have added to my focus. I had anxiety while I was playing; I was wound up pretty tight," he says. "You would never have known, because I was always laughing and joking and smiling." 
Salley recalls the moment in 2000 when that changed: "I literally could not sleep. And I was taking a ton of different medications that were supposed to help with inflammation," he says.  "I was in Sacramento, California, playing in the Western Conference Finals. I smoked a joint in front of the Capitol, then started doing yoga — getting into poses that otherwise would have been difficult for me. I felt amazing. I thought, 'This shit is unbelievable. No wonder they don't want us to smoke it.' My muscles felt great, and I slept so hard that night. From that moment on, I was an advocate."
Since then, he has worked to help people understand how the power of the plant goes beyond getting stoned. "I tell people all the time: If I would have known about the benefits of cannabis, I would have played until my 40s."
Dr. Ethan Russo, a board-certified neurologist, psychopharmacology researcher, author, and founder and CEO of biopharma holding company Credo Science, explains how THC works with the body's endocannabinoid system (ECS). "The ECS is the major homeostatic regulator of human physiology," he writes via email. "In other words, it keeps all our bodily functions in balance. Endocannabinoids are chemicals that are closely related to the THC molecule in their pharmacological effects. It is because of cannabis and THC that the ECS was discovered, along with extremely important insights into the pathophysiology of diseases and how they may
be treated."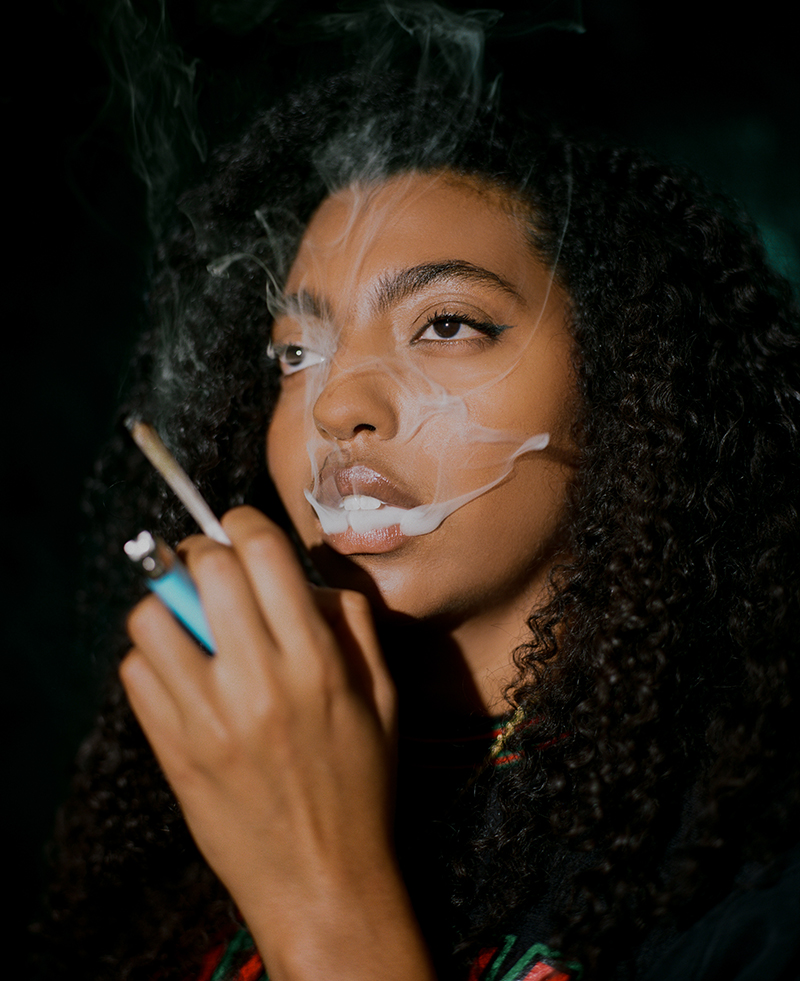 Just like a balanced diet, meditation, yoga, or running, weed fits into some people's routines as part of what they consider a healthy lifestyle. "THC works on cannabinoid receptors directly, while CBD increases endocannabinoid tone and works via various other neurotransmitter systems to reduce anxiety and inflammation," Russo says.
Salley relocated to Beverly Hills, California, in 1997, shortly before retiring from the NBA, but has maintained his connections to Michigan. Off and on since 2009, he's been involved with VegMichigan, a nonprofit that focuses on promoting the health, environmental, and ethical benefits of plant-based eating. And he was the host of Michigan Lottery's The Big Spin from July 2019 to February 2020.  Salley, who lived in Detroit from 1989 to 1995, in Palmer Woods' 35,000-square-foot Bishop Gallagher House, wants to reinvest in the city he once called home. He sees cannabis as a way to do that.
"We want people to be able to go to work and take pride in what they do — like their grandparents used to do when they went to factories to make cars," he says. "We knew that spirit was still in Detroit, and we wanted to tap into it."
That's why Salley decided to bring his cannabis lifestyle brand, Deuces 22, which he started with his daughter Tyla Salley in 2019, to Michigan (read more on the brand further down). Tyla Salley, who has been using pot to treat migraines since she was 18, considers cannabis an indispensable part of self-care. "I live a plant-based life, so it's fully ingrained in me," she says. "Cannabis was just a no-brainer."
She's not alone. As the U.S. marks the 50th anniversary of the war on drugs, support for weed is at an all-time high. An April 2021 Pew Research Center poll found that 91 percent of Americans now favor some form of marijuana legalization (31 percent support legalization for medical use only, and 60 percent support legalization for medical and recreational use). And in July, Senate Majority Leader Chuck Schumer introduced a bill that would decriminalize marijuana at the federal level. The proposed Cannabis Administration and Opportunity Act would remove marijuana from the Controlled Substances Act and begin regulating and taxing it. The bill would also expunge federal records of nonviolent cannabis offenders.
Coinciding with the rise of the cannabis lifestyle mindset is a change in approach toward alcohol. A July article in Fast Company focused on how people navigate the complexities of not drinking alcohol at events that revolve around drinking alcohol. Anyone who has opted to get high over tossing back a few drinks during a night out can attest to having a vastly different experience.
"If you smoke, you have less chance of being irresponsible," John Salley says. "It just doesn't happen on weed. You want to love everything when you're on this plant."
People are also increasingly moving away from alcohol for various health-related reasons. A June Newsweek story highlighted one 24-year-old Texan woman's experimentation with abstaining from alcohol, explaining that doing so helped alleviate mental and physical problems she was having, including persistent stomach trouble, anxiety, and lethargy. A number of nonalcoholic adult beverages, such as Curious Elixirs, Kin Euphorics, and the Michigan-made Casamara Club, which is marketed as a "leisure soda," have cropped up in response to this trend. This is in addition to booze-free bars such as Sans Bar in Austin,
Texas; Getaway in Brooklyn, New York; and Michigan's first sober bar, Wing Heaven Sports Haven in Lansing.
Smoke it, eat it, cook with it, bathe in it, massage it into achy joints: To say we have choices today when it comes to weed would be an understatement. Abundance and access are signs of headway in the effort to normalize pot and shift perceptions. But most importantly, people are actively — and consistently — experimenting with weed to figure out what they like and don't like and what works best for them. This appetite for exploration, particularly among older generations, is bringing about not only a wider range of products, but also a proliferation of information, which is leading to a greater understanding and collective embrace of the plant's potential.
At the time of reporting, 18 states and the District of Columbia have legalized recreational use, and 36 states (plus D.C.) have medical programs. High Times is still around and catering to its fan base of bud aficionados. Cannabis lifestyle magazines Broccoli and Gossamer are exploring pot themes ranging from the more expected (roundups of high-end products) to the esoteric (a book about snails living in "an alternate universe where snails drink bubble tea at the mall, hit tiny bongs, and get beamed up into flying saucers"). Travelers now have access to weed-friendly tourism options, like the "bud and breakfast" Copper House Detroit. And people are being bolder about their consumption. During Conan O'Brien's final week of Conan on TBS in June, the host smoked a joint on air, with comedian Seth Rogen and co-host Andy Richter. It was a strange and funny moment, and likely something the world will be seeing more of in popular culture as this momentum continues.
For their part, John and Tyla Salley are doing what they can to encourage this momentum and dispel common misconceptions by documenting what they're learning. "We want people to see what it [pot] looks like — that it's not a green monster, that it's not reefer madness," he says. 
They also get that cannabis use varies from person to person. "I use cannabis all the time, in multiple ways. But I realized that there is a lane for everyone. And we know it's important to help people understand this," Tyla Salley says. The two, who are speaking to everyone from lab scientists to growers, plan to release a television series sometime in spring 2022.
Many will still partake for pleasure, but as people continue to better understand all the benefits the plant has to offer, those old "lazy stoner" stereotypes may eventually, just like the war on drugs itself, begin to fade away. When asked what he believes is the biggest misconception about people who use cannabis, John Salley quickly replies, "That you can't smoke weed and be successful." 
---
A Closer Look at Deuces 22 
John Salley invests in the city he once called home
People who consider themselves part of the weed culture, and who embrace cannabis as more of a lifestyle, look for people who feel the same way. And if you're John Salley, you also look for the number 22. 
"I've always had a fascination with numbers," he says. "I couldn't tell you exactly when it started, but my attraction when I saw it [the number 22] on a guy's back was Mercury Morris, who used to play for the Miami Dolphins as a running back. The 22 looked so good. And then, in The Longest Yard with Burt Reynolds, he wore number 22." Salley wore the number 22 jersey in college, as well as for a large part of his professional career. 
Salley was asked to speak at the Hash Bash in 2019, and after meeting the father-daughter duo at the event, pot activist Adam Brook introduced John and Tyla Salley to the co-founders of Luxury Loud. The company, which has been operating its wholesale business for about a year and opened its provisioning center, at 2520 22nd St. in Detroit, at the end of June, will be the first retailer of Deuces 22 flower (at the time of reporting, its planned launch date was Nov. 22). If processing of recreational marijuana business applications in Detroit is still on hold at that time, Deuces 22 will launch as medical.
Luxury Loud, which is one of Michigan's first farm-to-table provisioning centers — meaning it is growing, processing, packaging, and selling its products in the same location — is co-owned by George Mugianis and Marko Malinowski. Mugianis is a restaurateur and third-generation Detroiter, who has owned and/or operated multiple bars and restaurants in Detroit since the mid-1980s, including AFB (Another F—— Bar), Agave Restaurant, and Club Heaven, a 1990s dance club that WDET described as "a sanctuary for Detroit's LGBTQ community." Malinowski, who has lived and worked in metro Detroit his entire life, owns multiple real estate projects with Mugianis and has been developing the Luxury Loud brand with him for the last 10 years. 
Mugianis and Malinowski believe in creating businesses that give back to the city and the communities that surround it. "We didn't just bring in talent that was already experienced; we've hired from Detroit, and we've trained them," Malinowski says. "It's not a short-term thing. It's a long-term goal: to build from Detroit with Detroiters."
To John Salley, who wanted to find a partnership that was in line with what he and Tyla Salley envisioned, the relationship seemed serendipitous. "When I was in Detroit, playing for the Pistons, I always did things in the community. A lot of people know me for that, so I wanted to keep that same mentality. I wanted to make sure that people are in the business [who] look like us and are hired from the Detroit community," he says.
From social relationships to business partnerships, when people talk about pot, they're inherently talking about connections. And when John Salley found out Luxury Loud's address, he couldn't have been happier. "We all smiled ear to ear, like it was meant to be," Malinowski says.
For more information, visit deuces22.com. 
---
This story is featured in the December 2021 issue of Hour Detroit magazine. Read more stories in our digital edition.