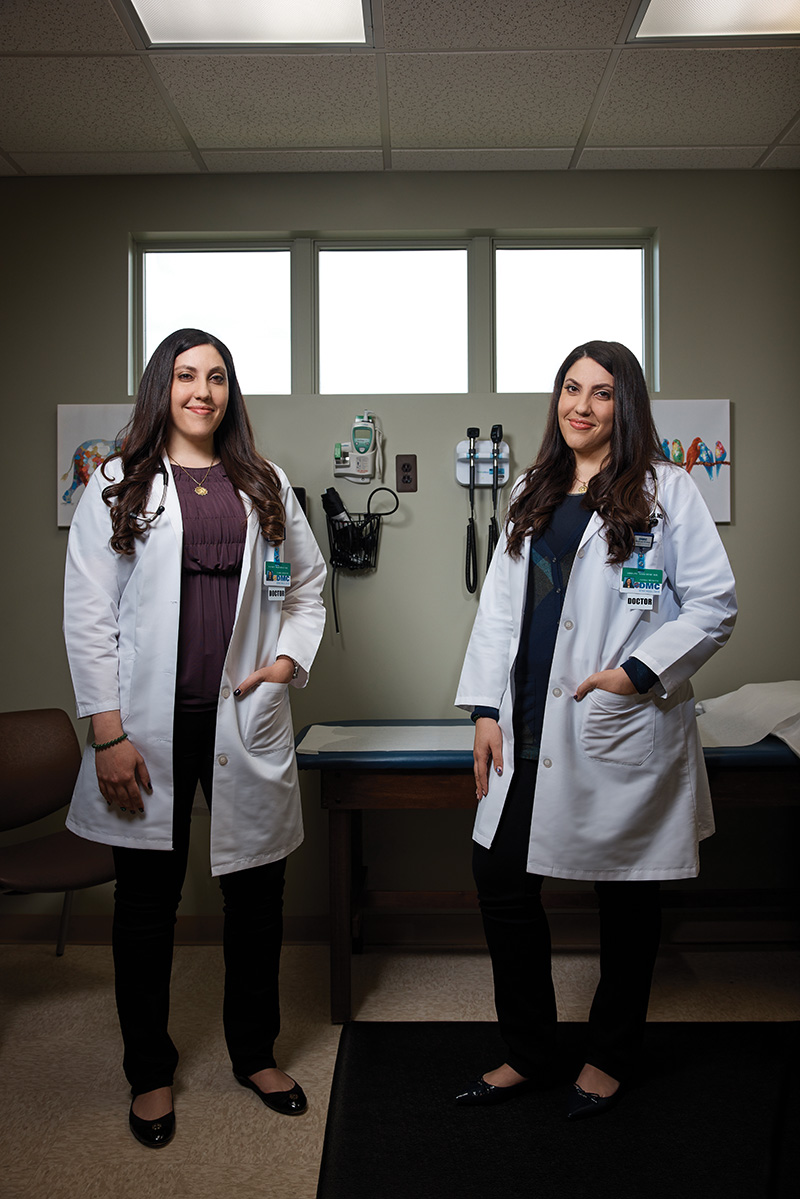 With their notoriously busy schedules, many medical professionals likely wish on occasion that they could make a copy of themselves. Detroit Medical Center family physicians Lauren and Adriane Marchese, who are twins, don't have to.
The Marchese sisters have done everything together. They attended Michigan State University College of Human Medicine together and have worked at the same facilities ever since. Because they were always on different rotations, though, they'd never managed to actually work together until last spring, when they volunteered in the COVID-19 units at McLaren Flint Hospital. There they discovered that, yes, having an additional set of trusted hands, an automatic second opinion, a built-in support system is pretty great.
"We get to work alongside our best friend, but it also benefits our patients," Adriane says. Whenever one sister is dealing with a particularly complicated patient case or performing a difficult procedure, she'll often seek help from the other. "Sometimes it's like our patients have the care of two doctors, because we're both putting our expertise into some of these more challenging cases."
The benefits to their patients aren't just practical; they're also emotional. "The reaction from the majority of patients when they first see us together is pure laughter," Lauren says. When the twins team up to perform a procedure, such as a biopsy or a joint injection, they find that their striking resemblance and entertaining synergy tend to distract the patient, helping to put them at ease. "It's a wonderful thing we're able to do for our patients. Nobody wants to go see a doctor — we know that. But if we can make it a more positive experience, that warms our hearts."
Working together has emotional benefits for the sisters as well, which were never more needed than during their time treating COVID patients. 
"It was devastating," Lauren says. "We saw some of the worst outcomes of this illness, and we lost a lot of patients." 
It took a toll that didn't stop at the end of their shifts. "It's hard to compartmentalize — to leave work and just go about your life," Adriane says. "The pandemic affects us 24 hours a day."
Knowing they were never alone helped the sisters get through that challenging time. "Others may not be able to fully understand what I've experienced going through this, but I know for a fact that my sister has gone through the same exact thing," Adriane says. Both sisters, who have watched other medical professionals shoulder the burden alone, say they're grateful to have each other to lean on.
Lauren and Adriane made such a great team, in fact, that in January they started their own practice. The Grand Blanc residents now run a Commerce Township family medicine clinic called Michigan Primary Care and Rheumatology Associates, where they treat patients of all ages with a variety of conditions.
While they may have ended up in the same place, each twin says she fell in love with medicine on her own. "Of course, Adriane likes to say I copied her. But I think I came to the conclusion on my own," Lauren says.
Growing up with her sister in Huntington Woods, Lauren had initially hoped to follow in her parents' footsteps and become an attorney. But as she grew older, she found herself drawn more to her science classes, and by the end of her high school anatomy class, she was hooked. That's when she decided to pursue a career in medicine.
Adriane, on the other hand, had wanted to become a doctor since early childhood, thanks to her pediatrician, the late Dr. Gennaro Dimaso. "He was always able to come in and make you feel better," she says. "I looked at him as a superhero. I wanted to be just like him."
---
This story is featured in the July 2021 issue of Hour Detroit magazine. Read more stories in our digital edition. 
Facebook Comments