The idea for a tucked-away bar in his home was slowly bubbling in George Kordas' mind as his impressive collection of American whiskeys grew over the years. He and his wife, Annie, had lived at their Grosse Pointe Farms abode for more than a decade before deciding to make the idea a reality.
Annie, an interior designer and owner of Annie Kordas Interiors, asked, Why not turn a closet in the den into a hidden bar? She'd been wanting to turn their den into a library anyway, and give the reinvisioned space a more masculine feel.
"The main objective was to have a dark, dramatic, and cozy adult space for entertaining and enjoyment," she says. "It was to feel 'vibey,' like a speakeasy, and deeply contrast with the rest of the home, which is light and bright."
When it came to his wife's initial design suggestions, George wasn't exactly on board. "Frankly, I was pretty afraid of the library colors at first — black-on-black ceilings, black plaid — but it all came together," he says.
Annie went with a matte Benjamin Moore color called Onyx for the walls and a satin finish of the same shade on the trim. A high-gloss, black, textured wallpaper (Dolomite Performance from Schumacher) on the ceiling is the "ultimate nod to drama," Annie says.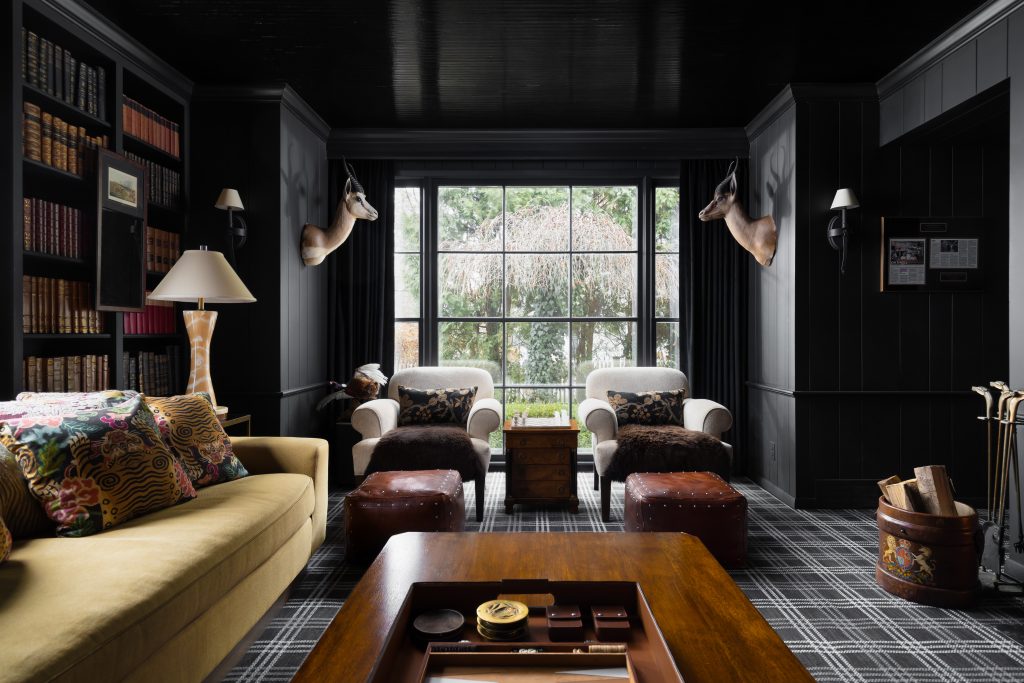 Couristan black-plaid carpet from rug store Ghiordes Knot and Schumacher black velvet drapes made by home-design studio Decoroom also enhance the space.
Annie's selections were inspired by restaurants and resorts the couple had visited over the years. "I wanted to etch out a space that would make us feel like we were on vacation," she says.
Some of the room's more intriguing adornments include a large, colorful painting of a buffalo by Idaho artist Jeff Weir; George and Annie thought it was the perfect piece of art, as George is a graduate of the University of Colorado, where the buffalo is the mascot. Also bedecking the walls are twin African springbok shoulder mounts. Meanwhile, a antique squash rackets that were sourced in England and restored by Annie are a nod to one of George's favorite sports.
The couple's book collection fills the library's shelves; George is especially fond of historical books, and they both love French history. "Meditations by Marcus Aurelius may be one of the best books ever written and is a must-read for someone aspiring to be a better leader," George says. Joining the books is a special antique brass-and-mahogany library ladder the couple found in an antiques shop in Sarasota, Florida.
Creating the aforementioned spot for George's vast whiskey collection was also a must, so a 50-square-foot closet within the library was turned into a stunning bar. George began collecting the spirit about 15 years ago, when a few of his friends brought back some rare selections from a trip to Kentucky. The pals gathered to taste the varieties, and before long, George started amassing his own collection of American-distilled whiskeys.
"The American category hadn't blossomed yet, so purchases were relatively inexpensive," George says, adding that whiskey got a popularity boost from the TV show Mad Men. "All of a sudden, everyone is drinking American whiskey."
His assemblage is a few hundred bottles strong, ranging from whiskeys brewed in the 1920s, during Prohibition, to rare present-day varieties.
The bar's walls feature a stunning watercolor wallpaper — Gray Marble from Black Crow Studios' Soft Watercolor Collection — while the countertop is a mitered Nero Marquina marble.
While the Kordases love to entertain, they enjoy their downtime and say their new special space is an ideal winter room. "George and I use the space as an escape from the rest of our home," Annie adds with a laugh. "With two daughters, 8 and 10, and three dogs, it's a perfect spot for cocktails and adult company, as well as to read, play backgammon, and of course, hold whiskey tastings."
"We get a fire going, post up," George says. "I'm not going to lie, Annie nailed it."
More Images from Inside the Kordas' Home
---
This story is from the February 2023 issue of Hour Detroit magazine. Read more in our digital edition.