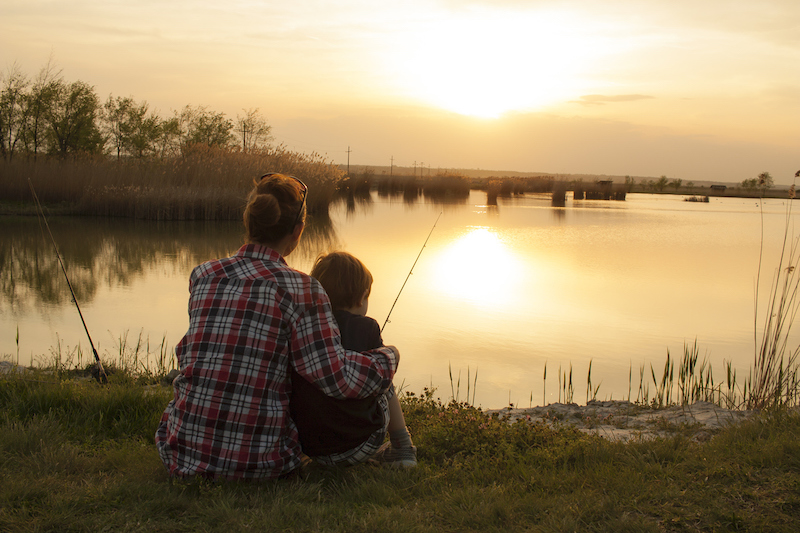 ---
COVID-19 UPDATE: With pretty much all of metro Detroit's nightlife, entertainment, and recreation options stuck in suspended animation, we're fortunate to have an abundance of natural beauty within easy reach. With that in mind, for this year's City Guide we've rounded up a number of great nearby places to bike, hike, fish — or just take in the view. Even outdoors, though, it's important to take precautions. In addition to the usual (wash your hands often and don't touch your face), the state Department of Natural Resources offers these guidelines: Go out only if you're healthy. Avoid long-distance travel. Keep 6 feet apart from people not from your household. If the parking lot at your destination is full, leave and choose someplace else. Be safe out there!
---
While metro Detroit rites of spring like Tigers baseball, camping, and golf are on pause, one timeless tradition continues — with some modifications. Casting a line into your favorite local fishing hole is allowed. The Michigan Department of Natural Resources reiterated as much in a newsletter on its website: "Fishing is one outdoor activity that can be done with proper social distancing — just make sure to remain 6 feet away from people outside of your household and be respectful of others," the letter states. "Also, keep it local. Extensive travel is allowed only for essential needs."
The DNR does not want to see several people crammed into boats, either, and promises to close any fishing area where social distancing is not being practiced. A valid Michigan fishing license is still required. For complete information, visit michigan.gov/dnr. 
Here is a look at five metro Detroit fishing hot spots:
Detroit River
Flowing for 32 miles between Lake St. Clair and Lake Erie, this metro Detroit fishing destination is best known for its legendary spring walleye run. An estimated 2.4 million walleyes move through the Detroit River from late March through May. Some weigh more than 10 pounds. The walleye run is followed by a white bass run featuring large schools of the fish. The Detroit River also boasts a solid reputation for muskies; smallmouth, rock, and silver bass; and yellow perch. There are many places to access the river, including Belle Isle State Park. Piers are located on the south side of the island west of the U.S. Coast Guard Station and the north side east of the Boat Club. Other access points include Lake Erie Metropark in Rockwood, Bishop Park (Wyandotte), Dingell Park (Ecorse), Belanger Park (River Rouge), and Elizabeth Park (Trenton).
Lake St. Clair
Coming in at No. 8 in Bassmaster Magazine's ranking of the nation's top 100 bass fishing lakes in 2019, the 430-square-mile Lake St. Clair is also famous for its muskies, walleye, yellow perch, pike, and giant channel catfish. A popular access point is Lake St. Clair Metropark in Harrison Township, which provides 1.5 miles of shoreline fishing. Other places to reach the lake are Harley Ensign Boat Launch in Harrison Township and a 500-foot pier at Brandenburg Park in Chesterfield Township. In all, there are 22 boat launches, six of which are DNR ramps.
Huron River
Originating in Oakland County and flowing 125 miles to Lake Erie, the Huron River is a designated Blue Ribbon smallmouth bass stream and premier fly-fishing location. Stretches of this metro Detroit fishing spot are known for steelhead, salmon, carp, largemouth bass, channel catfish, muskie, bullhead, bluegill, northern pike, and big panfish. For plenty of access to the river in one location, try Hudson Mills Metropark in Dexter or Lower Huron Metropark in Belleville. Argo Park near downtown Ann Arbor has an extended shoreline. A bit farther downstream, Gallup Park features fishing benches. Closer to Lake Erie, check out Huroc Park in Flat Rock.
Kensington Metropark
This park in Milford features the 1,200-acre Kent Lake and a stretch of the Huron River, along with many connecting tributaries. Many species of fish are reeled in here, including bluegill, northern pike, black crappie, yellow perch, largemouth and smallmouth bass, and walleye. There are four piers around the lake and plenty of places to fish from shore. At the park, there are also several shady and secluded locations to fish the Huron River.
Belleville Lake
This 1,270-acre body of water on the border of Wayne and Washtenaw counties is fished mostly for its crappie and largemouth bass. Catfish, some around 2 feet long, are commonly reeled in, along with bullhead, carp, muskies, northern pike, smallmouth bass, sucker, sunfish, walleye (north end), and yellow perch. Shore fishing can be done at French Landing Park or on a pier near the dam at the east end of the lake. Public boat access sites are on Huron River Drive, 1 mile west of Haggerty Road, and on Rawsonville Road, 0.5 miles south of I-94. 
Facebook Comments