Though his impressive interior design endeavors have graced the pages of national shelter magazines and been featured on HGTV, this is the first glimpse inside the stylish bachelor pad of Corey Damen Jenkins, principal and CEO of Corey Damen Jenkins & Associates who is known for his bold use of pattern and color. Under 2,000 square feet, his Bloomfield Hills condo may be modest in scale, but it delivers plenty of deluxe touches with his impeccable eye for detail.
Describing his interiors as a "fresh continental mix of elegance" as well as "modernity," the designer is inspired by his extensive travels, such as a recent trip he took to Mexico. "I fell in love with the cobblestone streets and the architecture in Puerto Vallarta," Jenkins says. "Different continents and cultures really influence my work. I have clients from all over the world who bring with them their own culture and styles. I don't have a one-note design formula; it's a tailor-made design experience."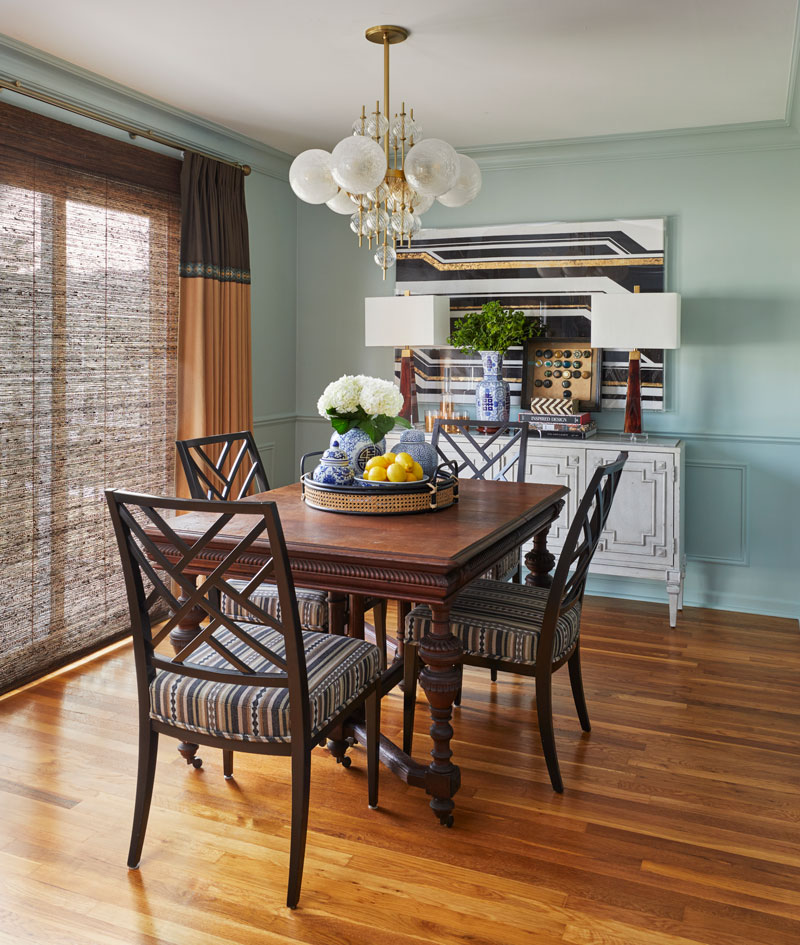 That's why no two projects are alike, whether it's the historic home in Bloomfield Hills that appeared in Traditional Home or a new-build in Franklin that made the cover of the same publication. Current projects include a historic townhouse in Toronto, an early 1900s residence in Summit, New Jersey and a 12,000-square-foot dwelling in New Canaan, Connecticut.
Maintaining his original office in Birmingham, the interior and product designer recently added a second location in New York City's Flatiron District. In addition to his design work, Jenkins has a furniture collection with Leathercraft and a lighting line with Hudson Valley Lighting. 
During his downtime, which is rare, Jenkins enjoys listening to a wide variety of music, from classic rock to Motown, R&B, and more."When I read a book or sketch and draw, there's always something playing in the background," he says. 
I don't have a one-note design formula; it's a tailor-made design experience.

-Corey Damen Jenkins
A consummate host frequently opens his handsome home to others. "I have friends over pretty regularly on the weekends for tea or brunch. I don't have a lot of time to cook because I do a lot of business travel, but I want to show my guests the very best time possible," says the designer who has a Marvel movie marathon in the works. He also occasionally welcomes an overnight guest. "I have friends from all over the country come to stay and many are visiting metro Detroit for the first time," Jenkins says of his visitors. "I like to take them to Campus Martius or Belle Isle and give them a more educated and enhanced view of our city. Detroit is really hip and it's an up-and-coming city again."
Inside his stylish home, the designer aims to create a perfectly imperfect aesthetic. "I don't want friends to feel like it's a museum. It's not a traditional man cave, but it's not fancy and over the top. It's very relatable and understated," Jenkins says. He's not afraid to push the decor envelope by injecting a wink and a nod to past traditions. "You can take it in a different direction that's unexpected. You have to be fearless," he says. "It can still be traditional, but be forward and modern thinking. Traditional can be youthful, fresh, and funky." His personal space is all of the above with pale blue walls in the main areas like the dining room, where an aged brass fixture, the Calypso Chandelier from his Hudson Valley Lighting collection, hangs above a 1940s carved table from Belgium. As Jenkins explains, the geometric art makes the room seem wider with its horizontal stripes. "Artwork can be a bit more modern when you have traditional pieces," he says. 
The living room continues the effortless blend of old and new. A brass coffee table with a smoked glass top and a pair of Italian chairs adorned with dog head finials are from Judy Frankel Antiques in Troy. A funky Kravet fabric puts a fresh spin on the classic seating while the custom rug from Stark is cozy and understated like a nice wool sweater, the designer says. In his highly capable hands, these seemingly disparate pieces play well together. "I love pattern on pattern, but you have to be careful," he says. "I didn't want people to walk into the house and have vertigo." 
Other key components include a green velvet sofa piped in leather and a wing chair from his line with Leathercraft covered in a Lee Jofa fabric with a bohemian feel. "With honey, blue, white, olive, chocolate, and black, the chair fabric sums up all the colors in the room. It's the tie that binds the whole design," Jenkins says. In fact, the fabric was the starting point for his living room, as Jenkins often approaches a project with a multilayered color or pattern. "When designing a room, you're basically creating music with all the different players in that orchestra," he says. "You're laying it out and tuning the room to make a good sound together. When everything sings in a harmonious way, that's when you know you have a great space."