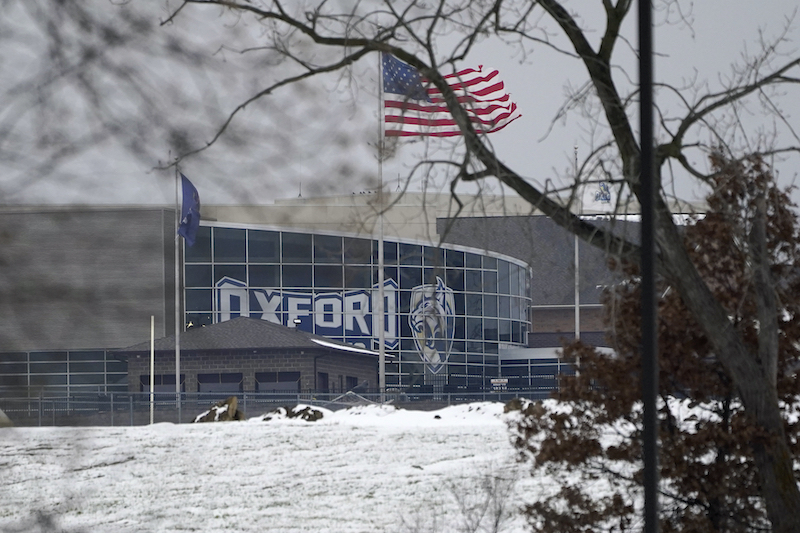 On Nov. 30, Oxford High School went into lockdown when an active shooter situation broke out at the school. Police, and other emergency services, arrived on the scene and removed a loaded pistol from a 15-year-old student and took him into custody. According to the Oakland County Sheriff's Office, four students have died — 14-year-old Hana St. Julian, 16-year-old Tate Myer, 17-year-old Madisyn Baldwin, and 17-year-old Justin Shilling — and others have suffered gunshot wounds.
"My heart breaks for the students, teachers, staff, and families of Oxford High School," said Gov. Gretchen Whitmer in a statement released the day of the shooting. "The death of multiple students and the shooting of many others, including a teacher, is horrific. I want to thank the first responders on the ground working hard to keep people safe as law enforcement officials investigate this shooting and get the community the help it needs right now. Our state is in mourning alongside the parents who had their children taken from them today and the entire community in Oxford."
The suspected gunman is being charged with terrorism, first-degree murder, and more.
Below, we've compiled ways to support the Oxford High School community during this time. We'll update the story as more information becomes available. Please email editorial@hourdetroit.com if you know of any other ways to help.
GoFundMe Fundraisers
Crowdfunding platform GoFundMe has created a page dedicated to supporting those affected by the Oxford High School Shooting. The page includes the Oxford Strong GoFundMe started by Grand Blanc resident Laura Ferguson, the Madisyn Baldwin GoFundMe started by Baldwin's grandmother Jennifer Graves Mosqueda, the Justin Shilling Memorial Fund GoFundMe that was started by Shilling's uncle, Kevin Shilling, and other verified fundraisers. Visit gofundme.com to donate. 
Communicate with Authorities
During a press conference on Nov. 30, Oakland County Sheriff Michael Bouchard stressed the importance of sharing information with authorities. "We're also hearing that there were rumors that somebody had heard or said something or knew something in advance," he said. "None of that came to us prior to today. If we find out there was information, that's exactly the kind of thing we need to get and get looped into." Bouchard says anybody with knowledge about the case or anything else that seems important or relevant, can call 248-858-4911 or email ocso@oakgov.com.
Prayer Vigil
The Oxford Downtown Development Authority will hold a prayer vigil in downtown Oxford at 7 p.m. on Dec. 3. "There are no words to describe today or the hurt we feel for the students and families in our community," reads a post on the Downtown Oxford – DDA Facebook page. "We will pray over these families, our community, and light the tree in their honor." The location will be announced at a later date. Visit facebook.com/downtownoxford for more details.
Tate Myre Stadium Petition  
A petition on Change.org calls for Oxford High School's Wildcat Stadium to be renamed the Tate Myre Stadium. Myre was a star athlete on the high school's football team. "It is with great grief that one of the victims of the tragic event at OHS today was one of our own, Tate Myre," the Oxford Football Twitter account posted. "Tate was on varsity since his freshman year and was an honor student. Tate was a great young man with a bright future and beloved by all. You will be missed, Tate." Visit change.org to sign the petition.
OHS Library and Performing Arts Center Petition
Following the lead of the stadium petition, another petition on Change.org calls for the Oxford High School Library to be renamed the Hana St. Juliana Library and the school's Performing Arts Center to be renamed the Madisyn Baldwin Performing Arts Center.
Visit change.org to sign the petition.
Oxford Strong Apparel
The Oxford Wildcat Booster Club is selling Oxford Strong apparel for adults and kids. All proceeds will be donated to the club's relief fund, which benefits those impacted by the Oxford High School shooting. Orders must be placed by Dec. 5. Visit oxford strong.itemorder.com to shop.
Oxford Community Memorial and Victims Fund
Oxford Bank, Oxford Community Schools, and the Oxford DDA have organized this fund to accept donations for families and the local community. Donations may be made in person at any Oxford Bank location or via mail. An online option will be available soon. Visit oxfordbank.com for more information.
Candlelight Vigil for Oxford – Canterbury Village 
At 7 p.m. on Dec. 6, gather at Canterbury Village, located at 2325 Joslyn Ct. in Lake Orion, for a candlelight vigil. Visit facebook.com for more information.
Candlelight Vigil for Oxford – St. Paul's United Methodist Church-Rochester
St. Paul's United Methodist Church-Rochester, located at 620 Romeo St. in Rochester, is holding a candlelight vigil for the Oxford community at 6 p.m. on Dec. 5. Stephen Ministers will be available for anyone who who would like support. Visit facebook.com for more information.
Sanctuary Services Trauma Therapists Donations
Nonprofit mental health organization Sanctuary Services is accepting donations to provide trauma therapy to those impacted by the shooting. Visit sanctuaryservices.org to donate.
A Concert For You with Martha Reeves

 
Motown legend Martha Reeves will perform in an intimate benefit concert at 7 p.m. on Dec. 3 at the First Congregational Church, located at 33 E. Forest Ave. in Detroit. Tee Turner of The Miracles and R&B singer Emmanuelle Jacob will also perform. Tickets are $25 at the door and Reeves will donate the money to families affected by the Oxford High School shooting. 
Vigil for Oxford in Downtown Ortonville

 
At 6:45 on Dec. 3, gather at the corner of Mill and South Streets for a vigil in downtown Ortonville. The Ortonville United Methodist Church, located at 93 N. Church St., will be open to the public from 7:30 p.m. to 9 p.m. for those looking for space to grieve and reflect. Visit facebook.com for more information. 
Signarama Detroit – Oxford

Strong Signs and Stickers 
Signarama Detroit in Troy is printing Oxford Strong yard signs and bumper stickers and passing them out to people who wish to show their support for the Oxford High School community. You can pick up the items directly from Signarama's Troy facility, or check the Facebook page for details on where Bob and Melissa Chapa, the Signarama owners and Oxford residents, will be handing out the items. Signarama is also collecting donations to support the families who have been impacted by the tragedy. Visit facebook.com for more information. 
3 Heart Strings Bracelets

 
Show your support while giving back with OHS bracelets from 3 Heart Strings, a Parkland, Florida-based nonprofit that's also made bracelets to support the Marjory Stoneman Douglas High School students, healthcare professionals working the COVID-19 frontline, and more. All of the proceeds from the sales of the bracelets will go to the Oxford High School community. Visit 3heartstrings.com to shop. 
RO for Oxford Candlelight Vigil
At 6 p.m. on Dec. 4, meet at the football field of Royal Oak Middle School (formerly known as Dondero), at 709 N. Washington Ave. in Royal Oak, for a vigil for families and parents of the Oxford High School shooting victims, two of whom are alumni of Dondero.