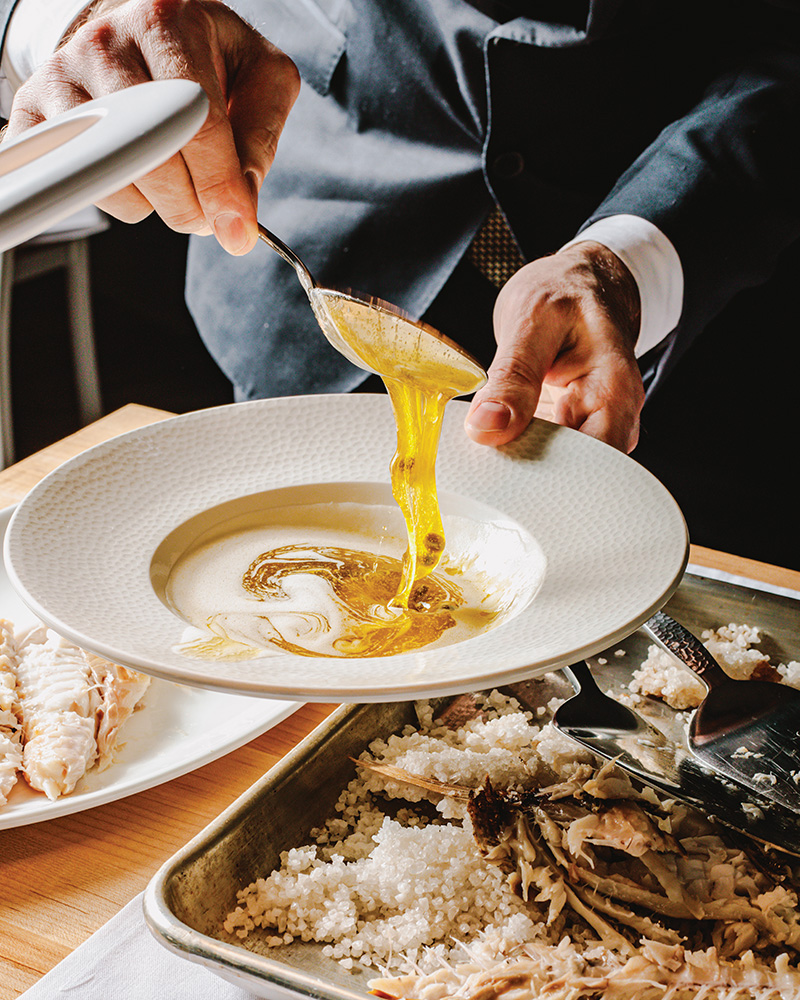 At Mare Mediterranean in Birmingham, you'll be greeted by a video wall playing scenes of people dancing underwater. While sitting at your table, you'll be distracted by the people who appear to be regulars filling the loud and lively dining room. You'll strain at times to hear your companions over pulsating electronic music that seems more fitting for the club than a restaurant, but it adds to the buzz and energy in the room." The server will invite you to peruse the market to pick your dinner. After a quick and informative rundown of where all the seafood came from and what they ate, you'll pick a white sea bream baked in salt. It'll take 45 minutes, so while you wait, you'll sip on a green negroni and initially wonder if they brought you a rocks glass of absinthe instead, but the trademark bitterness lets you know that you were not led astray. You'll see other tables get served their fish, phones capturing every moment, and you can't help but watch. Then your salt-baked fish arrives, and it's your fellow diners' turn to gawk. And after nearly two years of mostly takeout and home cooking, you'll probably be enjoying yourself and feel like you are being served with care and attention — and fed extremely well.
In Sicily, you'll see restaurants with big fish markets boasting that day's catch from the Mediterranean. You'll pore over the offerings, pick what you want, and have it cooked the way you want. That's the vision Nino Cutraro had for several years: to bring a restaurant like the ones from his native Sicily to his adopted home of Michigan.
"I was discouraged by a lot of people," Cutraro says. "They thought this concept would probably not work in the Midwest [because] Midwest [diners prefer] meat and potatoes. But I disagree. We have so many people here from all over the world — from Europe, Greece, Italy, the Middle East — [who would appreciate this concept]. I was very positive."
He and his partner, Feldman Automotive Group CEO Jay Feldman, brought that vision to life this past fall with the opening of Mare in the former Cameron's Steakhouse location. A glitzy and polished space beautifully clad in crisp white linens and a serene color palette that evokes the sea, the renovated 6,800-square-foot restaurant is the type of place to see and be seen. That's not surprising for a restaurant owned by Cutraro, whose Bella Piatti, also in Birmingham, often hosts celebrities (Mark Wahlberg was a frequent customer while he was making Transformers: The Last Knight), professional athletes, and film crews.
The menu highlights fish — shipped fresh on dry ice from the Mediterranean three times a week — with Greek, Italian, and Spanish flavor profiles, alongside several pastas and meat entrees. Cutraro developed the menu with his wife as well as General Manager Vladimiro Speranza. But the big draw, the heart of the restaurant, is the fish market, where fresh fish is extravagantly displayed on ice (Cutraro says he expected maybe half the people to select their fish at the market — but nearly every diner does). The servers will walk you through the day's offerings and offer suggestions on the best fish for your party and the ideal cooking method. There are four methods to choose from: acqua pazza (baked in white wine, fennel, onion, capers, tomato, and fingerling potatoes), grilled, pan fried, or salt baked (a technique that entails surrounding the fish completely with salt, creating a salt shell that traps and absorbs moisture during cooking, which ensures maximum flavor and even cooking). No matter the preparation we selected, the constant was that the fish was cooked with respect and simplicity.
On the first evening, our server, Chrissy, walked us through the array of fish on display. She had picked out two fish for us, Dover sole and dorado. She described the latter as the "princess of the sea," a rich, buttery, and flavorful fish. On another evening, my dining companion and I went with a Spanish sea bream baked in salt. The fish, which is of the highest quality and treated with care, is not interchanged here, with a branzino or Dover sole swapped in when the market dictates. The fish is reverently prepared, with the distinct flavor of each fish gently coaxed out and accentuated, still tasting of the sea.
The fish is selected first, so while you wait, your other dishes are brought to the table at perfect intervals. We tried the branzino crudo, which intrigued us in a world full of salmon and tuna tartares. While I would've personally preferred fewer white beans so as not to take away from the fresh and vibrant fish, the beauty and simplicity of the branzino shined through, minimally dressed with just a whisper of a vinaigrette to emphasize the flavor. We followed it up with two Greek starters, the Mare Tower and moussaka. Both were meticulously and impeccably done, the Mare Tower layering thin, crisp sheets of eggplant and zucchini with flavorful kasseri cheese and a zippy tzatziki. The moussaka, a traditional Greek comfort food, was reimagined and refined with a spicy pomodoro sauce hugging cubes of eggplant. On another evening, my husband and I tried the shrimp saganaki. Sweet and tender crustaceans were generously dressed in white wine and tomato sauce and topped with feta cheese. These dishes were standouts and some of my favorites at Mare.
The fish was presented tableside on a cart, so hot that wisps of steam were still rising from it. The pageantry of the presentation was a feast for the eyes before the actual feast. The grilled and salt-baked preparations treated the fish with tenderness, with the addition of only olive oil, capers, and lemon spooned on top. Sides like mushrooms roasted to umami bliss and caramelized fennel with tzatziki sauce enhanced the entrees. 
The cocktail list offers familiar-sounding drinks with a twist, such as the Mare Negroni. When my negroni showed up, I thought they had given me the wrong drink because it was a mutagen green, but instead of Campari, Mare's version uses P31 Green Aperitif, which gives it that verdant hue. P31 is an Italian green aperitif created from the infusion of more than 20 aromatic herbs. It still tasted like a classic negroni, potent and bitter, but with added depth from the P31's notes of cloves and ginger.
What sets Mare apart is the practiced and thoughtful service. The servers are charming and knowledgeable (not to mention quite adept at breaking down a whole fish quickly in front of an audience). Cutraro says he brought several employees from Bella Piatti, including the sommelier, Jimmy Schulz, who expertly intuited exactly the type of wine we were looking for even though we couldn't quite articulate it, offering only vague descriptors. After we told him our preference for red despite conventional wisdom that says you must drink white with fish, he brought us a bold and fruity Sicilian Nero d'Avola, "a Pinot Noir on steroids." We didn't even have to look at the list. Tell Jimmy what type of wine you want and your price point and he'll come back with the perfect bottle. Speranza, who Cutraro recruited from renowned seafood restaurant Estiatorio Milos in Miami, came by several times to check on us (he is a frequent presence in the dining room, plating up pasta or breaking down fish tableside).
The former New York Times restaurant critic and food writer Ruth Reichl once wrote, "Going out to eat used to be like going to the opera; today, it is more like going to the movies." Mare goes big with everything it does. It's bold, it's loud, it's extravagant. It may not be for everyone, but neither is the opera. If you prefer La Traviata to The Batman, you'll find a lot to like at Mare. 
Mare Mediterranean, 115 Willits St., Birmingham; 248-940-5525; maremediterranean.com; D Tues.-Sat.
---
This story is from the May 2022 issue of Hour Detroit. Read more stories in our digital edition.