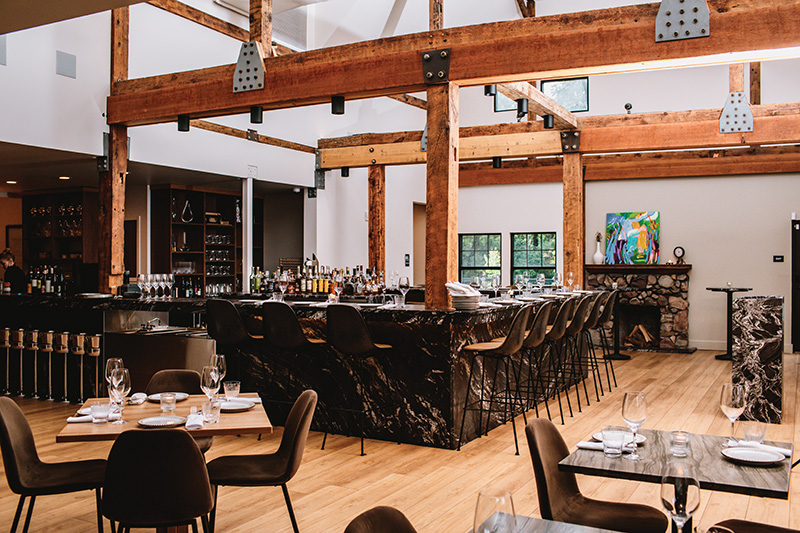 Upon completion, The Dixboro Project is poised to be far more than a restaurant. When it's finished, the project set on nearly 7 acres of woodlands in Dixboro, a village just outside of Ann Arbor, will consist of not one but three eateries, and a full site restoration plan makes way for picnic areas, recreation sites, and a playscape for children. 
In the meantime, The Dixboro Project is building momentum with masterfully crafted dishes — one restaurant at a time.
Food offerings at The Dixboro Project crescendo in level of service and price point, beginning with the debut of The Boro To Go, the project's all-day takeout cafe, which opened this spring. Beginning as early as 7 a.m. any day of the week, customers are welcome to order from the casual eatery's carryout menu, featuring a range of seasonal lattes and morning pastries from its bakery. Breakfast staples are elevated with untraditional ingredients. A breakfast sandwich, for example, serves a frittata topped with spicy fresh arugula on a crispy baguette, and a yogurt parfait laminates dense Greek yogurt with smoked maple syrup. 
For lunch or dinner at The Boro To Go, diners, who have the option to enjoy their meals at home or overlooking Fleming Creek from the project's outdoor seating area, can choose among light salads and charcuterie or whole pizzas baked in the wood-fired oven. Simple ingredients top a thin, chewy crust with charred, bubbled edges. Vegetarian guests have the option of a classic Margherita pizza sizzling with fresh mozzarella and blistered tomatoes; a garlic pie dotted with tender garlic cloves and briny Castelvetrano olives; or a mushroom variety oozing with smoked gouda fondue. Those partial to meat toppings are in for a plethora of pork options. There's pepperoni, prosciutto, sausage, and a capocollo-smoked ham mix paired with chunks of juicy pineapple for a sweet-salty blend.
There are also desserts, but carryout cocktails are noteworthy treats in their own right. Crafted in partnership with Glyph, the locally distilled spirit whiskey brand, each glass bottle serves up to four and features a blend of juices, bitters, light syrups, and herbs. The Mezcal Paloma, a crowd favorite, stars Gem & Bolt mezcal punched up with bright pomegranate, cranberry, and lime juices and agave nectar for notes of smoke and citrus.
For the next progression at The Dixboro Project comes The Boro Dining Room and Bar. A step up from The Boro To Go, the contemporary casual restaurant that opened late this summer is set inside the property's historic 19th-century refurbished barn. At the entrance, guests are greeted by an expansive raw granite bar, where bartenders sling craft cocktails, American beers, and fine wine by the bottle or glass. Vaulted ceilings lined with exposed wooden beams create graphic lines that hover over diners as they spoon puddles of sweet and spicy pear and jalapeño vinegar mignonette onto plump oysters and share plates of charred prawns served on beds of griddled turnip rounds.
Much like the restaurant's ambience, the cuisine at The Boro is both refined and relaxed. While decor is minimal, placing the architectural beauty of the space on full display, the husband-and-wife duo heading up the kitchen draw on years of fine-dining experience to present an elaborate menu. The project's chef and partner, Louis Maldonado, and pastry and bakery program lead Annemarie Maldonado leverage skills learned in some of the most acclaimed restaurants in the country. 
Louis, the culinary wunderkind who earned his first Michelin star at San Francisco's Cortez at just 26, has a star-studded resume with roles at Aziza, Mourad, and The French Laundry. Use of artful presentations, balanced textures, and rich flavors appears to be among the chef's greatest strengths. A tomato salad is plated in the shape of a half-moon as if boasting a beaming smile. A medley of tomato varieties — some charred, some blistered, others raw — is served on a bed of creamy whipped yogurt and garnished with shredded basil. Toasted peppercorns add a crunch without the usual kick of raw peppercorns, lending a nutty element.
The Grilled Bone-In Pork Loin typifies the Dixboro vibe. In flavor, the pork is reminiscent of a slab of tender brisket at a family barbecue. The loin is sweetened with a smattering of St. Louis-style barbecue glaze. In presentation and accoutrements, though, the dish is worthy of white-tablecloth status. I encouraged my dinner companions to dip into the four buttery dollops of parsnip puree on my plate, which were likely intended to be swiped with slices of pork but instead were polished off one by one with the side of my fork. Rolls of prosciutto-wrapped leeks added another element to a crispy-creamy compilation. 
Savory sides, such as silky cipollini onions tossed in a marsala and smoked foie gras sauce and mustard seeds, offer small bites with big flavors, while pillowy potato puffs stand in for standard fries.
An alum of Mourad and The French Laundry as well, and having had a stint at Tartine Bakery, a global bakery chain, Annemarie brings an upscale perspective to the restaurant's pastry program. She deconstructs a classic Paris-Brest, sandwiching the choux pastry with caramelized banana mousse, and garnishes the dish with sticky caramel, slices of flambeed bananas, and chopped hazelnuts and pralines. The Creme Caramel, much like a creme brulee, is cloaked in layers of shaved truffles and
sits in a bowl of pear consomme. 
The fever pitch of The Dixboro Project eateries is still in progress. When the fine-dining establishment opens its doors — the glass doors at the edge of the dining room in The Boro, to be precise — the Maldonados will introduce diners to the highest level of dining at the restaurant complex. At Dixboro House, situated at the far end of the airy barn, white linens will be draped across tables for intimate dinners overlooking the lush greenery of the woods. 
In the meantime, the Maldonados and The Dixboro Project owner and beloved Ann Arbor restaurateur Sava Farah are hosting an ongoing soft-opening dinner series, featuring an opulent five-course menu of delicacies, meats of the finest cuts, and a parade of desserts.
At The Dixboro Project, it's easy to appreciate all that the existing restaurants are — but even more thrilling to anticipate all that is to come.
---
Into the Woods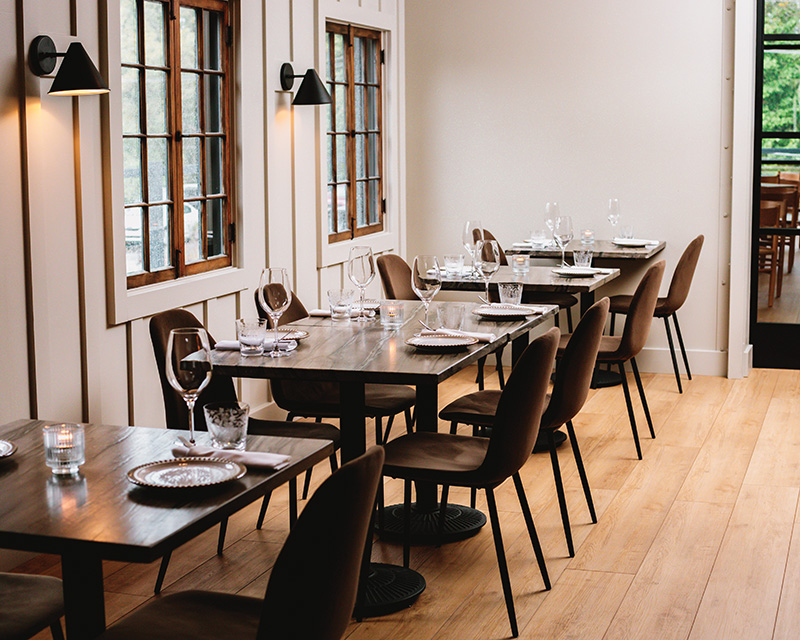 As an accomplished restaurateur, Sava Farah has long been committed to culinary excellence in Ann Arbor. With The Dixboro Project, Farah looks beyond the food and joins an effort to revitalize a bordering city and its natural species. Farah's newly minted hospitality venture, The Pulpo Group — which operates Farah's existing restaurant endeavors, Sava's, Aventura, and most recently The Dixboro Project — has partnered with the Huron River Watershed Council to develop a plan to restore and preserve the natural elements surrounding the restaurant complex.
Intended to be executed in phases over the next five years, the plans include maintaining sections of Fleming Creek by removing invasive plants, cultivating native vegetation in the woodlands and along the water's edge, and implementing rain gardens in compliance with responsible storm-water runoff practices. This commitment to sustainability and natural preservation is an extension of the work Farah has done to restore the century-old barn at the project's site, continuing its legacy as a trusted eatery for the neighbors of Dixboro — the site was once home to The Lord Fox, Roger Monk's, and The Farm Cupboard, all beloved restaurants in the village of Dixboro.  
The Dixboro Project, 5400 Plymouth Road, Ann Arbor; 734-669-3310; theborotogo.com
---
This story is featured in the November 2021 issue of Hour Detroit magazine. Read more stories in our digital edition.