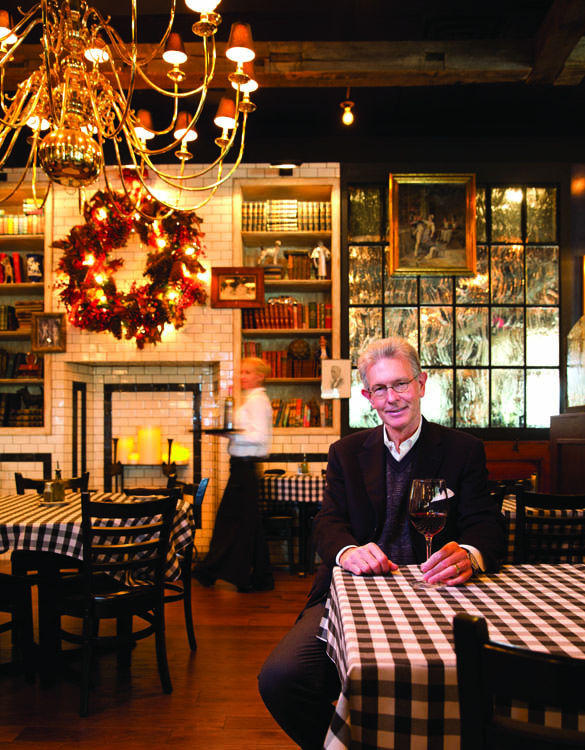 Few industries are as competitive as hospitality. From sub shops and pizza parlors to pop-ups, food trucks, and luxury dining, serving the public what they want, how they want it, and where they want it is a moving target.
William Roberts consistently hits the bull's-eye. The proprietor of the Roberts Restaurant Group — known to loyal guests and long-term employees as Bill — now presides over a collection of six restaurants.
There's no real secret to his success. The operating philosophy is to keep asking questions — including "are we trying too hard?" — and to focus on hospitality. It's a formula that's worked for more than 30 years.
To Roberts, hospitality isn't that complicated. "Hospitality is free," he says. "Our primary goal is to gain and sustain the loyalty of guests. Our restaurants are places where people socialize and spend time. We're a place where people can go and feel welcomed, get really good food and drink, and be served by folks who enjoy being of service."
Roberts learned that lesson early. After graduating in 1973 from The School of Hospitality Business at Michigan State University, he was mentored by Harris O. Machus, owner of the Machus group of restaurants (renowned mostly for the Red Fox, where Jimmy Hoffa was last seen alive). "Mr. Machus taught me that, in the restaurant business, you're only as good as your last meal. The guest is the reason we're in business," he says.
Roberts first worked at Machus' Sly Fox. He then shifted gears, moving to the Pontiac Silverdome and becoming general manager. Operating the restaurant and catering operations for a decade, he polished his skills under Bill Morgan of Elias Brothers Restaurants.
In September 1983, Roberts bought Richard & Reiss, a 50-seat café in Birmingham. A few years later, he set his sights on an underperforming place in Beverly Hills. What is now The Beverly Hills Grill "used to be the Purple Palace. It was a great neighborhood location, and best of all, it had a liquor license!" recalls Roberts. "Ron Rea, who has designed all of our restaurants, worked his magic on the building."
Since 1988, the Beverly Hills Grill has been wowing the locals with contemporary takes on classic dishes.
Twelve years after purchasing Richard & Reiss, it was time for a change. The Roberts Restaurant Group transformed the café into Streetside Seafood. Earning the Wine Spectator Award of Excellence in 2014, this seafood lover's favorite is a Birmingham classic.
Town Tavern in downtown Royal Oak opened in 2007 as the third jewel in his crown.
The last three years have been busy. In 2012, Roberts and his team opened the Roadside B&G in the former Brandy's location on Telegraph Road. In 2013, they transformed a former retail space on the corner of Maple and Lahser roads into Cafe ML, his most eclectic venture. Open for dinner only, the restaurant focuses on healthy dishes with an international flair, using local, sustainable ingredients whenever possible.
More recently, Roberts returned, in a sense, to his roots — opening the eponymously named Bill's in 2014 on the site of the former Fox & Hounds restaurant. Yes, that same legendary Machus family landmark known as a gathering spot for the well heeled of Oakland County.
Honoring history, the decor includes fox accouterments. With lines of customers out the door since opening, Bill's may become Roberts' most popular place yet.
One element of Roberts' success is a philosophy that's truly "old school" in the best sense. "Most of our marketing is old-fashioned word-of-mouth advertising," he says. "It seems to work."
Another goal is to make sure each of the six restaurants carves out its own identity.
"We think of all of our locations as comfortable neighborhood spots that friends and neighbors hopefully recommend to each other," he says. "Each restaurant is unique, reflecting the neighborhood in which it's located. Ron Rea, who has designed all of them, has a knack for reflecting what our guests want."
Keeping loyal employees is also key. For example, Patrick Roettele started at Beverly Hills Grill 25 years ago. Now the group's corporate chef, he encourages each chef de cuisine to be creative at their specific location while keeping the quality and tone of Roberts' vision.
The group's controller, Ruth Jackson, has been with the company for 24 years. Carl Volk, director of operations, has logged in 12 years.
Roberts believes in promoting from within. Just ask Ashley Morse, general manager of Town Tavern. Morse started her hospitality career as a waitress when Town Tavern opened in 2007. "She has developed into a wonderful GM. She understands we want our team to treat our guests as they would treat friends coming to their home," Roberts says.
Roberts knows it's a fine balance between keeping a menu fresh and serving regular customers their favorite dishes.
As a rule, the Roberts Restaurant Group scrutinizes each menu biannually to reflect the changing season.
Three simple questions set the standard for dishes:
How does it look?
How does it taste?
Then that last hurdle: How does it cut?
If the dish isn't easy to cut with a knife and fork, it doesn't make it on the menu. "Thank goodness that whole tower of food fad is gone," Roberts says.
So what's next? Not launching restaurant No. 7 … at least for a while. "Our biggest challenge is finding the best people for the job," Roberts says. "We need to deepen our bench due to our recent expansion."
Facebook Comments