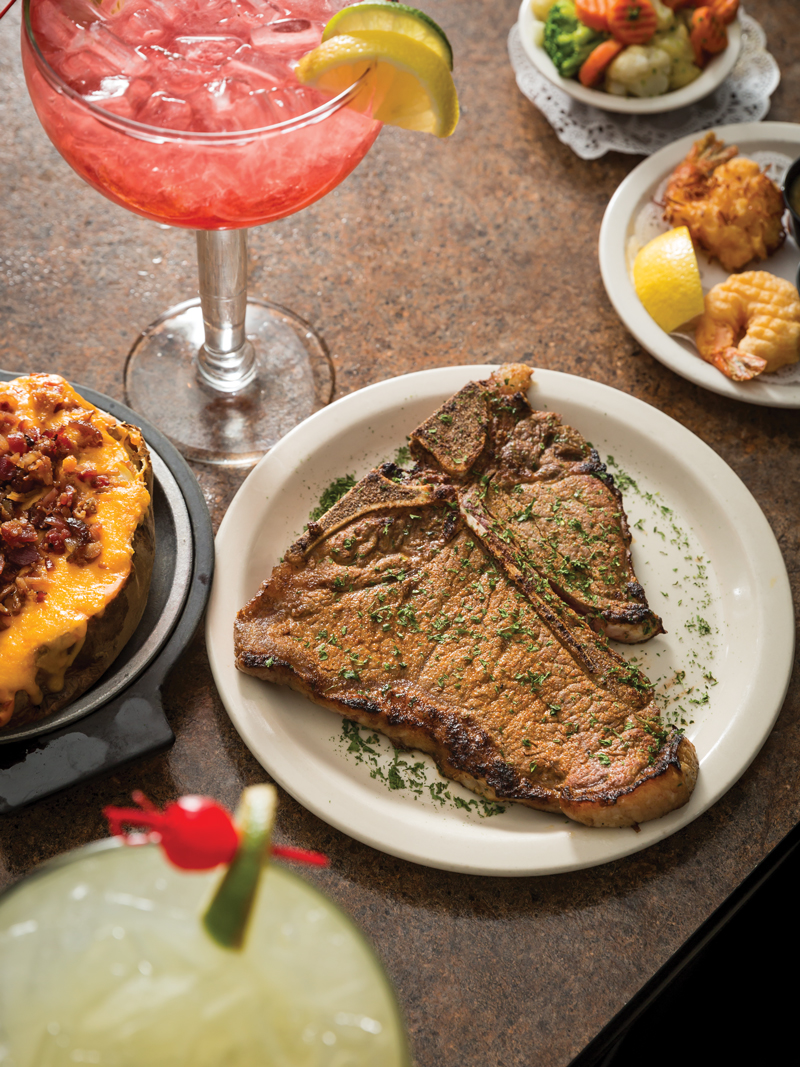 It's the type of place longtime Detroit natives describe like an old friend: "I know Capers!"
Admittedly, it took me a while to get there. But I immediately understood part of the mystique.
Capers is on Gratiot Avenue between Seven and Eight Mile roads in one of the city's most dangerous precincts. Still, by 6:30 p.m., a line of well over a dozen people leads out the door.
Once seated, I weed my way through the massive, two-sided, all a-la-carte menu. But I had to go with the house special: steak priced by the ounce, at market price.
Simply put, dinner was great. Our steaks came out juicy and perfectly seared; the massive potatoes were buttery and hot; our drinks were cheap and strong. I began to understand why the surrounding tables filled as quickly as they were bussed.
There's an air of mystery around Capers. Surrounded by used car lots and body shops, the steakhouse isn't just open, it's thriving.
New Detroiters, old Detroiters, out-of-towners. Everybody was at Capers.
Is it one of those lucky instances when a set of odd circumstances just worked out? Not really.
"I don't want to call [Capers] a mistake, but it wasn't something that was scheduled to happen," says owner Janina Parrott Jacobs.
Nearly 35 years ago, Jacobs and her husband managed income properties and purchased a failing bar named the Carpet Room Lounge. They had no prior restaurant experience. At 26, Jacobs had never even learned to cook. True to a "say yes to every invitation" way of life, they jumped at the opportunity.
The place had red shag carpet walls and a black ceiling. "It was sort of bordello-ish," Jacobs recalls.
They partnered with another couple who had restaurant experience, hoping to salvage the business. At first, Jacobs and her husband rarely visited the bar. But within six months, the other couple was gone. Their parting words: "You'll never make this work."
They made it work. "I learned to bartend, I learned to waitress. I learned to fix toilets. I learned everything," Jacobs says. "My husband was in the kitchen cooking and broiling."
Business was slow. In a last-ditch effort, they began selling Delmonico steaks by the ounce on Sundays. The gimmick helped get more people in the door, but a couple months later, a now defunct football team would change everything.
In July 1983, the Michigan Panthers faced the Philadelphia Stars in the United States Football League Championship. Before the game, a bartender nicknamed Peanut (who still works there), invited friends to the restaurant to watch the game and eat steak.
"From that point on, it just took off," Jacobs says.
Things were going well, but in August 1984, a fire destroyed the restaurant. No one was hurt, but all that remained were the exterior walls.
It would have been perfectly logical to throw in the towel. Instead, the couple reopened three months later with a new and improved interior and kitchen.
Capers succeeded because the couple made it succeed, adapting every step of the way. Even so, she rejects the idea that after three decades she knows the secret to success. "It's a changing business. It's changing times. It's changing appetites," she explains.
But there's something she does know for certain. "The one thing that has been consistent …  is we try to offer the best food, the best quality, at the lowest price we possibly can," she says.
At 95 cents an ounce, I'm sold.
---
14726 Gratiot Ave., Detroit; 313-527-2100. L & D Mon.-Sat., D Sun.
Facebook Comments