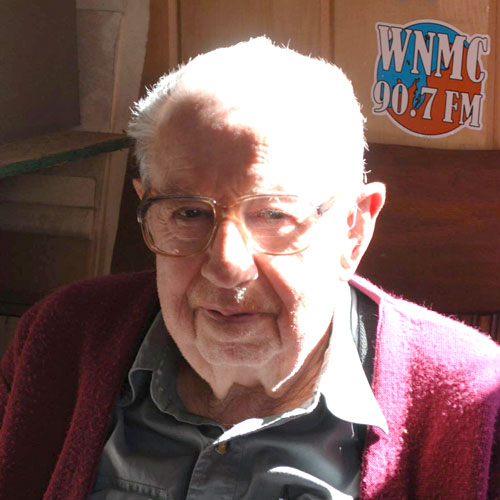 Founder and patriarch Bernie Rink's propensity to chase large tour buses from the parking lot is among his son Jim's favorite memories from Boskydel Vineyard's 40-plus years on the Leelanau Peninsula.
Now 90 years old, Bernie is known throughout the state as a quirky mix of blunt, old-fashioned, and — as the winery's website phrases it — curmudgeon. Heavy on the curmudgeon.
"He earned the nickname 'Wine Nazi,' " says Jim Rink. "It's like having a velvet Elvis painting: not for everyone, both terrifying and strangely comforting at the same time."
But Bernie Rink is a local legend for more than just his refusal to pander to tourists: He established Leelanau Peninsula's first commercial vineyards in the 1970s.
Now it's nearing the end of an era for Boskydel and the Rink family. In early July, a notice on their website stated that the Rinks felt they had "fulfilled our original purpose" and indicated that the winery and tasting room would close by Jan. 1, 2018.
"Like any small family agribusiness, the winery and vineyard require a lot of love and attention," says Jim Rink, who owns Boskydel Inc. with his father and four brothers and shares responsibility for the day-to-day operations with brother Andy. "The love is the easy part, but now that I'm older and starting to have grandkids, I find my attention increasingly divided. Time to pursue other interests. And — dare I say it — there's more to life than making wine."
Grape Pioneer
A few years ago, during a Leelanau Peninsula Wine Trail media event, Bernie Rink joked that he decided to plant vineyards because every time he and his wife sat next to each other on the couch, they ended up with another child. He needed to put his boys to work.
In seriousness, Jim Rink traces his father's interest in grape growing back to 1965, when Bernie was the library director at Northwestern Michigan College in Traverse City. Bernie came across the book #American Wines and Winemaking# by Phil Wagner, and the seed, so to speak, was planted.
Bernie informed his sons that he planned to get rid of a beloved baseball diamond to make way for a nursery. He eventually planted a single-acre test plot of French-American hybrid grape varieties, along with a handful of vinifera grapes. That gave the Rink boys plenty of work: chopping weeds, harvesting grapes, pruning, and other odd vineyard jobs.
In 1970, Bernie expanded the test plot to 16 acres of wine grapes, officially establishing northern Michigan's first commercial vineyard, according to Jim.
Construction began in 1975 on the winery itself — reportedly the first bonded wine cellar in Leelanau County. The tasting room followed in 1976.
Jim says Boskydel currently produces about 5,000-6,000 gallons of wine a year. It's 100 percent estate grown, which means it's all produced from grapes harvested from their own vineyards.
These days, they specialize exclusively in French-American hybrids like Vignoles, De Chaunac, and Frontenac that sell at anywhere from $8.75 to $12.75 per bottle.
Besides the wines and the prices, Bernie Rink's distinctive character and refreshing, forthright demeanor have kept many guests coming back for years.
On the website, the Rink family addresses and embraces Bernie's reputation as "slightly dour and/or intimidating," and attributes it to a desire to focus solely on his mission: "to bring good quality wines to ordinary people at reasonable cost." The small tasting room isn't designed for large groups, it notes, so pouring free samples for huge crowds not really in the market to buy doesn't align with that mission.
"In reality, he is an iconoclast who enjoys good wine and good conversation with like-minded individuals," the site reads. "Is he a curmudgeon? Yes, but at 90 years of age, who isn't? And do you really want the same old Stepford winemaker, proclaiming the virtues of his latest grand cru, or his magical feat of achieving secondary fermentation in the bottle? No, of course not."
Unforgettable Visits
As news of Boskydel's impending closure spread, so did Michigan wine lovers' fond memories of Bernie encounters.
Kirby Egolf still remembers the time he tried to buy a case of wine from Bernie.
"I took out my credit card, and he said, 'I don't know how to use the machine — just mail me a check,' " says the Kentwood, Mich., resident.
During another visit, Egolf realized hats had been added to Boskydel's retail offerings.
"I put one on the counter with my case of wine and Bernie looked at me and said, 'How much does that sign say the hat is?' " Egolf says. "And then he added, 'The hats are my son's idea … I don't sell hats, I sell wine!' "
Karla Ries of Ida, Mich., decided to stop at Boskydel after a guide book proclaimed it the most scenic winery around.
"So when we found it and walked in, Bernie gruffly asked, 'What do you want?' " she recalls. "We were charmed by this curmudgeon, and then by the wonderful wine and the outstanding prices. We never failed to visit to stock up since then."
KC Cooke of Illinois visits northern Michigan wine country regularly with her partner, Sue Crowell, and recalls their first visit to Boskydel.
"I love the personalized touch of the art and articles on the walls," Cooke says. "Bernie and his sons and fans of his wines understand that the wine speaks for itself. It isn't about how fancy the tasting room is, or how many buses can fit in the parking lot. The point is the taste, the aroma, and experience of enjoying the glass."
Margaret Pawloski of Dearborn says she and her husband "knew to take our time and not try to rush because Bernie would eventually start chatting.
"We learned a lot about chestnuts (grown on the property) and other horticultural tidbits at each visit," she says. "We would try to time it so Bernie would be in the tasting room, even if he was just 'supervising' his sons."
Julie Dean Wingett of Royal Oak visited Boskydel for the first time during a honeymoon wine tasting tour in 2006.
"The Soleil Blanc was one of our favorite finds," she says. "We also fondly recall the perhaps less-than-traditional tasting experience, in which we got some refreshing honesty from the winemaker as we sampled his wares. As I recall, one of his remarks was along the lines of, 'People up here only make sweet wines for the tourists.' "
Walt Bischoff of Muskegon remembers visiting Boskydel when it was the only winery on the Leelanau Peninsula — or anywhere in the Traverse City area, for that matter.
"That would have been the mid-to-late '70s, and (we) have been there almost yearly since," he says. "Our love for Michigan wine started at Boskydel."
While Boskydel's winery and tasting room are closing, Jim says vineyard operations will continue in hopes that another winery will lease the land.
"We would like to keep it in the family, remain part of the landscape," he says. "We are stewards of the land for as long as the land and the tax assessor will have us."
As for what's next, Jim says he and Andy have plenty to keep them busy. Andy will continue with his successful architecture business, Paperworks Studio, and volunteer work with Child and Family Services. Jim will continue as editor of the American Wine Society Wine Journal and as a volunteer helping local residents with disabilities.
As for Bernie, Jim says his father will finally just be enjoying the fruits of his labor in retirement.
What are your favorite memories of Boskydel? Comment below!
For more information on Boskydel, visit Boskydel.com.
---
Cortney Casey is a certified sommelier and co-founder of MichiganByTheBottle.com, a website and online community that promotes the entire Michigan wine industry. She's also co-owner of Michigan By The Bottle Tasting Room, tasting rooms operated in partnership with multiple Michigan wineries, located in Shelby Township, Royal Oak, and Auburn Hills. Contact her at cort@michiganbythebottle.com.