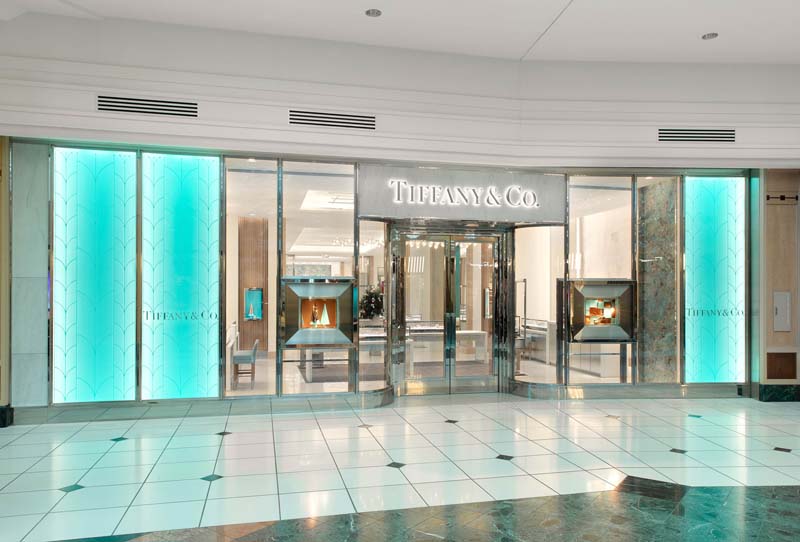 Somerset Collection just got a bit more glam. Earlier this month, Tiffany & Co. moved to a new 4,393-foot-square location in the Troy shopping center. The space features an elevated design and extensive customer service offerings.
The exterior of the shop, located on the main level of the south side of Somerset, is made up of a glass wall with a wheat leaf etching design and show windows. The interior features an open floor plan with built-in wall showcases, white marble and fluted mirror jewelry cases, and a wall inspired by the company's Blue Box design. A press release says the details are meant to "juxtapose the traditional with the modern."
Additionally, in a nod to the brand's connection with the Mitten State — both Tiffany & Co. and the state of Michigan were founded in 1837 — the shop features cityscape walls and a Shinola Tiffany Blue bicycle.
Guests can try on products and engrave wedding bands, tags, pendants, and home and accessory items at a Discovery Table and Personalization Counter, and gifts can be professionally packaged at the shop's Tiffany Blue Box wrapping station. Along with these services, the store also features a Love & Engagement salon, Home & Accessories salon, and a private sales salon with upholstered blush walls.
Like other Tiffany & Co. locations, the shop carries items such as timepieces, flatware, desk accessories, tableware, writing instruments, leather goods. And to commemorate its opening, the store is displaying the brand's latest jewelry collections and engagement rings. Tiffany & Co.'s Diamond Craft Journey initiative — which shares how a Tiffany diamond goes from mine to store — will also be highlighted in-store.
Previously, Tiffany & Co. operated a store in Somerset near Neiman Marcus that was designed with more traditional dark wood tones and wood paneling. When Tiffany & Co. had the opportunity to move to a more central location in the mall, brand officials say they used the opportunity to design a "dynamic" new retail space. The shopping center continues to serve as the home for the brand's only Michigan location.
For more information, visit tiffany.com.
Facebook Comments