In a garage-turned-gym in a Taylor neighborhood, the champ is getting ready.
Hadi Al-Mashhadi, 14, is preparing for a boxing tournament in Texas, where he's competing for the national title. He is not nervous, he says — he's been fighting since he was 8 years old, and he's been working hard. He feels good. Besides, if he wins, it's not exactly anything new. On the wall of the gym are the belts and medals from his previous national titles — six in all.
If he wins a seventh, though, it will be different. At 14, Hadi is now eligible to make the Junior Olympic team and fight with Team USA.
The gym sits behind his family's house. From the outside, it looks like a detached garage, but on the inside, it is a boxing haven. Hadi trains at Hype Athletics in Dearborn Heights, as well with his team, Darkside Boxing. But this is the family gym. This is where the family tradition continues.
"Boxing has just been something that's just … it's in our blood," Hadi's father, Hamed Al-Mashhadi, says.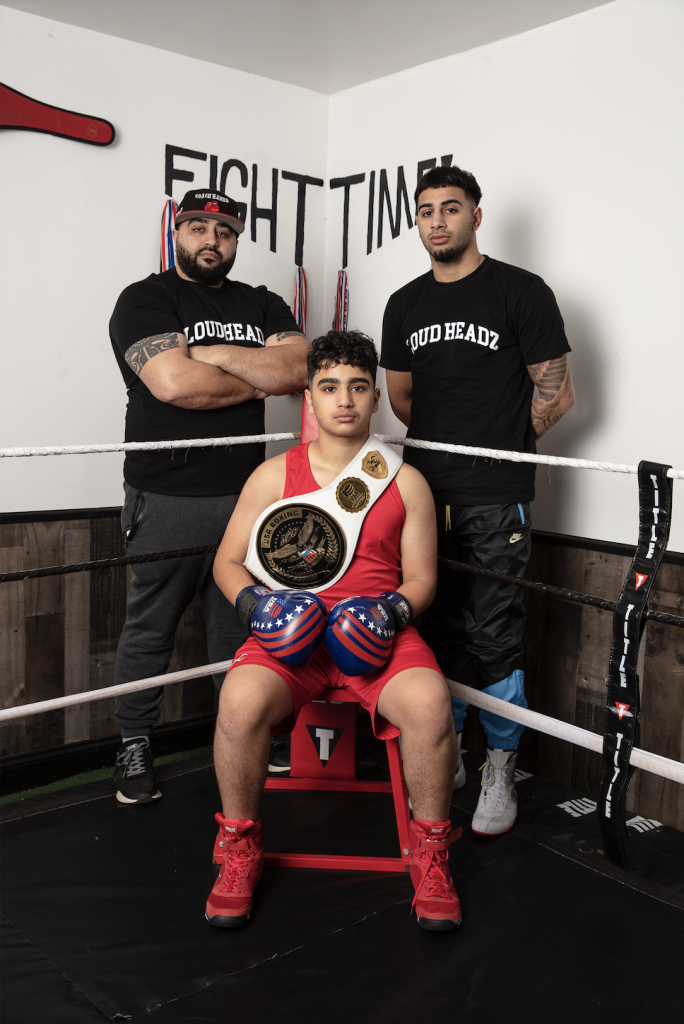 Hamed, 35, moved to the U.S. with his family from Iraq in 1995. In Iraq, his father taught him and his siblings (he is one of five boys) to box. They brought it with them to their new home country.
Hadi trains most often with his uncle Husam, a 20-year-old undefeated professional boxer. The two are built differently: The younger Hadi fights at 170 pounds but looks like he weighs 150 — maybe less. His uncle fights welterweight, at 147, but looks as though he outweighs Hadi by at least 20 pounds. Husam is a head taller and has a long, almost lanky reach that he uses to his advantage in the ring.
Despite their physical differences, they have similar boxing styles. They're both southpaws (they fight left-handed) and have a strong defensive style. Hamed says he taught them first not to get hit — and when their opponent does miss, to always come back with something.
Out in the backyard gym, they lace up their shoes, getting ready to step into the ring that takes up most of the space. The rest is occupied by exercise equipment — a treadmill, punching bags. The walls are adorned with belts, medals, and a poster from one of Husam's fights. The words "Olympic Boxing" are painted over a silhouette of the Olympic torch and rings opposite a painting of Mike Tyson along with one of his quotes: "In order to succeed greatly, you have to be prepared to fail greatly. If you can't do both of them, you've got a problem."
He started competing that year and was successful, loving not only the competition but also the attention that comes from boxing. As a kid, he invented a trademark prefight move they call the slingshot, winding his arm three times like a windmill before kneeling down and bringing his elbow back, cha-ching style. It's a move he still does today, alongside other theatrics.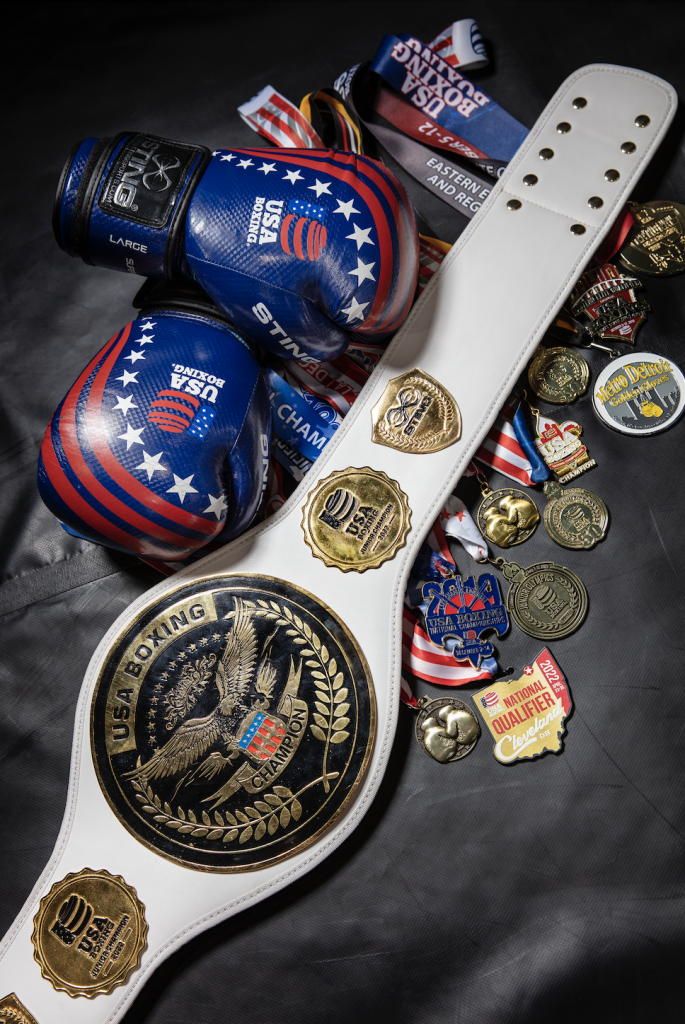 In a recent fight, he came out dressed in black as the Front Man from the show Squid Game, his entourage dressed like the contestants. He entered the ring, took off the garb, did the windmill move, and beat his opponent in the first round by TKO after landing two thunderous body shots to the guy's liver.
That's who Hadi has to help get him ready for his championship against other boys just a couple of years into adolescence.
Husam isn't the only adult he spars with. As Hadi has grown into his teenage body, Hamed has put him in the ring sparring with more adults. The idea of sparring is to work out and practice, but not all egos get left outside the ring. Hadi has been the recipient of the strangest of compliments — attempted elbows and headbutts from grown men frustrated that they can't hit the kid in front of them.
"They can't hit him because of his defense level," Hamed says, adding that Hadi recently got caught with a headbutt. "That pushes him to be even better at the defensive side."
Hadi was seeded No. 1 when they got to Texas for the national title in December 2022. That meant he got a bye in the tournament, leaving him two fights in two days for this seventh consecutive title and a spot on the Junior Olympic team.
Fighting at 170, Hadi, standing about 5 feet, 11 inches, faced off against his first opponent, who stood at about 6-foot-4, according to Hamed. In that fight, he says, "Hadi blew him away. Every punch landed."
In his second and final fight, he faced off against Simon Davis, a larger, taller opponent from Maryland. He started the match the way his uncle does, with the slingshot, which Hamed calls "an Al-Mashhadi thing."
Davis sprinted to the center of the ring and started firing off jabs at Hadi, who looked unfazed as he either stayed just out of range or checked them with his lead hand. In his counterpunching style, he managed to dodge or slip most of Davis' punches over the course of three rounds, returning fire the way he was taught. In a split decision, the ref raised Hadi's hand, and he was, again, the champ.
"Man, I am feeling so proud," Hamed says. "This is something that people dream of doing. It's a huge step for his career. And I can't be more thankful to have a son or a kid like him."
His belt over his shoulder, his hands still wrapped, Hadi spoke with an interviewer after the fight who had watched him over the years. He remarked about "how big" Hadi had grown and said he saw a new confidence in him he hadn't seen before.
"Ever since I was little, I was always nervous. I never had that confidence. But the more I did it, the more I won, and winning gives you more confidence. Always working hard," Hadi said.
Now, as part of the junior division of Team USA, Hadi's life is about to change. This summer, once school is out, he'll be training with the team. He'll be sporting their gear. They'll be setting up his fights and flying him around the country.
But that means his coaching is going to change as well.
"They told me I can tag along with them, … but for Team USA, they have their own coaches. That's one thing about it," Hamed says. "He will most likely be training with a different coach, but the outcome of that will never change. Hadi will still have his style. If anything, he will probably pick up on some things that are new, which will just be more experience for him and help get him ready for the pros. It's not a bad thing. It's a great thing," he says.
Hamed recognizes that "not everyone has this opportunity. But because we believe in our craft and we train so hard and we train at home… it's just — it's everything to us."
---
This story is part of the March 2023 issue of Hour Detroit. Read more in our Digital Edition.