In this era of misery for Pistons fans, it helps to remember that these low ebbs have turned around before and that Motown's red, white, blue, and sometimes teal have been lifted by some of the greats. Will rookie phenom Cade Cunningham be one of them? Time will tell. Meanwhile, Detroit hero Ben Wallace this month became the first undrafted NBA player to be inducted into the NBA's Naismith Memorial Basketball Hall of Fame.
He'll be the 21st Piston enshrined, 10 of whom spent significant chunks of their careers — five-plus years — as Pistons. (That criteria resulted in the exclusion of Allen Iverson, Tracy McGrady, Adrian Dantley, Bob McAdoo, and 2021 Hall of Fame inductee Chris Webber. Sorry, guys!) 
Ben Wallace
(2021)
Born: White Hall, Alabama
Height: 6-foot-9
Position: Center
Why he's a HoFer: Holds a record of four NBA Defensive Player of the Year honors. One of five NBA players with more blocks than fouls in his NBA career and also one of five to collect more steals than turnovers. One of 40 players to collect 10,000-plus career rebounds.
College: Cuyahoga Community College,Virginia Union University
Pro career: Wallace did two stints as a Piston (2000-06, 2009-12) and also played for Washington, Chicago, and Cleveland in a 16-year career. In 2004, he helped Detroit win the NBA title. His No. 3 jersey was retired by the Pistons in 2016.
Of interest: When Wallace scored or recorded a block at The Palace of Auburn Hills, the scoreboard chimed like London's Big Ben in tribute. He's the only defensive player to be the cover athlete for the NBA 2K video game series. And Wallace was allowed an exception to the Chicago Bulls' no-headband rule during his three years there.
Nowadays: Co-owns the Grand Rapids Drive, an NBA farm team.
Bailey Howell
(1997)
Born: Middleton, Tennessee
Height: 6-foot-7
Position: Combo forward
Why he's a HoFer: A six-time All-Star. Won back-to-back NBA titles with the Boston Celtics. Averaged a double-double — averaging 21 points and 12 rebounds — in his first five years in the NBA.
College: Mississippi State University
Pro career: Drafted as the No. 2 overall pick by the Pistons in 1959. Traded to Baltimore in 1964, also played for Boston and Philadelphia. Finished his career with 17,770 points
and 9,383 rebounds.
Of interest: His son-in-law is the athletic director at the University of Florida. An award called the Howell Trophy is given to the best men's college basketball player in Mississippi each year.
Nowadays: At 84, Howell is retired in Starkville, Mississippi.
Joe Dumars

 
(Inducted 2006)
Born: Shreveport, Louisiana
Height: 6-foot-3
Position: Combo guard
Why he's a HoFer: Michael Jordan said Dumars was the best defender he faced in the NBA. In 1996, he was the first recipient of the NBA Sportsmanship Award, now known as the Joe Dumars Trophy. 
College: McNeese State University
Pro career: Drafted by the Pistons in 1985 as the 18th overall pick and played his entire career for Detroit, retiring in 1999. Won NBA Championships in 1989 and 1990. Was 1989 finals MVP, averaging 27.3 points in a four-game sweep of the
Los Angeles Lakers.
Of interest: The day his father died, Dumars scored 33 points in a 1990 finals game against Portland. Joined the Pistons front office in 2000 and became the first Black executive to lead a team to an NBA title when he masterminded the Pistons to the 2004 NBA Championship.
Nowadays: Chief strategy officer for the Sacramento Kings.
Dave Bing
(1996)
Born: Washington, D.C.
Height: 6-foot-3
Position: Point guard
Why he's a HoFer:
A seven-time All-Star. Was 1967 Rookie of the Year and led the NBA in scoring in the 1968-69 season.
College: Syracuse University
Pro career: Drafted by the Pistons as the second overall pick in 1966. Traded in 1975 to Washington, ended his career with Boston.
Of interest: Elected Detroit mayor in 2009 to complete disgraced ex-mayor Kwame Kilpatrick's term and reelected in November 2009 for a full term. Was mayor when Detroit declared bankruptcy. Godfather to University of Michigan basketball star Jalen Rose. Awarded National Minority Small Business Person of the Year in 1984.
Nowadays: Owns the Bing Group, a steel conglomerate based in Detroit.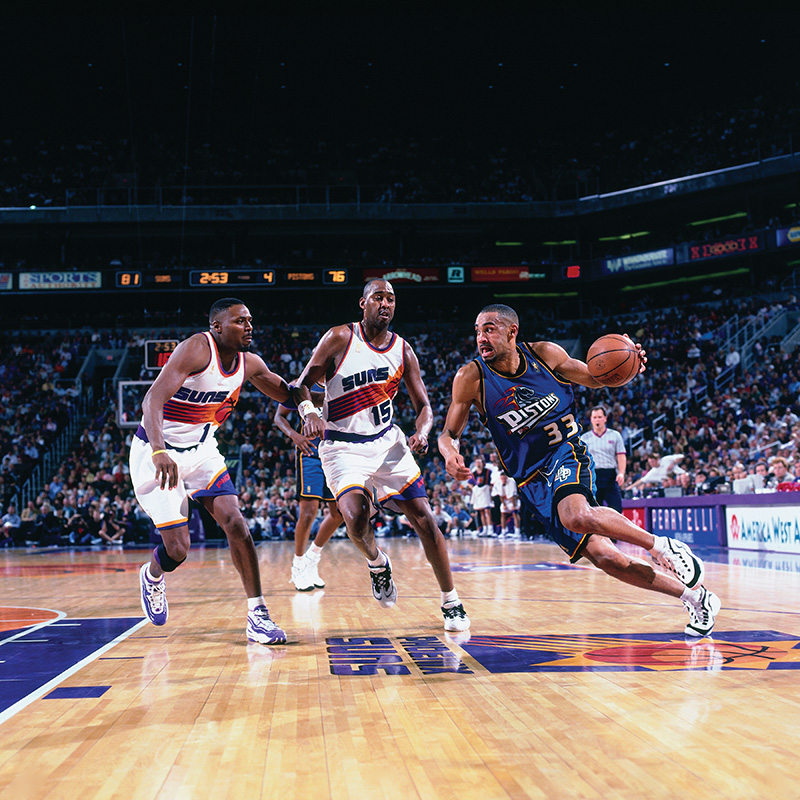 Grant Hill
(2018)
Born: Dallas, Texas 
Height: 6-foot-8
Position: Small forward
Why he's a HoFer: A seven-time All-Star. Led the NBA in triple-doubles in the 1995-96 and 1996-97 seasons, accounting for 35 percent of all triple-doubles in the league at the time.
College: Led Duke University to three NCAA title games, winning two.
Pro career: Drafted by the Detroit Pistons as the No. 3 overall pick in 1994. Traded to Orlando in 2000 in a transaction that brought Wallace to Detroit. Later played for the Los Angeles Clippers and Phoenix Suns. Won the gold medal in men's basketball at the 1996 Olympics as part of the USA "Dream Team."
Of interest: Hill was the first rookie in any American professional sport to lead their league in All-Star votes. Appeared as himself on the sitcom Living Single. Introduced to his wife,
the Grammy-nominated singer Tamia, by R&B legend Anita Baker. Father was an NFL player.
Nowadays: Co-owner of Atlanta Hawks, co-host of NBA Inside Stuff on NBA TV, managing director of USA Basketball Men's National Team.
Dave DeBusschere
(1983)
Born: Detroit
Height: 6-foot-6
Position: Combo forward
Why he's a HoFer: An eight-time All-Star named as one of the NBA's 50 greatest players in a survey of coaches, players, and journalists. Won two championships with the New York Knicks.
College: University of Detroit Mercy
Pro career: Drafted by the Pistons in 1962, remained until 1968. Also served as Pistons head coach from 1964 to 1967, the youngest ever at age 24. Traded to the Knicks, in 1968 where he remained until his 1974 retirement. His No. 22 jersey retired by the Knicks.
Of interest: One of 13 players to play in the NBA and Major League Baseball, pitching in 1962-63 for the Chicago White Sox. Appeared in 1963 on the TV game show To Tell the Truth. Served as commissioner of the competing American Basketball Association in 1975-76 and is credited with bringing about the ABA-NBA merger.
Nowadays: Died in 2003.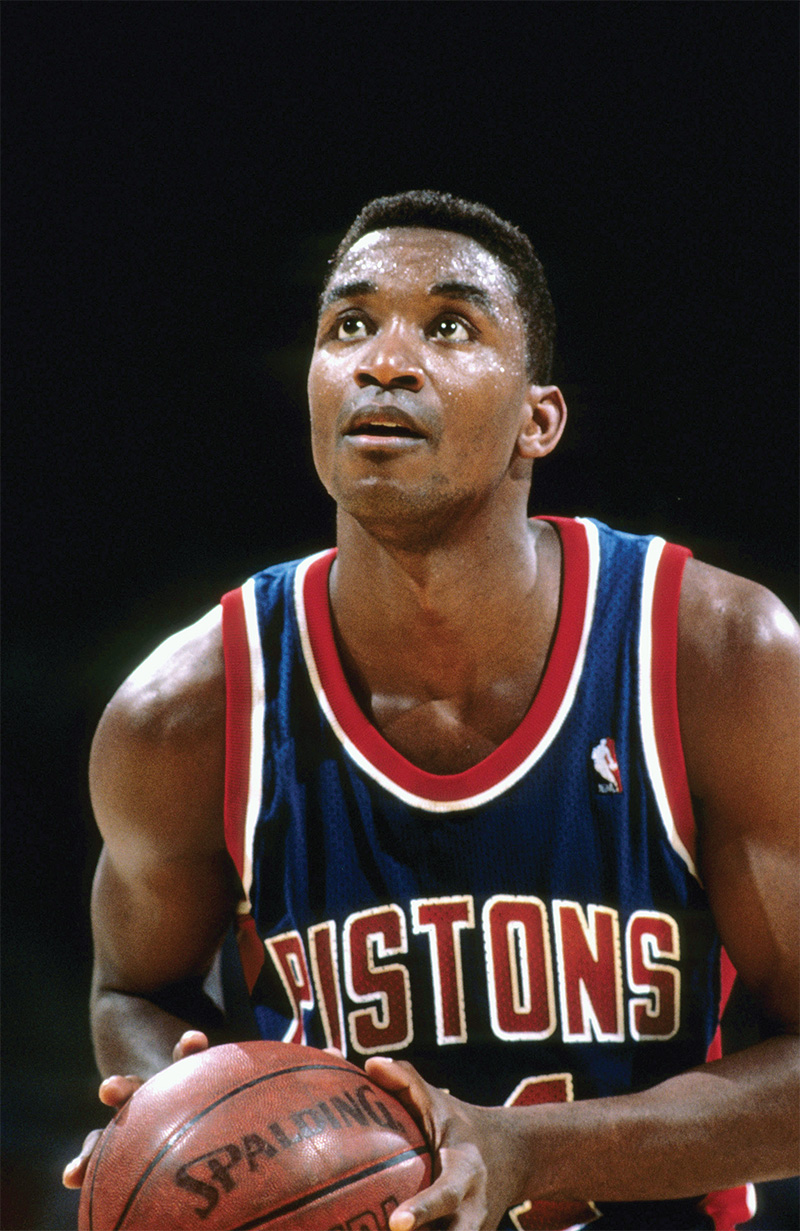 Isiah Thomas

 
(2000)
Born: Chicago, Illinois 
Height: 6-foot-1
Position: Point guard
Why he's a HoFer: Ranks ninth in NBA history in assists with 9,061 and fifth in assists per game with a 9.3 career average. Led the Pistons' "Bad Boys" to three finals appearances, including two championships.
College: Indiana University, won the 1981 NCAA title. 
Pro career: Drafted second overall in 1981 by Detroit, played his entire career as a Piston. Retired in 1994. Was Finals MVP in 1990 after averaging 27.6 points, 7 assists, and 5.2 rebounds per game. Later served as head coach of the Indiana Pacers and New York Knicks as well as president of basketball operations for the Knicks. His No. 11 jersey retired by Detroit in 1996. 
Of interest: Passed over for 1992 Olympic "Dream Team" amid a feud with Michael Jordan and Magic Johnson. First Black person elected to the Chicago Stock Exchange Board of Governors. Not related to the current NBA player Isaiah Thomas.
Nowadays: Is an entrepreneur and real estate investor. 
George Yardley
(1996)
Born: Hollywood, California
Height: 6-foot-5
Position: Guard/forward
Why's he a HoFer: One of the earliest players to routinely slam-dunk baskets. A six-time All-Star. Won the 1958 NBA scoring title when he became the first player to score 2,000 points in a season. The first player to retire after averaging 20 points in his final season.
College: Stanford University
Pro career: Drafted seventh overall in 1950 by the Fort Wayne Pistons, which would relocate to Detroit in 1957. Later played for the Syracuse Nationals and Los Angeles Jets. Retired at 31.
Of interest: His nickname, "Bird," came from a fraternity insult, not because of his well-known jumping abilities. In 1960, he founded the George Yardley Co., a Santa Ana, California-based engineering firm focused on building systems that is still in operation.
Nowadays: Died in 2004.
Dennis Rodman

 
(2011)
Born: Trenton, New Jersey
Height: 6-foot-7
Position: Forward
Why he's a HoFer: "The Worm" won five NBA championships, including two with the Pistons and three with Chicago. In his final year with the Pistons, he grabbed 1,530 rebounds, the most in a season by any player since Wilt Chamberlain in 1971-72. Ranked No. 12 in NBA history in rebounds per game. Won seven straight rebounding titles in the 1990s.
College: Southeastern Oklahoma State University
Pro career: Drafted in the second round by the Pistons in 1986. Traded to San Antonio in 1993, then to Chicago in 1995. Ended his career in Dallas. The Pistons retired his No. 10 jersey in 2011.
Of interest: Dated Madonna. Married and divorced Carmen Electra. Visited North Korea as a friend of dictator Kim Jong Un. Won the 2004 season of the reality show Celebrity Mole. Lost the 2009 season of Celebrity Apprentice to Joan Rivers (he came in 12th). Claims to have 46 siblings. His daughter, Trinity, plays pro soccer for the Washington Spirit.
Nowadays: Soon to appear on a VH1 reboot of The Surreal Life also featuring Stormy Daniels and Frankie Muniz.
Bob Lanier
(1992)
Born: Buffalo, New York
Height: 6-foot-11
Position: Center
Why he's a HoFer: An eight-time All-Star. Is the Pistons' all-time leader in scoring average with an average of 22.7 points
per game.
College: St. Bonaventure University
Pro career: Drafted No. 1 overall by the Detroit Pistons in 1970. Played with the Pistons under eight head coaches in 10 seasons. Ranked second in Pistons history for total rebounds and third in total points. His No. 16 jersey retired by Milwaukee in 1984 and by the Pistons in 1993.
Of interest: Received the National Civil Rights Museum Sports Legacy Award in 2007. Wears a size 22 shoe. Was cut from his high school basketball team as a sophomore for being clumsy. Nicknamed "The Dobber," a combination of "Bob" and "the Big Dipper."
Nowadays: Owns Lanier Enterprises, an advertising firm. Serves as an NBA Cares global ambassador, traveling to support charitable programs.
---
This story is featured in the September 2021 issue of Hour Detroit magazine. Read more stories in our digital edition. 
Facebook Comments