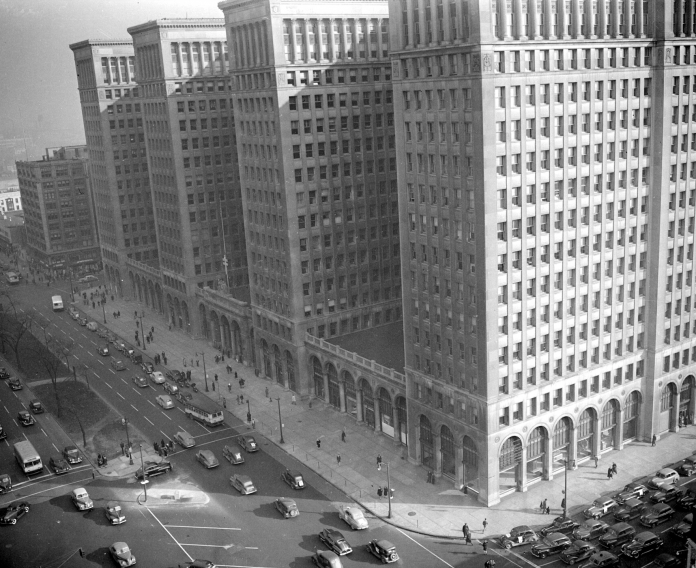 1923One hundred years ago, General Motors Co. completed construction on its massive 15-story headquarters on West Grand Boulevard in Detroit. It soon became an iconic symbol of the Motor City and the world-leading U.S. auto industry. By the end of the Roaring Twenties, GM was the nation's largest single employer.
This photo — taken on Dec. 8, 1945, from the Fisher Building — reveals the busy intersection of West Grand Boulevard and Second Avenue surrounding the headquarters.
William Durant founded the company in 1908 before consolidating a number of auto manufacturers, including Buick, Cadillac, Oldsmobile, and Oakland (Pontiac), and 10 years later, GM's board of directors directed him to build permanent headquarters in Detroit.
Nearly 50 structures were demolished on 3.7 acres of land on West Grand Boulevard between Cass and Second before ground was broken in 1919. Built at a cost of $18 million, with 1.4 million square feet of floor space, 4 miles of corridors, 31 elevators, 1,650 offices, an exposition hall, auto showrooms, and capacity for 6,000 employees, it was touted by the company as "the largest office building of its kind in the world."
The neoclassical office building designed by architect Albert Kahn features four parallel 15-story wings clad in limestone and crowned by a Corinthian colonnade. Standing above the main entrance is a clock with two female figures representing knowledge and commerce designed by noted architectural sculptor Ulysses Ricci.
Originally, the building was to be named in honor of Durant, but subsequent to his ouster in 1920, the structure was renamed the General Motors Building before it was completed in 1923. The initial "D" for Durant still appears carved into stone above the main entrance and other areas.
In 1996, GM purchased the Renaissance Center, where it moved its headquarters, while the General Motors Building was transferred to New Center Development, which oversaw the structure's renovation. Renamed Cadillac Place in honor of Detroit's founder, Antoine de la Mothe Cadillac, today it houses state of Michigan offices. The building was designated a National Historic Landmark in 1978.
This story is part of the May 2023 issue of Hour Detroit. Read more in our Digital Edition. Plus, find even more The Way It Was articles on HourDetroit.com.