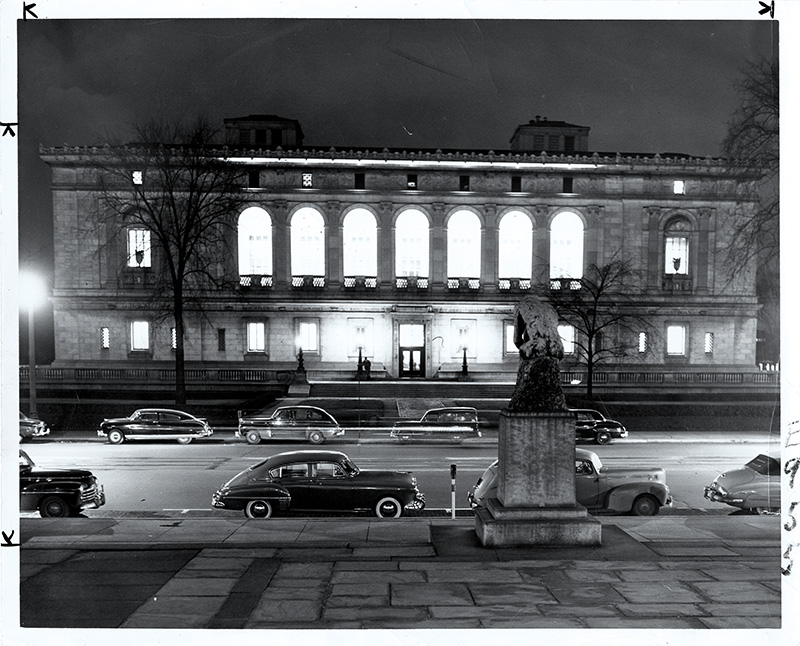 In its subdued elegance, the Renaissance Revival marble and limestone exterior of the Main Detroit Public Library on Woodward Avenue between Putnam and Kirby continues to be an architectural showstopper, just as it was when it opened in March 1921, exactly a century ago. A loggia with seven Romanesque arches distinguishes its Classical façade, dramatically illuminated in this circa-1950 nocturnal image. 
Designed by Cass Gilbert, the building has an equally jaw-dropping interior, with murals and paintings by Edwin Blashfield, Gari Melchers, John Stephens Coppin, Emma Ciardi, and Vincent Aderente; metalwork by Samuel Yellin; mosaics by Frederick J. Wiley, Frank Varga, and Millard Sheets; bronze works by Samuel Cashwan and John Emmett Donnelly Sr.; and a Pewabic fireplace — designed by Mary Chase Perry Stratton and Horace Caulkins — with tiles depicting children's literature. These dazzling artworks provide a lofty atmosphere for readers and researchers exploring the library's rich vein of scholarly material, such as the National Automotive History Collection; the E. Azalia Hackley Collection of African Americans in the Performing Arts; the Rare Book Collection; the Lulu and Ernie Harwell Room devoted to baseball history; and the Burton Historical Collection, from which this photo was sourced. The library had 180,000 square feet when it opened, but massive additions in 1963 added another 240,000 square feet. 
Any discussion of libraries in the late 19th and early 20th centuries is incomplete without mentioning the debt to Andrew Carnegie, the Scottish-American philanthropist who made his fortune in steel but who believed that knowledge provided the greatest riches to a community. As Barbara Madgy Cohn and Patrice Rafail Merritt acknowledged in their 2017 book The Detroit Public Library: An American Classic, "Between 1886 and 1919, Carnegie funded some 3,000 libraries throughout the world … and is often referred to as the Patron Saint of Libraries." His generosity included $750,000 given to the Detroit Public Library Commission. Of that amount, $375,000 went toward the building of the Main Library, with the remainder going to the city's branches. 
Facebook Comments