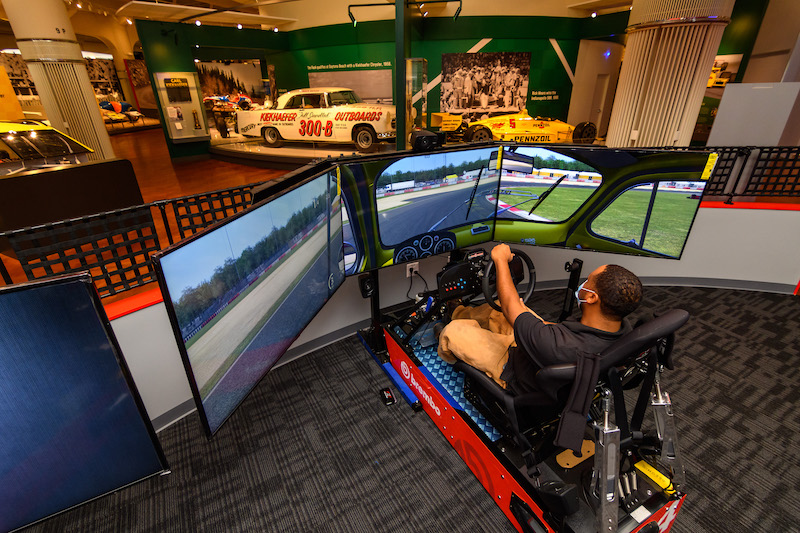 Have you ever wondered what it's like to drive one of the world's fastest cars, design a top-performing sports car, or train like a race car driver? Well, now you can find out with The Henry Ford Museum's latest permanent exhibition.
On March 27, the Dearborn-based museum unveils Driven to Win: Racing in America to the general public. Presented by General Motors Co., the 24,000-square-foot exhibit covers 125 years of U.S. auto racing history related to stock car, sports car, drag racing, Indy car, hill climb, and land-speed racing; highlights more than 50 racing personalities; and displays more than 20 cars and 225 artifacts. But its most standout features are its interactive zones.
"This is the first exhibition of its kind, giving our guests a front-row seat to the world of racing," says Patricia Mooradian, president and CEO of The Henry Ford, in a press release. "From the smell of the tires, the sound of the vehicles starting their engines, the innovative advancements that have been made over the years to the various tracks these vehicles have raced on, our staff and partners have certainly brought this exhilarating sport to life on our museum floor."
One interactive zone you won't want to miss in Driven to Win is the In the Driver's Seat Simulator. Henry Ford officials say the 15-minute virtual ride allows museum visitors to drive the world's fastest cars on the most challenging tracks. The experience includes a five-minute qualifying session followed by a full competition against other racers.
Other interactive features in the exhibit include Fueled by Passion, a 15-minute film experience in the museum's multi-sensory theater that includes exclusive footage with drivers and crew members. Meanwhile, the Sports Car Performance Center allows visitors to see real data from race days that is used by engineers, the evolution of the race car design process, and how close a Ford GT production car resembles the one that hits the racetrack, and the Motorsports Performance Training zone gives guests the chance to test their skills and learn more about the mental and physical training race car drivers go through.
Driven to Win is included with museum admission, but the In the Driver's Seat Simulator requires an additional fee. Advance tickets are available to purchase online, and museum members are welcome to reserve a time to visit as well. Visitors are expected to maintain social distancing throughout the museum, and masks and face coverings must be worn.
For more information, visit thehenryford.com.
Facebook Comments