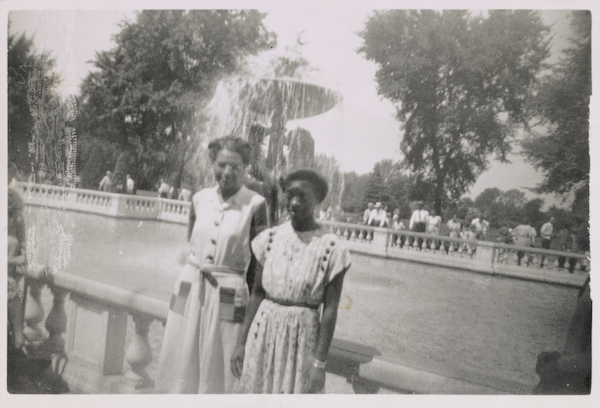 1948  A few of Southeast Michigan's cultural institutions have proven than the 125-acre Detroit Zoo in Royal Oak, which opened 95 years ago. One can only wonder who among its more than 1 million yearly visitors may someday become a historical figure.
This rare snapshot, taken 75 years ago, shows 35-year-old Rosa Parks (left), a seamstress from Montgomery, Alabama, standing alongside an unidentified friend in front of the historic Horace H. Rackham Memorial Fountain — one of the zoo's most photographed attractions.
Parks, who would later become known as the "mother of the Civil Rights Movement," was most likely in Detroit to visit her brother and sister-in-law, who had migrated there shortly after the end of World War II. A decade later, the city would become her adopted hometown, and it would remain such for the rest of her life.
Parks' refusal to give up her Montgomery city bus seat to a white man on Dec. 1, 1955, led to her arrest as well as to the 381-day-long Montgomery bus boycott that propelled the Civil Rights leadership of the Rev. Martin Luther King Jr. One year later, the U.S. Supreme Court declared bus segregation unconstitutional.
Before long, Parks was inundated with harassment and death threats. Upon losing her job as a tailor's assistant, she and her husband, Raymond, along with her mother, Leona McCauley, moved to Detroit in 1957 at the urging of her brother, Sylvester. There, Parks provided vital assistance in John Conyers' first campaign for Congress in 1964, in part by persuading King to appear with Conyers. She went on to serve as the representative's assistant and receptionist at his Detroit office from 1965 until she retired in 1988.
On Oct. 24, 2005, Parks died in her Detroit apartment at age 92 and became the first woman to lie in honor at the U.S. Capitol Rotunda. She is interred at the Woodlawn Cemetery chapel on Woodward Avenue. The Montgomery bus on which she made history is housed at the Henry Ford Museum in Dearborn. Parks, the recipient of numerous awards, including the Congressional Gold Medal, would have turned 110 on Feb. 4.
---
This story is from the February 2023 issue of Hour Detroit magazine. Read more in our digital edition. Plus, find even more The Way It Was articles on HourDetroit.com.